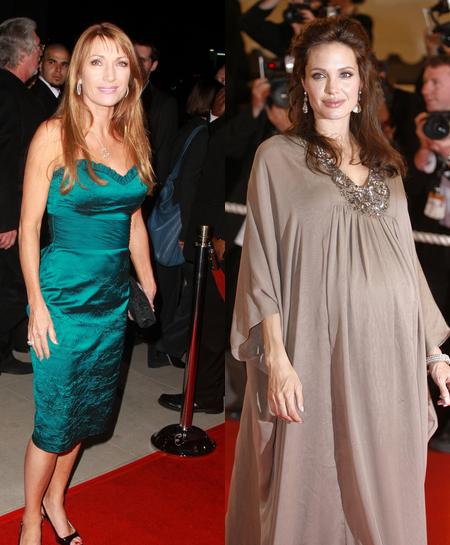 Even though I don't know if she's done it in the past, Jane Seymour seems like one of those people that's always offering unsolicited advice and telling people what to do. I totally love her, and I can't really put my finger on why I think this. There's just something vaguely school marmish about her. In an attempt to prove me right (how very kind of you Jane) she's decided to lecture Angelina Jolie about what she needs to be doing for her pregnancy – via OK! Magazine, the best doctor at all.
"My advice to her is to put some weight on," the Dr. Quinn, Medicine Woman star told OK!. "I think she needs to keep putting on weight so she can feed those babies. I don't think she should think twice. She hasn't put on enough weight."

Seymour,57, says that when she had her twins, John and Kristopher, in 1995, it was a life threatening delivery.

"I nearly died having the twins," she recalled. "I had preclampsia, which is toxemia, and I had to have an emergency C-section and I almost lost my life. So my advice to her [Jolie] is to listen to your doctors and if they say bed rest and they say blood pressure cuff every hour and they say whatever medication they say, you should take it very seriously."
[From OK! Magazine]
I think the reason Jane Seymour's comments annoy me isn't that she's wrong, but that there's something about the way she's phrased her words that implies she's assuming Angelina isn't doing these things, and isn't taking her pregnancy seriously. Jolie is definitely very, very thin. But she seems to be very devoted to her kids – certainly enough that you'd think if her doctor told her it was medically necessary to gain weight, she'd do it to the best of her ability. There are some people out there who really can't put on the pounds. I hate them with a fire I can't explain. But I'm constantly told they're out there.
It seems like Jane Seymour's comments are coming from a good place, and she's just offering her advice based on her very scary experience. Somehow it comes off sort of lecturing to me, but it's probably just her way of trying to pass on some life experience.
Header of Jane Seymour at the "Reservation Road" premiere in Los Angeles on October 18th; Angelina Jolie is shown at Cannes for the "Kung Fu Panda" premiere on May 19th. Images thanks to PR Photos.