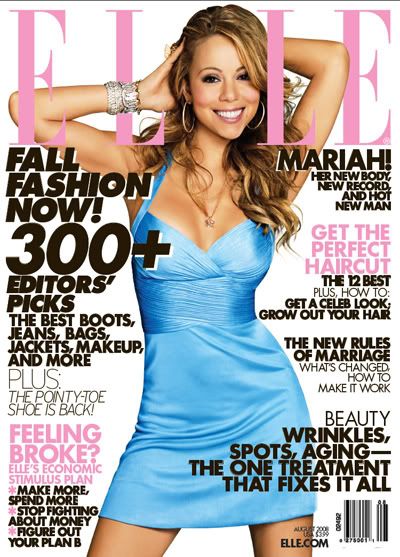 In the very short few months they dated before getting hitched, Nick Cannon managed to propose to Mariah Carey not once, but twice. Surprisingly, it only involved one ring, which is pretty understated for Mariah. Even at 17 carats. I assumed the real reason for two proposals was more jewelry, not Nick's love for Mimi.
The couple are still on their PR tour. No, not for Mariah's newest album; they're promoting their marriage. And if that just happens to up CD sales… what a crazy coincidence that would be.
"Most people would think, 'Okay, please! This doesn't happen in real life!'" she tells the August issue of Elle Magazine. "When I was in an unhappy place in my life, I always wanted to be kidnapped. I just wanted a way out, but I didn't have one."

Carey is talking of her past, which suffice to say is glittering with more good than bad. But the few bad times she suffered were pretty big, splayed out in the media for the world to see. Ten years after her split from [Tommy] Mottola [her first husband ], Carey met current husband Nick, who she says literally came to her rescue.

Cannon's first proposal took place on Carey's roof in Manhattan a couple of evenings prior and involved the hiding of a 17-carat diamond ring inside a candy ring pop.

[A few days later] "He sort of kidnapped me and took me on a helicopter ride," she says. "Then he re-proposed."
[From Us Weekly]
I wonder what Mariah Carey would do if a guy treated her like a regular girl. Nothing inconsiderate, but if a guy she was seeing proposed by dropping the ring into a glass of champagne at a nice restaurant. Or heaven forbid, a message on the JumboTron. Which is how Cannon proposed to his ex-fiance, Selita Ebanks. In Times Square. I guess he learned his lesson.
I still give this marriage under a year. I haven't seen two people pimp out a marriage since Star Jones married what's-his-name. And even she toned it down after the wedding. With Mariah and Nick, you get the feeling they're just getting started.
Here are a few of Mariah's pictures from her photo shoot for the August issue of Elle.