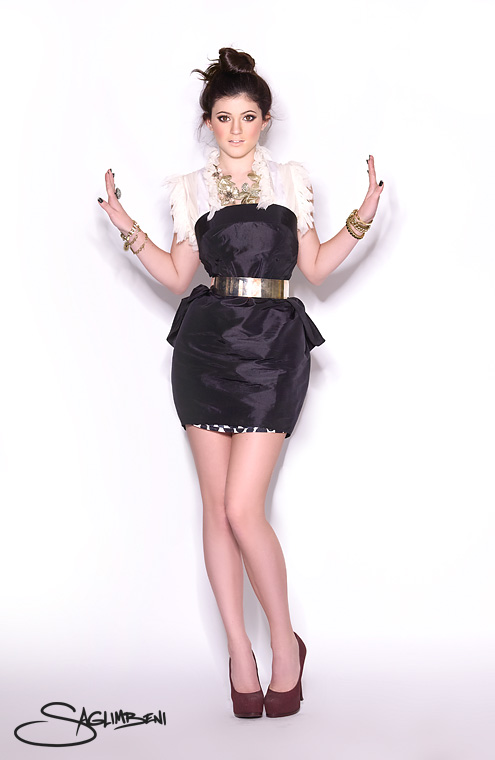 It was just a couple of months ago that 13 year-old Kylie and 14 year-old Kendall Jenner hit the red carpet together for the premiere of Easy A. The girls were wearing pushup bras, makeup, heels and dresses that hit mid-thigh. Kendall had already modeled at that point, with some semi-controversial and arguably suggestive bikini photos. Kylie had only done some light modeling work for Sears at the age of 12, and she was clothed appropriated for her age.
Kylie and Kendall are the younger half sisters of Kim, Kourtney and Khloe. They appear on their family's reality show, and as I've mentioned in the past it looks like they're ready to take the reins when the public interest in the older girls (hopefully) inevitably fades. Hence 13 year-old Kylie's latest modeling photos, in which she wears full makeup and a short skirt. She's learning the family trade from her sisters and that includes caking on the makeup and posing. Now, she's a lovely girl and I don't want anyone taking shots at her looks – that's not what this is about. This is about a 13 year-old girl being encouraged to "model" and being promoted by her famous older sister.
Kylie's sister Kim posted these photos on her blog with the message "I can't get over how stunning Kylie looks in these shots from a recent fashion photo shoot she did with Nick Saglimbeni. Monica did the styling and chose the most gorgeous pieces for Kylie to wear. I am a very proud big sister!" I don't want to sound so cynical about such a young girl, but it's like Kylie is proving her worth as a Kardashian. Would Kim be bragging online if her sister got an A on a test or performed an instrument in the school band?
Photos are from KimKardashian.celebuzz.com, where there are more.