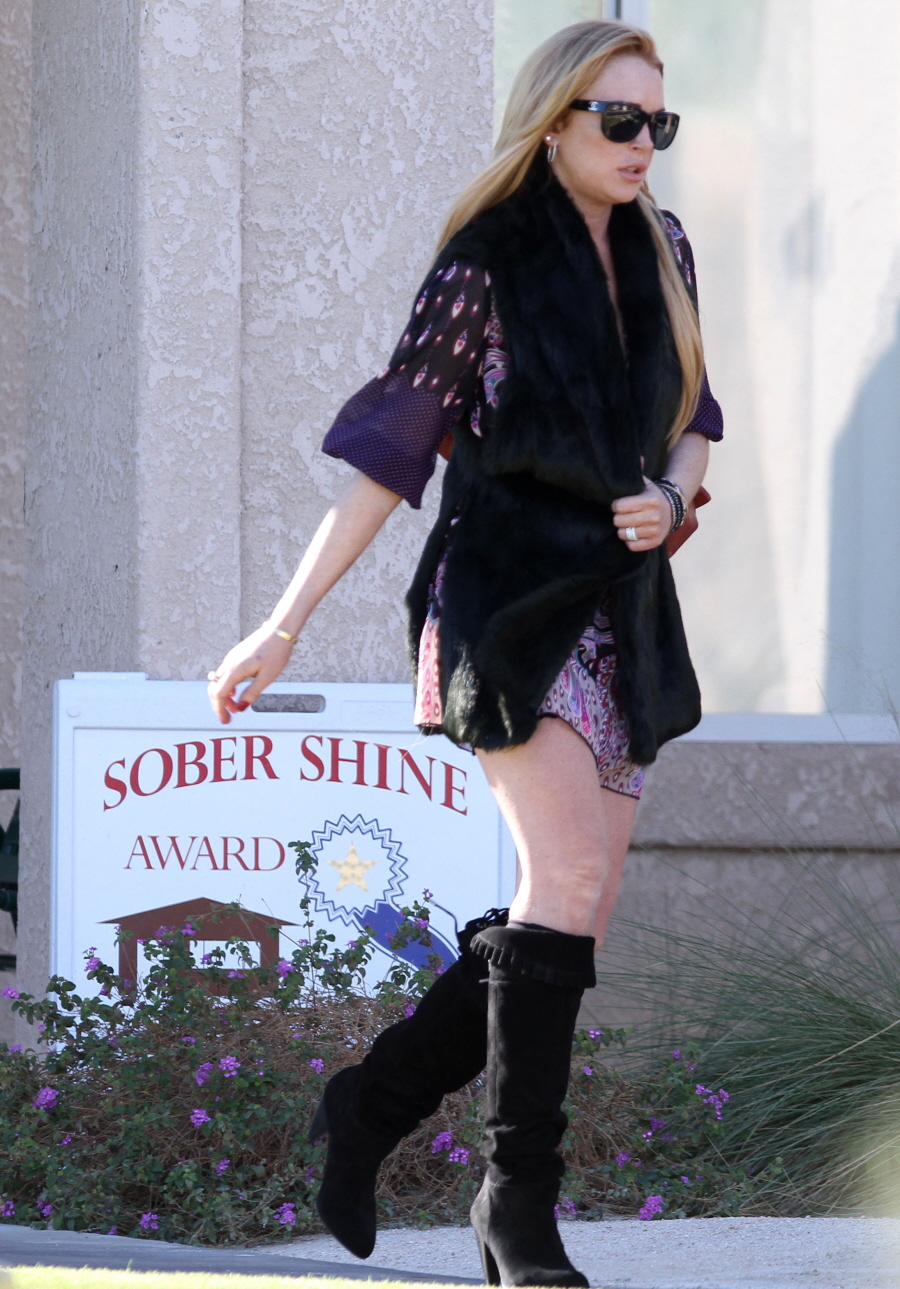 Have you been wondering why there are so many photos of Lindsay Lohan lately? Like, multiple candid photo shoots EVERY DAY. As it turns out, it's pretty much business as usual for Lindsay – she's getting paid by the photo agencies to come out and walk from one building to another at certain times, or to call and alert the paps when she's going to come out or leave on a day pass. Speaking of, these are photos of Lindsay walking around outside yesterday – notice the sign? Yes, that's Lindsay's "award". She got the "Sober Shine Award" from her sober house… and they stuck the award outside so Lindsay could pose with it!!! Ugh. This crackhead.
Meanwhile, in other Blohan news, both sides are still pissing and moaning about Lindsay's withdrawal/firing from the Linda Lovelace biopic, Inferno. Lindsay was dumped from the project two weekends ago, and replaced with Malin Akerman less than 48 hours later. Since then, Team Lohan has been issuing statements right and left about how Lindsay was the one to leave the project, and that she didn't want to do it because of her new-found sobriety, et cetera. Team Lohan sycophant Ethan Terra (co-owner of Mother Crackhead's production company) told Fox News last week:
"It's not fair in any way, shape, or form for those reports to be out there. Lindsay is 100 percent insurable, all she had to do was put up a fee as a bond then she would have been paid upon completion. I could insure her today," Ethan Terra, a close Lohan family friend and co-owner of mom Dina's production company, told Pop Tarts. "She was definitely not fired."

"Lindsay and her team decided that a film like this would be counterproductive. When she takes on a role she really becomes the character, and right now she is surrounded by nothing but positivity, so putting her back into a negative frame of mind would be very self-destructive," Terra continued. "When she signed on to that role she was surrounded by negativity, and now she's in a much stronger and more positive place."

So how does Lohan feel about no longer being attached to "Inferno?"

"She's totally OK with it," Terra responded.

And contrary to the reports that suggest the 24-year-old starlet is in severe debt and struggling for work, Terra told us she's had more offers than one can imagine.

"Lindsay has absolutely no qualms about getting work. She literally has a mountain pile of scripts to choose from," he added. "When she is ready, we'd like to see her take on a positive role; she is doing so amazingly well with her recovery."
[From Fox News Pop Tarts]
That sounds like the kind of statement that comes out of all-night tequila-and-cocaine bender (or "Wednesday" as Dina would say). But Inferno director Matthew Wilder isn't going to let The Crackheads have the last word. Wilder just spoke to Radar, and he's got nothing but praise for his NEW leading lady:
Though he continues to root for Lindsay Lohan's recovery and success, Inferno director Matthew Wilder admits that his decision to recast her starring role has given him some peace of mind. In an exclusive interview with RadarOnline.com, Wilder discusses his choice and his new leading lady. Wilder recently brought in actress Malin Akerman to replace Lohan in the movie based on the tragic porn star Linda Lovelace. "I love working with her, she is sensitive and hard-working and I think it's a great decision for our project," he said about Akerman.

With Lohan, the production had to endure many costly delays due to the actress' ongoing personal and legal struggles, including her ongoing rehabilitation treatment at The Betty Ford Center.

"I feel like 16 tons of weight are off my mind not having to deal with the Lindsay Lohan situation," Wilder said. "We have not heard anything from Lindsay and her camp recently but we wish her and them well. I still think she has great talent and if she respects those gifts then she will go on to show people what she is capable of doing."

Wilder says the the production is "scheduled to start filming in February now and are really looking forward to moving forward without any distractions."
[From Radar]
"Distractions"? That's the sum total of Lindsay's career for the past five years! Wilder is kind of bitch, right? Granted, if my career was tied up in a Lohan's sobriety (as opposed to my current career, which is tied up in Lohan crackheadedness), I would be a major bitch too.
At the end of the day, I don't really feel sorry for Wilder or Lindsay – Lindsay has done this all to herself, and if she never works again in films or television, she's got no one but herself to blame. And I don't feel bad for Wilder either – he knew she was a crackhead disaster when he started in on this project. You lay down with crack heads, you wake up with… a dead hooker in Tijuana…?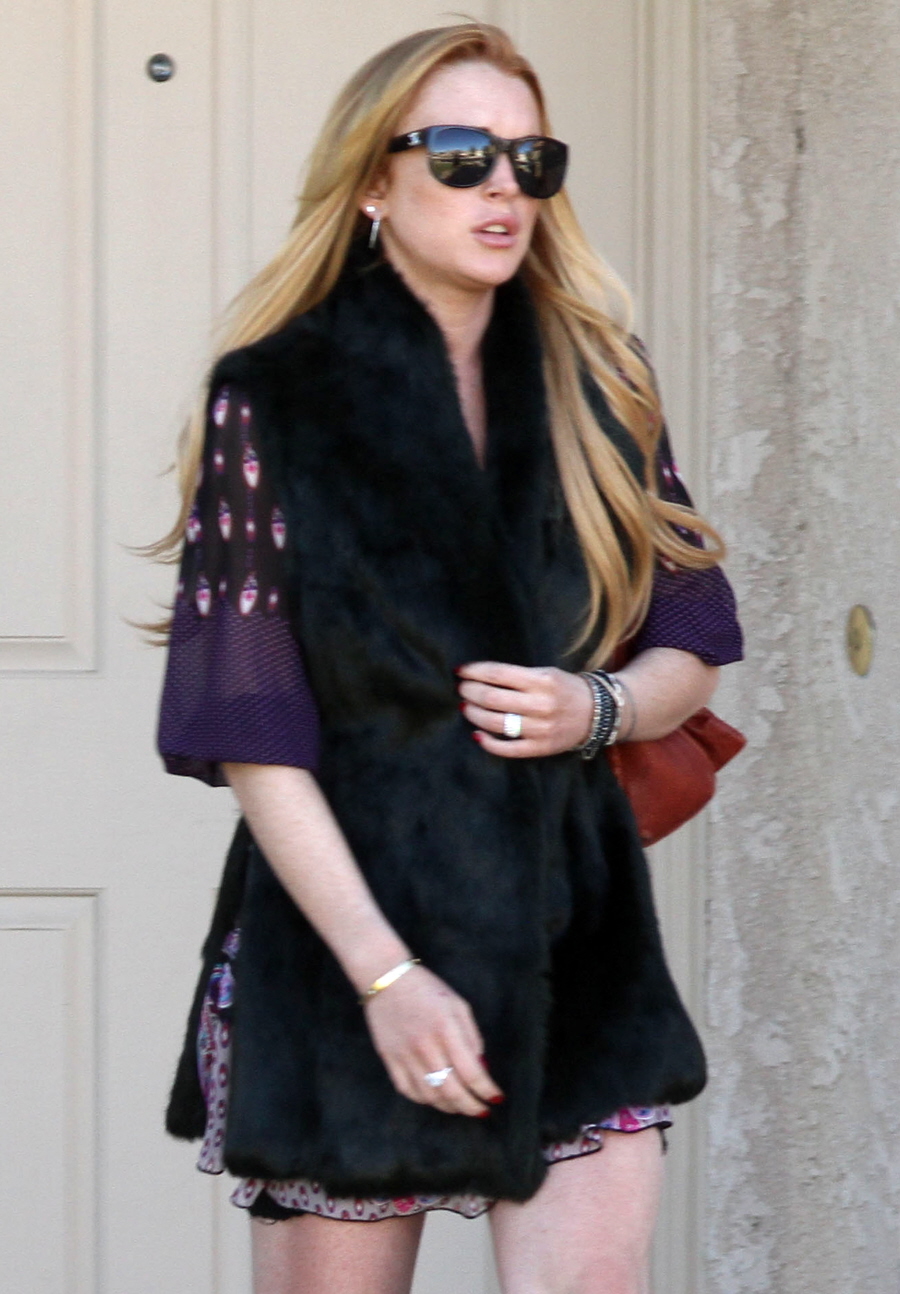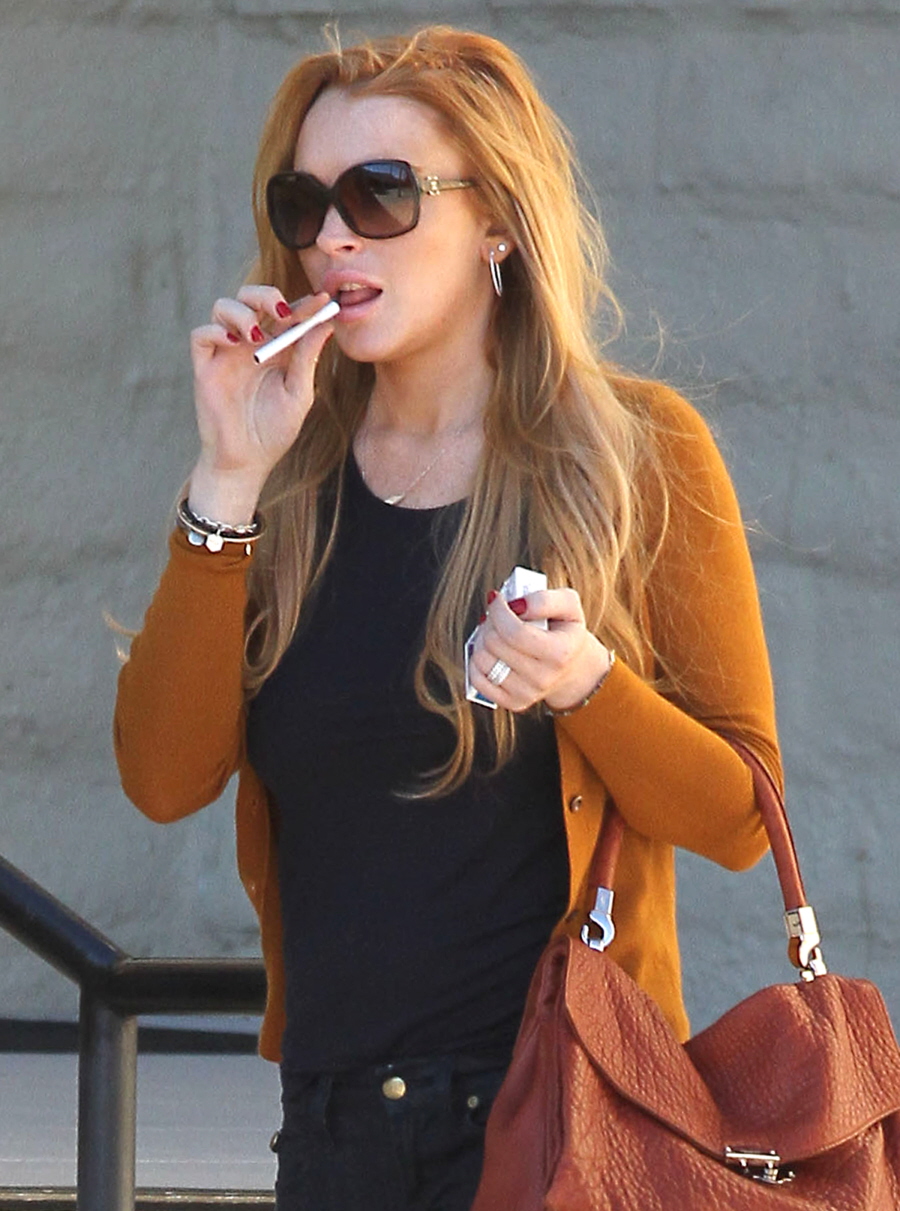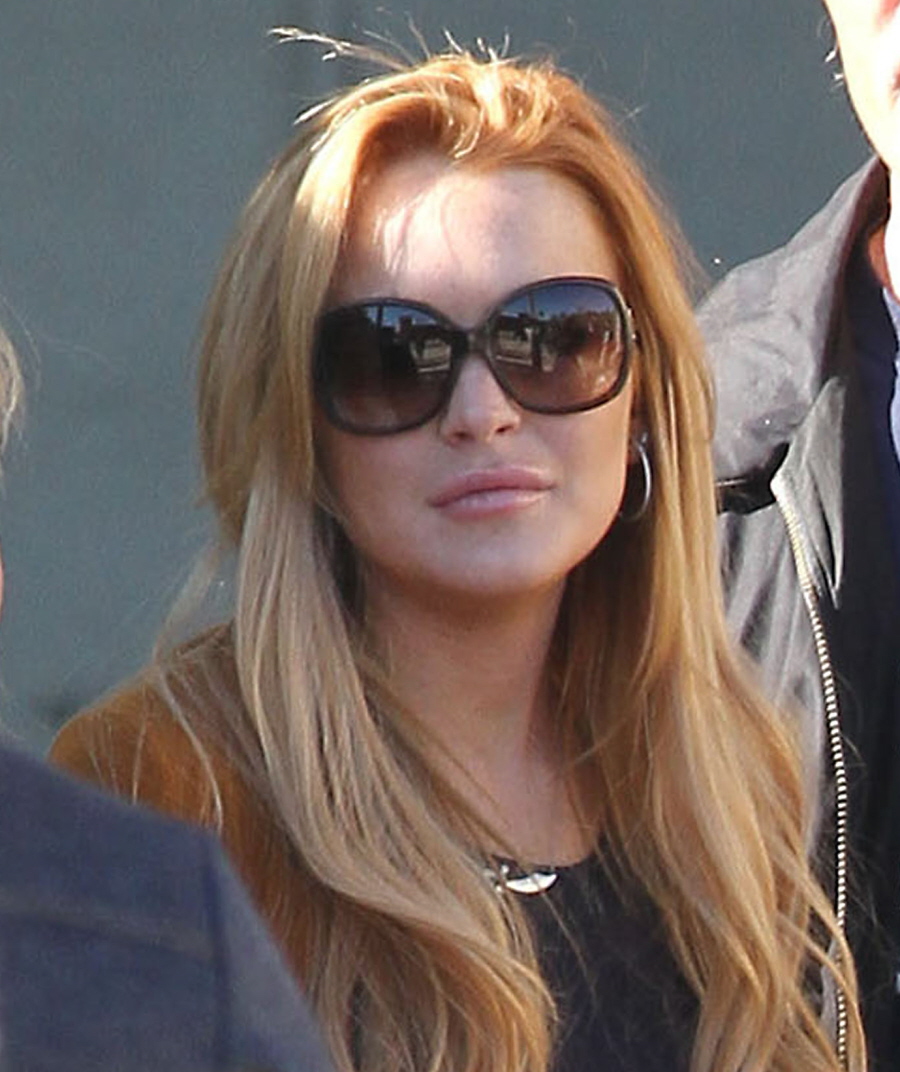 Photos courtesy of Fame.