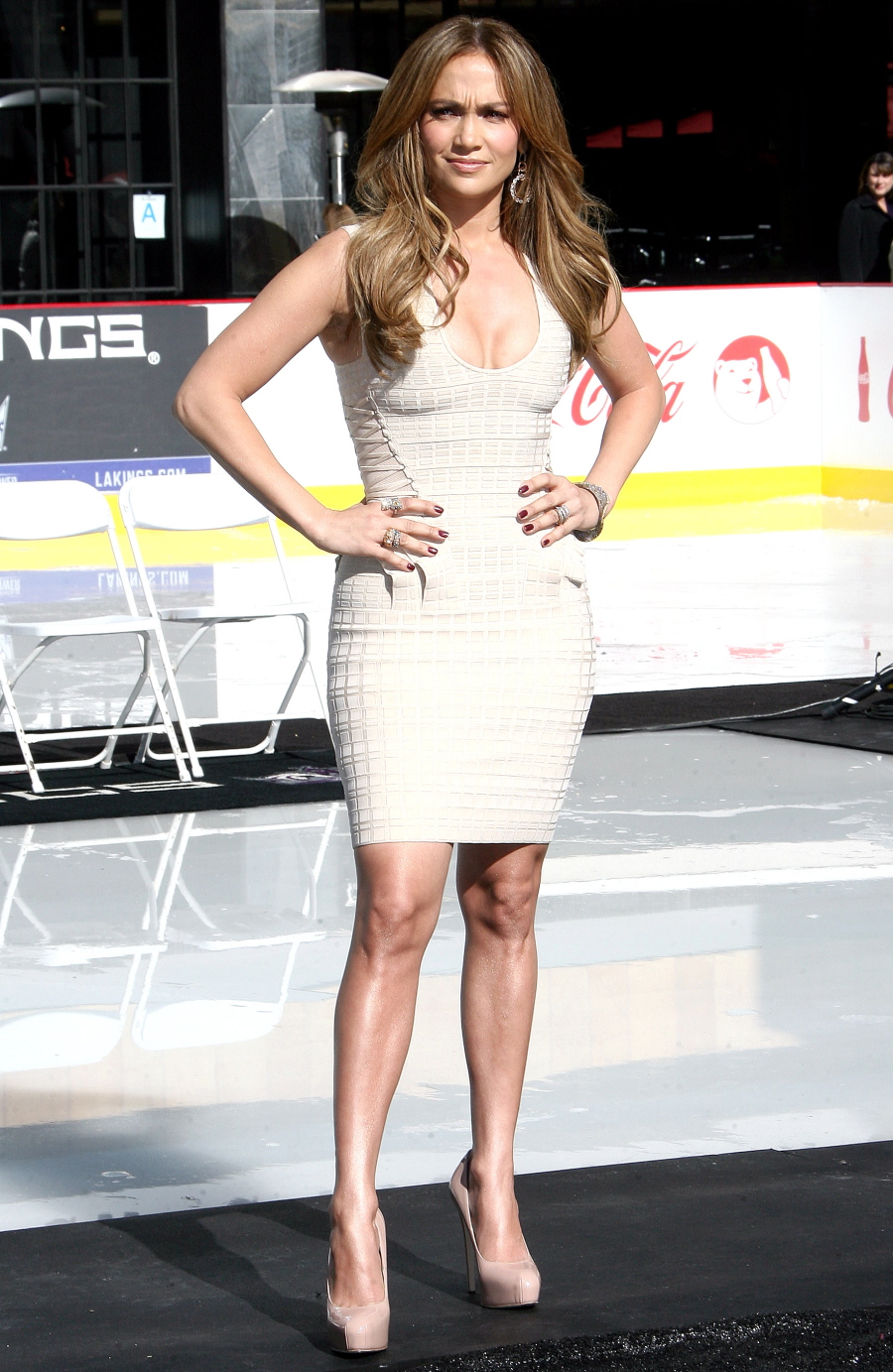 When I first glanced through these photos of Jennifer Lopez, I swear to God, I thought Jennifer had stopped the event half-way through so she could do a costume change. Now that I'm looking more closely though, I think Jennifer was just wearing a very light beige coat over a hoochie-mama Gucci bustier-esque dress, and she kept the coat on for the "seated" portion of the photo-op, and then revealed the dress for the "standing" part of the event. If this was a club opening, sure. A movie premiere? Perfect. But this event was for the Boys and Girls Club of America. Denzel Washington was introducing Jennifer as his new co-spokesperson for the great organization. And Jennifer shows up in this white Gucci. Inappropriate? Her tatas are for the children! Here's the press release:
Who: Denzel Washington has served as national spokesperson for Boys & Girls Clubs of America (BGCA) since 1992. An alumnus of the Club in his hometown of Mount Vernon, N.Y., Denzel has proven a tireless advocate for the Clubs and the young people they serve. He has participated in five national advertising campaigns, has served as an active member of BGCA's Board of Governors since 1996, appeared before Congressional leaders on Capitol Hill, and wrote a book about mentorship –A Hand To Guide Me – with proceeds benefitting Boys & Girls Clubs. In 2008 he launched the BE GREAT campaign, asking more than 20 fellow Club alumni to give back by supporting the organization that helped them open the door to a great future.

By inviting fellow-alumnus Jennifer Lopez to join him as national spokesperson, Denzel is expanding this key role to two people for the first time in the organization's 104-year history. The announcement commemorates the 20th anniversary of the organization's name change from "Boys Clubs" to Boys & Girls Clubs of America, marking the expansion of the mission to reach all young people in need.

Why: From academic failure and gang violence to poverty, drugs and obesity, America's youth face a daunting array of problems – with serious consequences for young people, families, communities, and the nation. Boys & Girls Clubs of America is committed to addressing these issues – and challenging our nation to support effective solutions. According to a 2007 Harris survey, 57 percent of Boys & Girls Club alumni reported, "The Club saved my life," while 28 percent credited the Club with keeping them in school. The U.S. high school graduation rate currently stands at 68%. For Club members, the graduation rate is 90%.

About J LO: An alumnus of the Kips Bay Boys & Girls Club in the Bronx, N.Y., Jennifer learned to sing and dance as part of the Club's renowned "K Company" performing arts program. Today, a multi-talented entertainer, she is also a successful businesswoman, and the proud mother of twins.

About BGCA: For more than 100 years, Boys & Girls Clubs of America (www.bgca.org) has changed lives, saved lives, and created great futures – by enabling young people, especially those who need Clubs most, to reach their full potential as productive, caring, responsible citizens. Today, some 4,000 Boys & Girls Clubs serve more than 4 million youth through Club membership and community outreach, providing guidance-oriented programs emphasizing academic success, character and leadership development, community service, and healthy lifestyles.
[From Jennifer Lopez's fansite]
I didn't know that Jennifer was in the Boys and Girls Club when she was growing up. That must mean a lot to her, being named co-spokesperson, and sharing the honor with someone as respected and beloved as Denzel. I have no doubt that Jennifer will work her ass off for the Boys and Girls Club… but I have doubts as to whether or not she will be dressed appropriately while doing her good works.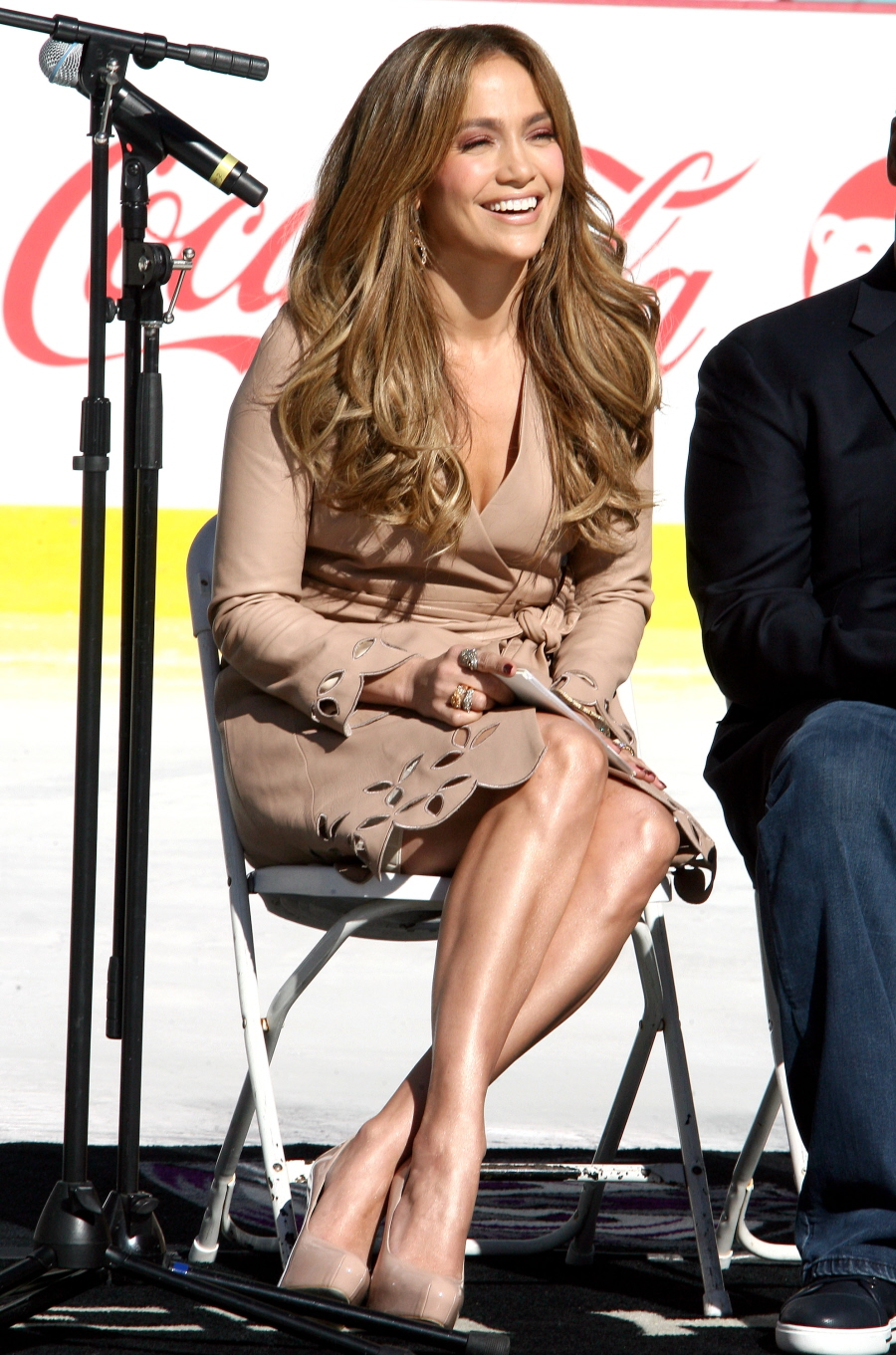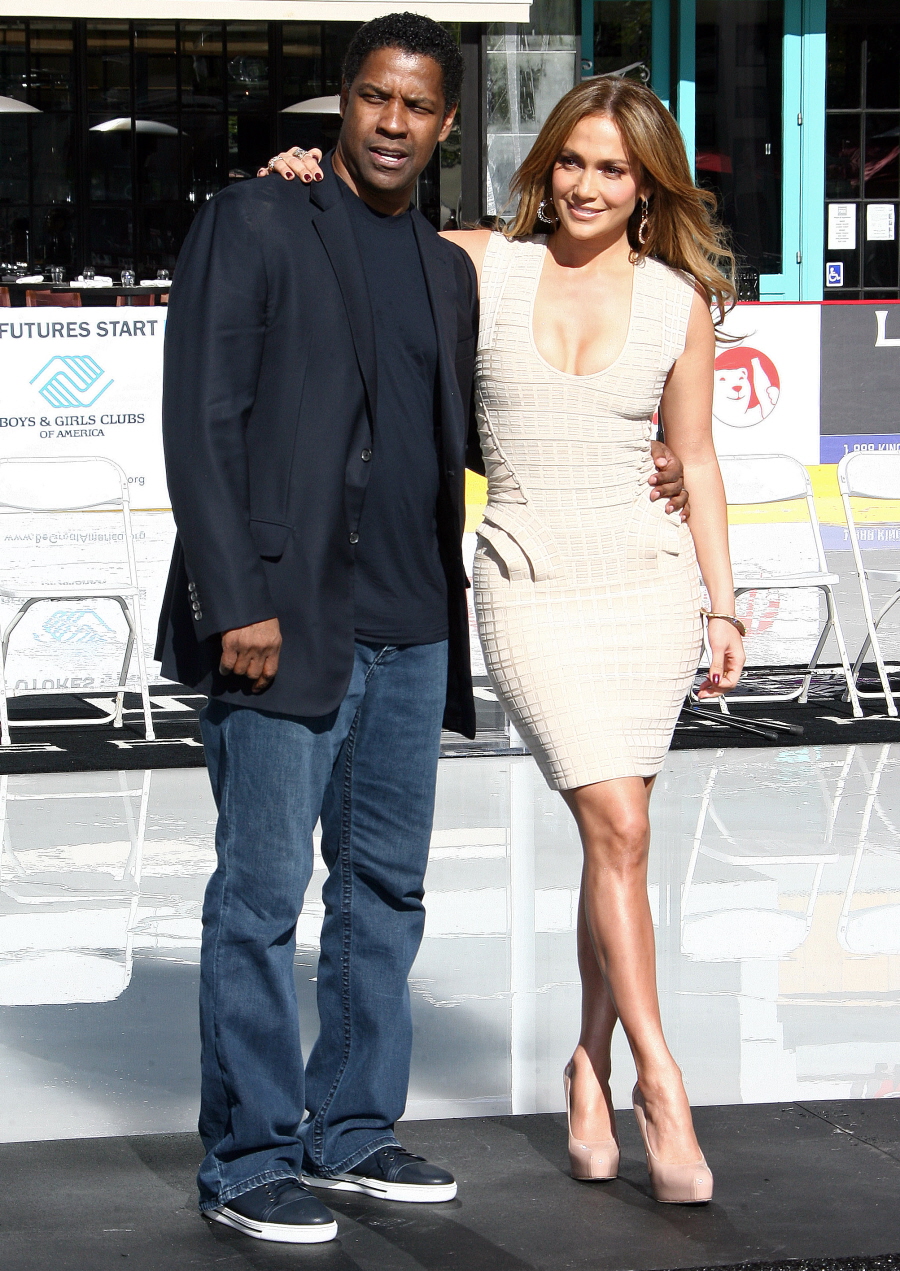 Photos courtesy of Fame.