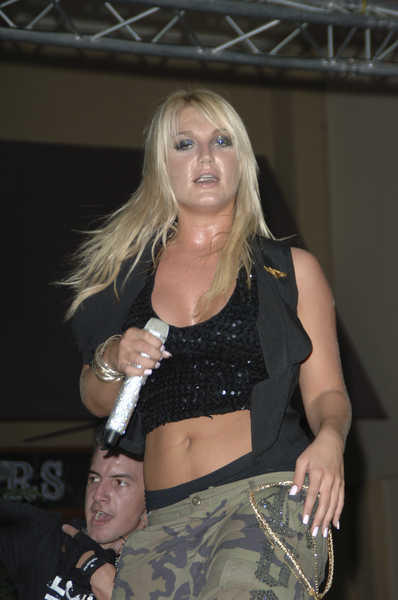 Brooke Hogan performing on 9/2/07. Credit: PRPhotos
Brooke Hogan appeared on Access Hollywood last night in the first segment in a two part interview, shown below. I expected to feel more pure malice toward her than I did while watching her defend her family's behavior toward the vegetative victim of her brother's drunken car crash. As it is, she seemed like a clueless self-absorbed twit. Of course she would defend the inexcusable actions of her family above justice and reality because that's all she knows. She's loyal above all else, and while some may call that dumb others find that trait admirable in its single-mindedness.
Maria Menounos asked some pointed questions about Brooke's family including the one that many of you are clamoring to know: Has Nick been physically harmed in jail?
Brooke says she "almost had a little bit of a breakdown" about her brother and that "my brother and I are inseparable. I'm always used to protecting him."
As for whether Nick has been physically harmed in jail, she said "not physically harmed, but kids have confronted him about it… he knows how to handle it and basically say[s] 'back off'"
On the jail releasing Nick's phone calls while Paris Hilton's jailhouse calls remained private
She said "I don't know if legally they're allowed to do that. Paris Hilton and all these other people haven't had their tapes released."
On her father and Nick blaming the victim, John Graziano, for his injuries: "I don't know about that"
John Graziano will probably remain in a vegetative state for the rest of his life and is literally missing half his skull. In the tapes released by the jail of Nick's phone calls, and in a follow-up appearance on Larry King, Brooke's dad Hulk Hogan blamed John for his injuries. Nick had a .05 alcohol level two hours after speed racing on a public street in Clearwater, Florida last August, crashing his high-performance Supra into a tree. Hulk claimed that the resulting injuries to Nick's passenger, John, were somehow God's will to make John a "betttr person"
When Menounos asked Brooke about a taped phone conversation between her father and Nick in jail, in which Nick called John "a negative person," Brooke chalked that up to the fact that Nick is serving 8 months in jail for his crime.
"All I can really say is that he was in solitary confinement. Hardened criminals can't even stay in there for a couple of days.
"When he's going crazy over the phone saying 'I don't know if I'm going to be able to make it in here' you just tell him anything tangible that he can attach to."
Menounos asked "What about the comment about John?"
Brooke, "I don't really know about that. I just know that my family has total love for John."
Access Hollywood notes that Brooke is working on recording a new album and on her latest reality show for VH1, "Brooke Knows Best." One thing Brooke definitely knows is how to blame other people and external circumstances for indefensible behavior by her brother.
Brooke's parents Nick and Linda are in the process of a divorce which involves inappropriate younger partners for each of them and a lot of accusations on both sides. Brooke's follow up interview to air tonight will surely focus on that.
Here's the clip of the show: