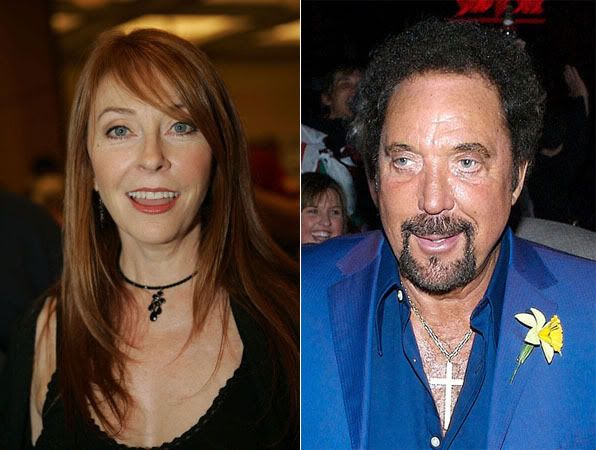 The actress who plays Mistress of the Dark vampire seductress Elvira, Cassandra Peterson, says her first sexual experience was with lothario singer Tom Jones and it was a rough one. She calls it "painful and horrible" and described how he "was jumping" on her. Afterwards she needed to get stitches, presumably in her nether regions. The worst was when she went to see him the next night and he was with two other women, though:
Actress Cassandra Peterson was working in a nude revue in Las Vegas when she fell for the well-endowed "It's Not Unusual" singer.

Peterson admits Jones was a rough lover and her first-time sexual encounter with the womanizing Welshman left her needing medical care.
She tells the new issue of Blender magazine, "Tom seemed gentlemanly and nice, so when he was jumping on me… I thought, 'Well, if I'm ever gonna do this, it might as well be with Tom Jones.' It was painful and horrible."

Peterson tells Blender she needed stitches after the sex session was over, but the worst pain was yet to come.

She adds, "I thought for sure we were gonna run away together and get married. I went backstage to see him the next night, but he was with his two background singers… and was all over them. I was disgusted."
[From Starpulse via Gossip Rocks]
That's awful! Apparently Peterson told this story on Howard Stern years ago, but this is the first I've heard of it.
In the few times I've thought about making love to Tom Jones, which all occurred earlier today when I read this story, he strikes me as a smarmy type but not the kind of guy who would be forceful with a woman. It's one thing to throw your panties on stage for the guy. It's another to actually let him rip them off of you and smother you with that sweaty hairy body. The fantasy sounds much better than what happened to poor Elvira, and maybe Peterson's story will help warn off the few aging groupies Jones has left.
Thanks to LynnieD on Gossip Rocks for the tip about Peterson's Howard Stern interview.
Cassandra Peterson is shown as herself on 7/8/06. Photographer: Rachel Worth for WENN. She's seen as Elvira on 10/27/07. Photographer: Noam Nitzart for WENN Tom Jones is shown on 4/19/08. Photographer: Tommy Gravad for WENN