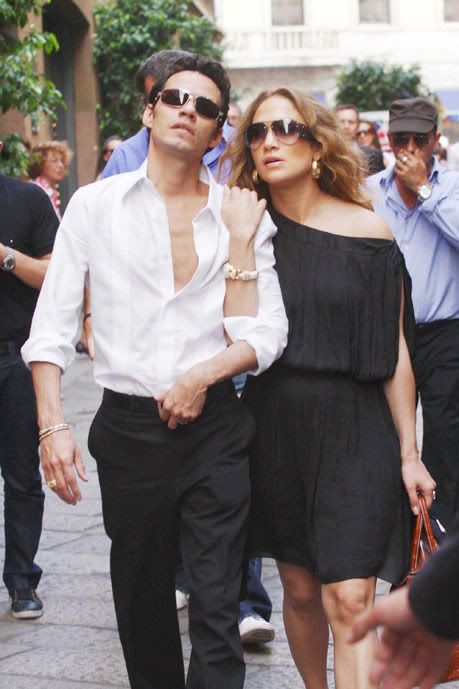 Jennifer Lopez and Marc Anthony's fraternal twins, Max and Emme, are about four and half months old. As of at least the end of May they haven't had a nanny and have been cared for by Anthony, Lopez, and J.Lo's mom, Guadalupe. But Anthony and Lopez went through two nannies for the twins, both of whom quit due to poor working conditions. That means that J.Lo had two nannies quit on her in less than three months. She's also been unable to find a replacement because no one wants to work for her despite the pay, which amounts to six figures a year:
Jennifer Lopez and hubby Marc Anthony are willing to shell out a whopping $2,250 a week for live-in help for their twins – but their nannies keep walking off the job!

"Probably more like running off the job," a source close to the couple told The Enquirer.

"Normally people who make huge sums of money and have loads of professional and social obligations hire a nanny for each child, especially for newborns.

"But it is as if Jennifer expects one nanny not only to take care of both twins, but to work 16-hour days, seven days a week!"…

According to the source, the first nanny lasted a month.

"They hired a second nanny, who was wonderful with the twins, but she couldn't take working such long hours without a break," added the source.

"After that nanny resigned, the couple began desperately seeking nanny No. 3."
[From The National Enquirer, print edition, July 21, 2008]
Anthony told Billy Bush on his radio show in late May that just he and Lopez were caring for the twins, but he failed to acknowledge his mother in law's help. She was said to be living with them at the time.
9k a month is a great deal of money. You could be pulling down six figures working as a nanny. You would essentially have no personal life, though, and would be living in a gilded, garishly decorated cage, tending to two cute little babies but subject to their mother's every whim. Those babies would probably have their clothes changed as often as their diapers, modeling designer outfits and tiny cashmere sweaters around the house while perfecting their haughty stares.
If the nannies were so overworked that they never got a break, how involved are Lopez and Anthony in their twins' lives? They must be doing something for them if they don't have help now, and I doubt they're passing it all off to Lopez's mom.
Lopez and Anthony were in Europe earlier in the month. They brought the babies with them and were seen boarding a private plane with Max and Emme while leaving Spain for Italy. There must have been some help with them because they were photographed strolling the streets of Milan without their twins, going on a boat ride with Dolce and Gabbana, and shopping in Barcelona. There's got to be someone willing to put up with them and watch their babies most all day every day for that kind of cash.