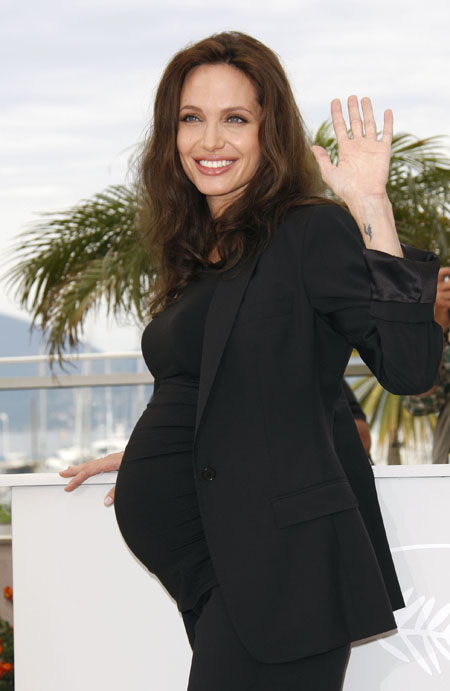 The media is all up in a tizzy. Reports are coming in again that Angelina Jolie may have given birth to her twins, following an article in the French newspaper Nice-Matin. The paper claims that Angelina gave birth sometime before 10 p.m. on Saturday night; and had a boy and a girl, named Knox Leon and a girl named Vivienne Marcheline. A few other websites are claiming she gave birth to two girls. Many other magazines have jumped on board announcing the birth, but even more are holding off, after the Entertainment Tonight debacle last month.
First thing's first: As far as we know, Angelina Jolie and Brad Pitt's twins have not made a break for it just yet. Nadine Bauer, the spokeswoman for Fondation Lenval, Jolie's five-star seaside hospital, told E! News Saturday night that any official word on the birth would be posted on the facility's website.

That appears to shoot down two reports claiming les bébés had been liberated earlier today. Saturday started off innocently enough, with the general consensus that Jolie-Pitts 5 and 6 were due to arrive via C-section this Tuesday. But then In Touch Weekly reported that twin girls arrived around 7 p.m., citing an unnamed hospital source. After which, Bauer was quoted in various outlets, including Us Weekly, Extra and OK!, that ITW had "wrong information."

But judging that response semantically, it could be that the birth simply didn't occur, that it took place at a different time or that it didn't involve two girls—those latter storylines were covered by a local newspaper.

Apparently in an earlier incarnation of that story, though, the newspaper had some strikingly different information. According to the Agence France Press wire service, Nice-Matin initially reported Jolie and Pitt are now the parents of another daughter and a son, even going so far as to give the little ones' names, Knox Leon and Vivienne Marcheline, and weights.
[From E! News]
So Angelina may or may not have had babies. And they may or may not be girls or boys. If she didn't have them… she is still pregnant. Really, the story here is that everything is still up in the air. Angelina was widely reported to be scheduled for a C-section on Tuesday. It would make sense for the hospital to circulate a later date if they wanted to throw the press off. We'll keep you updated and let you know if Brangelina #5 and #6 have indeed entered the world in all their sparkling glory.