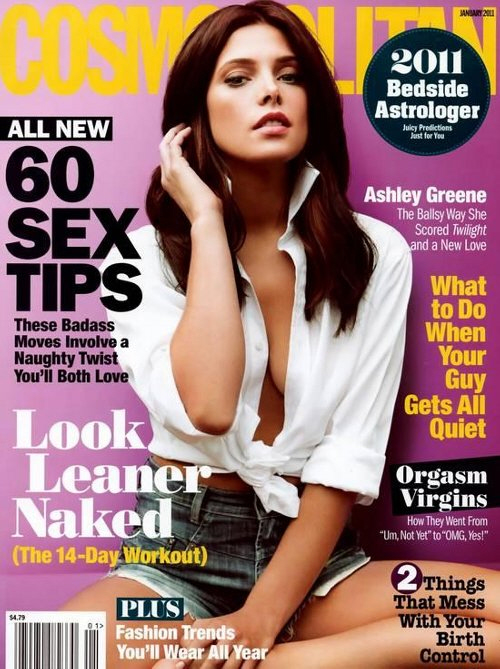 Here is Ashley Greene's January cover for Cosmopolitan. Hot pants? Check. Hint of cooter? Check. No bra? Check. Half a tittay hanging out? Check. Oh, wait, this isn't a Maxim cover. All that would really need to change, though, is that on a Maxim cover, Ashley's mouth would be open wider, and she wouldn't have her hand in her hair, it would be closer to her mouth.
In my opinion, Ashley Greene is the new Rachel Bilson. Did your head just explode? I love that so many of you are Bilson lovers, and that you defend her famewhore ways. It cracks me up. Well, Ashley Greene is another one of those girls who calls the paparazzi on herself and sends little asinine stories to the tabloids. In case you're already saying "WHO?" – Ashley is in those Twilight films. She plays Sparkles' "sister". She's also getting some supporting parts in films that don't look promising, which is where so many of these vapid girls find themselves. Instead of aiming for a career like Carey Mulligan, they're taking pointers from Biel and Alba. Instead of talking an acting class, they wander around in leggings and no panties for the paps. Instead of doing an off-Broadway play for little money, they start a dumb tabloid report only to have their rep officially denounce it.
By the way, in the Cosmo interview, Ashley says this: "I'm indifferent about marriage. I think sometimes people get married so they can say they have that person forever, but a ring doesn't ensure that you'll stay together. Watch, now that I've said that I will be the first of my friends to get married!" Oh, isn't she just so funny? And she's so bohemian, what with her refusal to dream of a white dress. And of course, the quotes play into the tabloid stories Ashley has been pushing about Joe Jonas possibly popping the question any day now. Why, that's so weird!
Here are some of Ashley's many candid photos – seriously, there are new photos of her running errands or going to the gym like every other day. What photographer waits around for Ashley Greene? None of them. She calls them.