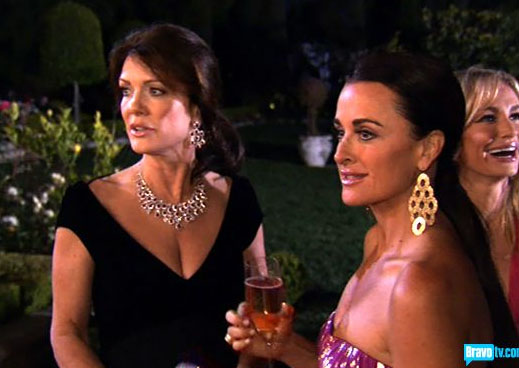 Spoilers for last episode
This week's episode of The Real Housewives of Beverly Hills wasn't as dramatic as we've seen so far, and that's because we were barely subjected to Camille and her unparalleled narcissism. There was still plenty going on, most notably a blind date for a heavily boozing Kim, and Taylor crying over her lousy marriage.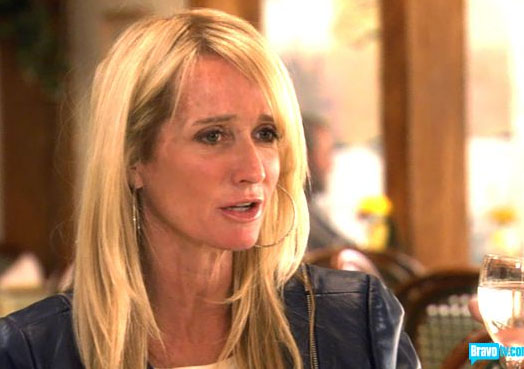 One thing that really stuck out for me was that Kim was drunk for a good portion of this show.* Now I understand that she was being set up on a blind date, and I'm not one to begrudge someone their liquid courage, but she was wasted. She also seemed bombed during the narration portion of the show, and I'm beginning to think that a lot of her social issues may be due to how much she drinks. Or maybe she drinks because she's shy, but it's obviously not working for her.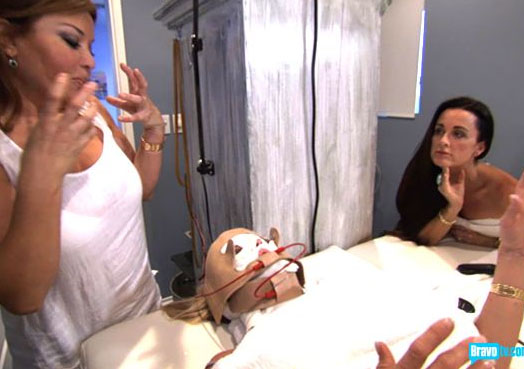 To start off this week's episode, we saw sisters Kim and Kyle get electric facials in preparation for Kim date. They talked about how Kim needs a companion and how Kyle doesn't want to have to worry about her. Kim went out to lunch with one of her daughters, and again they focused on how Kim needs a man.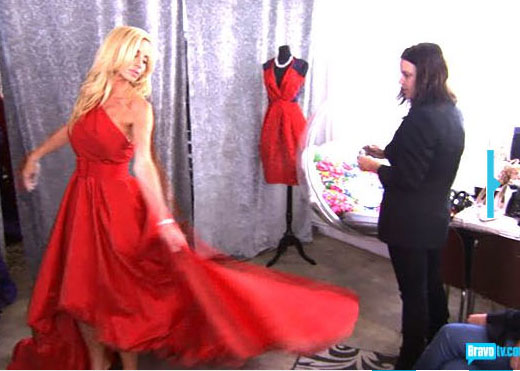 Camille tried on a bunch of insanely expensive gowns in preparation for the Tony Awards, where Kelsey is nominated. It was amusing to hear her rattle off how many times he's been nominated for Emmys and how many times he'd won, given what we know about the imminent failure of her marriage.
Lisa met with her intended date for Kim, an older British gentleman named Martin whom she claimed in an earlier episode was still in prison. She was hesitant to recommend Kim to Martin, and said "she's really nice… but she's a little feisty, and you're desperate now aren't you?"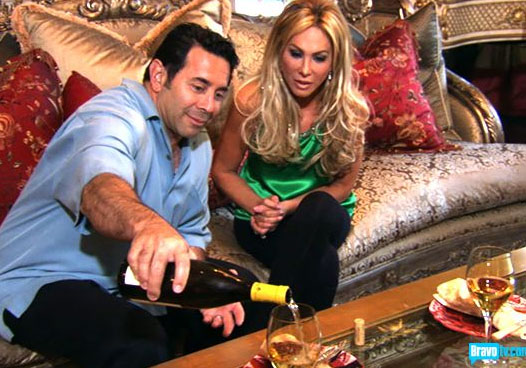 Adrienne's husband, Paul, set up an eighth anniversary dinner for her at home (prepared by their gourmet chef) that was actually pretty sweet. These two bicker constantly, with Paul kind of feeding off Adrienne's rejection. It's clear he adores her, though, and his anniversary present, a german shepherd straight from Germany, was Adrienne's favorite gift of all time.
Taylor took her four year-old daughter, Kennedy, to the doctor to discuss her recent allergies. The doctor confirmed Taylor's suspicions that her daughter's rash and puffy eyes were due to the new puppy that her husband bought for Kennedy against Taylor's wishes. Of her daughter's allergies, Taylor said "'it's really karmic… I blame Russell." Taylor and her husband Russell sort-of agreed to get rid of the dog, with Taylor shedding fake tears over it.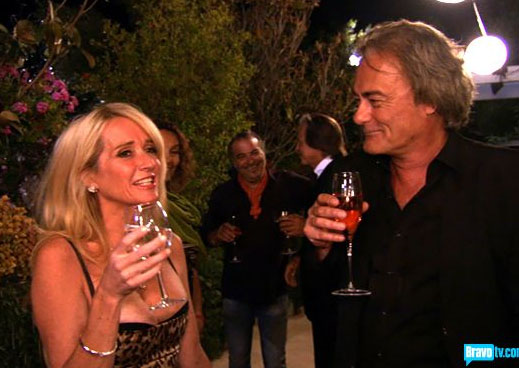 Lisa gave Kim the heads up on her date, and quipped over the phone "Tonight I'm setting you up with a debonair young man, well he's not debonair but he's the best I could find, ok? I don't want you to get too cocky tonight. He's darling, he's age appropriate." Then everyone except Camille headed to some billionaire's incredible mansion (I think it was this guy, Mohamed Hadid, a real estate developer responsible for several Ritz Carltons) for the dinner party to setup Kim and Martin. Kim was late and dressed in a very low cut leopard print dress. She looked trashy compared to the other ladies, but Martin didn't seem to mind. They hit it off and Kim was practically hanging on him by the end of the night, slurring that "I forgot to tell you, I married my first blind date." Martin was almost as drunk.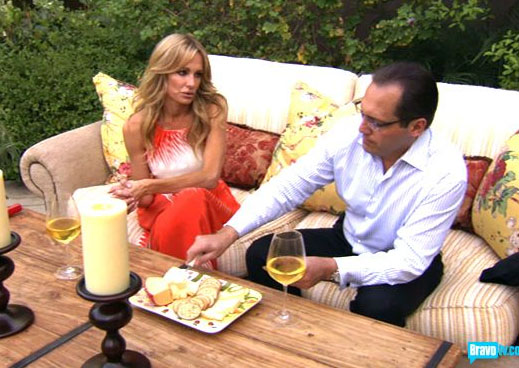 At the end of the episode we saw Taylor going to Kyle for advice about her marriage. Kyle and her husband Mauricio have four daughters that range in age from 2 to 21 and are still very affectionate with each other. Taylor and husband Russell have one four year-old daughter and seem very disconnected. They have obviously longstanding issues, and Richard is humorless and controlling. Taylor explained their relationship like they were good business partners. Kyle told her that she feels like Mauricio "always has my back." She was mildly encouraging when it came to whether Taylor could save her marriage. Kyle asked "If you don't have that to begin with, that's hard. If you don't have that and you can't change that, what would you do?"
Taylor said "There's a part of me that thinks it's unfair to even ask for that."
Kyle continued "He's so lucky to have you. We all deserve to have it all. Anybody would be lucky to have you."
I predict that Taylor will be getting a divorce within the next year.
Spoiler for future show
*I've read in the National Enquirer that Kim's drinking becomes an issue later in the series, and maybe I was looking for it. I'm pretty sure I would have noticed anyway.