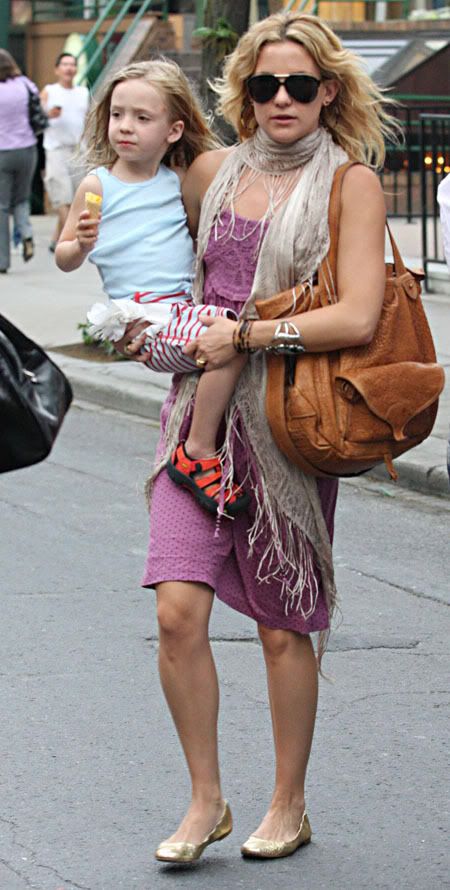 Little Ryder Robinson, son of Black Crowes frontman Chris Robinson and actress Kate Hudson, has decided that he wants to chop off his long hair so he can look like Mom's boyfriend-of-the-moment Lance Armstrong.
His mom, Kate Hudson, has been dating Lance Armstrong for only two months, but Ryder Robinson has become such a huge fan that he wants to be like Lance and get the same 'do.

The 4-year-old always wanted to be exactly like his dad, rocker Chris Robinson, so he never let Kate cut his hair, says a friend close to the Fool's Gold star. "But now that Lance is in the picture, Ryder wants Kate to lop off his locks so he can be as cool as Lance."
The kid desperately needs a haircut. He looks like a little girl. However, given Kate's track record, I wonder if it's such a great idea for little Ryder to get too close to Uncle Lance. He could be out of the picture tomorrow, replaced by yet another celebrity bachelor. And I can't help but wonder how his dad feels about this. Sure, Chris Robinson has been seen hanging out with Kate and Lance and the kids – but it's a lot different when your own son starts idolizing the new guy. It's got to sting a little bit. But whatever the motivation, I hope Kate brings the little tyke to the barbershop ASAP. He'd look so cute with a buzz cut!
Note by Celebitchy: There is a real trend for boys to have longer hair now, and you can see how Ryder is inspired by his dad to grow his hair long. Of course Ryder is going to emulate whichever male figure is in his life, and for some reason I think that Kate and Lance are going to last. I may sound idealistic or foolish or whatever, but I bet you they will last at least a few years. Sure it started fast for them, but they seem really suited to each other and they are trying their best for their families to get to know each other.
Kate Hudson and Ryder are shown on 6/16/08 in NY. Credit: Asadorian-Mejia/Splash. They're also shown out in Toronto on 6/13/08. Credit: Todd G/Splash News.