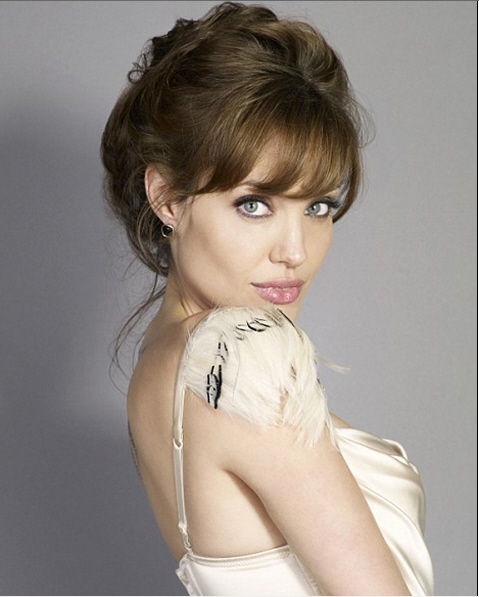 Angelina Jolie gave an extended interview to The Daily Mail to promote The Tourist, and she talks about Brad and the kids, Johnny Depp, and… plastic surgery. Angelina claims she's never had anything done? Do you believe her? I used to think that she had a nose job back in her late teens, but as I look at Shiloh and the twins… well, they have her nose. Her current nose. So now I'm not so sure if Angelina ever did get that nose job. But whatever, people will think whatever, but it always cracks me up how Jolie's detractors can simultaneously think that she's had all of this work done AND that she looks like ten kinds of aging hell. Pick one. The full Daily Mail piece is here, and here are the highlights (they interviewed her in Budapest):
On her relationship with Brad Pitt : 'We're sweet, thanks for asking. Really, all that stuff that goes on, it's nothing to do with us. We ignore it because it's nonsense. We can laugh about things that are said about us because we're OK.'

On the director of The Tourist, and filming in Venice: 'Florian and I have a similar approach to films. We love art when it comes in forms that are dark and deep, and that can be wonderfully rich, but I think there's something to be said for stories that have humour and beauty and fun. And we wanted to honour those old movies that were so beautiful to watch. It was lovely being in Venice because my whole family came, so we had this beautiful home looking out at the Grand Canal. The kids got very familiar with it and they often did their homework in boats, to break up the day. There are great museums and great art. One night Brad and I went out to dinner and I wanted to get dressed up and wear my heels. By the time we'd finished dinner we had to borrow welly boots because the water had risen so high that you couldn't walk down the street. But that's the magic of Venice. It's not an inconvenience if you fall into the magic of it, it's actually a lot of fun.'

Jolie on Depp: 'It turns out we are both a bit reclusive,' she laughs. 'That's why our paths had never crossed – neither of us attends many parties or goes out very much. Neither of us seems to take ourselves too seriously. And maybe there's something about being in a place in your life where your family is so central to you that you have a good perspective on it all. You appreciate the work, and when you are there you focus and give it your best, and then when it's done you go home to your family. Your life is full off-set and you have this nice balance. Johnny is like that and I'm like that, too.' Depp also decamped to Venice for the filming, staying on a yacht near Angelina's brood with his partner, the French actress and singer Vanessa Paradis, and their two children. 'We got together as families,' says Angelina. 'Brad, Vanessa and all the kids; that was lovely. Just family stuff.'

Jolie on date nights: 'You have to make time when you are not Mom and Dad once in a while. I think for anybody who has kids, the most important thing is that you love your children, but you also have to stay focused on each other so that you stay strong. And you staying strong as a couple keeps the kids in an even better place.'

Jolie on where she is in her life: 'I enjoy the work more now because I enjoy life more. When you have children the whole world shifts for you. You have these little people that make you laugh and remind you every day of what is important, and you get to be their parent and that's the most important thing you'll ever be. Everything else comes from that.'

On family: 'My mother made me feel very loved and sent me out into my life to be whatever I needed to be and to express whatever I needed to be. Hopefully I'm giving my children the sense that they are deeply loved and deeply safe. At the same time we are hopefully encouraging their individuality as they get to know who they are, and not getting in the way of that. That's why they are six very strong individuals.'

On Shiloh being a tomboy: 'I don't think it's for the world to interpret anything. She likes to dress like a boy and wants her hair cut like a boy and she wanted to be called "John" for a while. Some kids wear capes and want to be Superman and she wants to be like her brothers. It's who she is. It's been a surprise to us and it's really interesting, but she's so much more than that – she's funny and sweet and pretty. But she does love a tie…'

On that Joan Collins thing, where Collins said, "There aren't that many good-looking actresses around today. I mean, there's Angelina Jolie and there's Angelina Jolie…": Angelina seems genuinely surprised when I mention this to her. 'Really?' she says. 'That is so sweet and so flattering. It means that much more coming from her, because she is just so gorgeous and cool and has been for ever.'

On plastic surgery: 'I haven't had anything done and I don't think I will. But if it makes somebody happy then that's up to them. I'm not in somebody else's skin to know what makes them feel better about themselves. But I don't plan to do it myself.'

On the rumors that Brad would run for higher office: 'Well, that's news to me. He'd green up the White House pretty quickly. But I think he's a little busy for that…'

On the idea that she would run for office: 'Not directly, no. And with my life, well, I'm not sure that I would be taken seriously and get stuff done.' She's right; America likes its politicians to be squeaky clean and Angelina's past would raise a few eyebrows with some of the voters in Middle America. 'Yeah,' she points out, 'although I would rather have somebody who has experienced a lot of life-making decisions – and at least the skeletons have already been let out of my closet.'

On her directorial debut: 'I've been to a lot of areas in the world post-conflict, and I wanted to write a story about the effect that war has on society – how it changes people, changes their lives and their futures.'

On perhaps playing Cleopatra: 'It remains an exciting idea but has not yet been put on the page,' she says. 'We need to be clear about why we want to do it and how the story relates to today; see what new information there is about her, how we can make it new.'

On working with Brad again: 'We talk about it often but it's just hard to find the right thing. We want to find that really great script, that special project, so we keep looking. We'll find it one day.'

On the kids: 'They are in a local school in Budapest at the moment and they are having a good time,' she says. 'They'll be here hanging out and playing with the fake snow.' They will doubtless make even more demands on her, but she doesn't mind. 'I love it. I like being active, I love being busy and answering a lot of questions. And the children, well, that's not work. It never is. They are always a pleasure.'
[From The Daily Mail]
I like what she says about Shiloh dressing up – basically, "Step off, she's my kid, and she's fine." I'm also surprised that Angelina had anything to say about that Joan Collins incident, but perhaps The Mail didn't read Joan's full quote, which was: "When I was young, everybody on screen was gorgeous. I have to say, there aren't that many good looking actresses around today. I mean, there's Angelina Jolie and there's… Angelina Jolie. Jennifer Aniston is cute, but I wouldn't call her beautiful. She's no Ava [Gardner] or Lana [Turner]." But it's nice that Angelina has nice things to say about Joan, I suppose. Old, fabulous bitches have gotta stick together.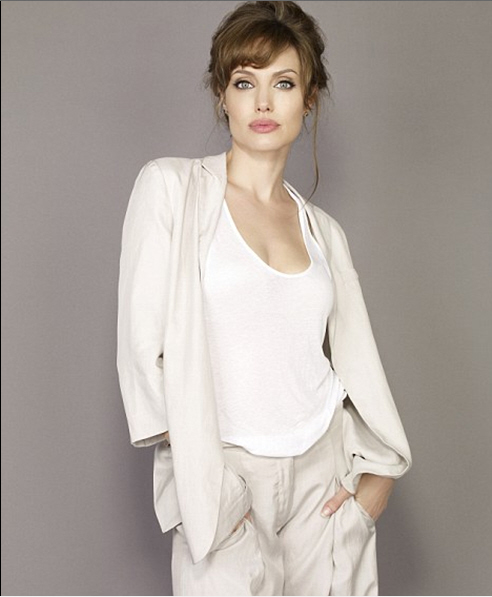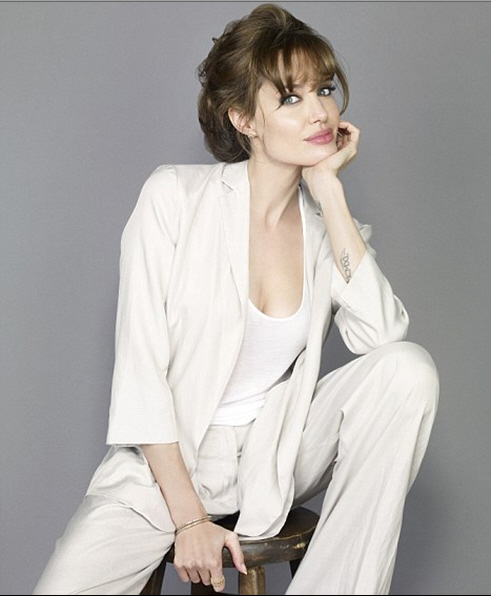 Photos courtesy of The Daily Mail.