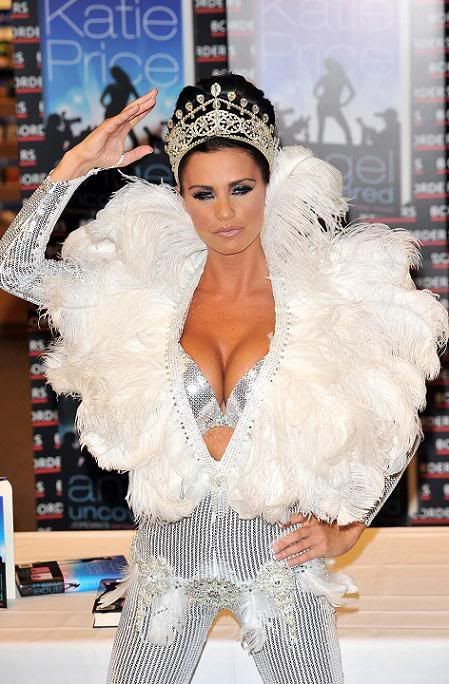 Here are some absolutely gorgeous photos of Katie Price, aka "Jordan" at the launch for her latest book, Angel Uncovered. Yes, i say latest because price has put out no less than 17 books. 17. I wish there was a way I could capitalize numbers, to really show my shock and disdain. The current book is the third one to be about Britian's top model. Because Price is very creative like that. she also says that other authors are jealous of her. I myself will admit to absolutely seething every time I see a picture of Price and a book that she's "written.". I'm just not seething with envy.
With the second book do you feel that you still have a lot to prove?

Well I've got 17 books out, they've all gone to number one so obviously I'm doing something right.

Do you think people can still be a bit snobby towards you?

Totally, especially at the book awards. It's as if I shouldn't be there. But I've got a right to be there like everybody else. I think they are just jealous because my books seem to sell more than most of theirs. But I can't help that. I obviously write good stuff.

In the new book there seems to be quite a few Posh and Becks type stories in there?

The way I've done the book because obviously the industry I'm in, is like celebrity magazines, Wags and reality shows. That's how I've done the book. It's very today and very much what I'm involved in.

It's good though. You've got the footballers and the wives when they go abroad, mixing with other Wags, fashion, babies, affairs, it's all in there.
[From the BBC]
That's some deep stuff right there. Here's Jordan launching her new book at Borders Oxford Street in London today. Photographer: Daniel Deme. Images thanks to WENN.