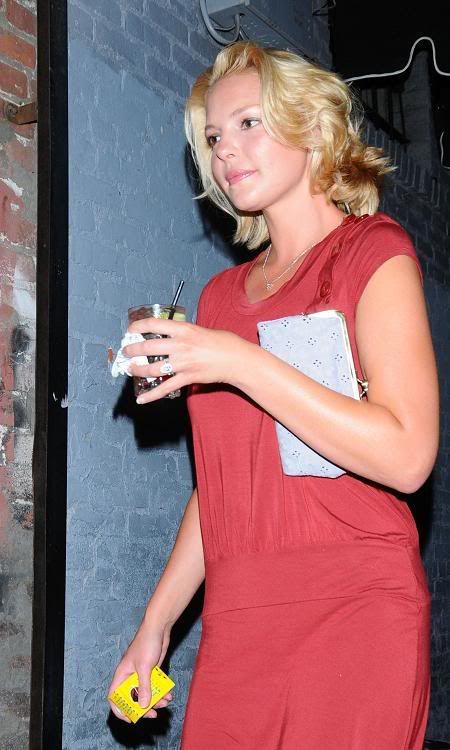 Katherine Heigl is really starting to feel the backlash following her comments that her last season on Grey's Anatomy wasn't worth an Emmy nomination. Which is absolutely true, but the tactful thing to do might have been to keep her mouth shut.
ABC executive Steve McPherson says that Katherine will be on Grey's Anatomy this year, she isn't going anywhere. Which might sound like he'd giving her great loyalty for her work on the show, but it probably means she has a contract, her comments are bringing interest in the show.
As for rumors that "Grey's Anatomy" star Katherine Heigl may be departing the show (after voicing frustration over her character's story arc last year), McPherson said the thesp is still committed to the series this season.

"It's unfortunate when there's any kind of turmoil on a show," he said. "She's absolutely staying with the show; there's an unbelievable storyline for her central to everything going on this season."

Still, rumors are rampant online that Heigl's character will be given a brain tumor — which could still mean she's out the door after next year.
In another interview, Ugly Betty producer Silvio Horta says that he would have put her in a coma, but Grey's Anatomy writer Shonda Rhimes spoke in her defense.
Grey's Anatomy creator Shonda Rhimes said she was "surprised" but "wasn't insulted" by comments made by Katherine Heigl about her decision to drop out of the Emmy race and added that she has a "really wonderful working relationship" with the outspoken actress.

"We have a really great story worked out for Heigl," said Rhimes, who participated in a showrunner panel at the TV critics press tour on Thursday along with Lost's Carlton Cuse and Damon Lindelof, Ugly Betty's Silvio Horta, Desperate Housewives' Marc Cherry, and Brothers & Sisters' Greg Berlanti. "It was not an insult of the writers per se," Rhimes went on. "The first half of the season had a very strong storyline with Izzie and George, but it [played] more comedic than most of Katie's storyline in the past. I wrote the back half light for Katherine so she could do her movie. So I didn't feel insulted."
Shonda, who is the main writer for the show, doesn't actually say much about Katherine's long term future on Grey's Anatomy, but my guess is that Katherine Heigl just knocked herself out of the running for anymore special treatment related to her film schedule. If you ask for more freedom to work on other projects, like lame romantic comedies, then complain that you're material isn't good enough, you aren't like to win friends and influence people.
Following Isaiah Washington's offer to 'help' the Grey's Anatomy team, he today made a large donation to gay rights fund Equality California. This is after he dropped the other f-word on set which eventually lead to his leaving the show.
Frankly, I think the show is tired. Instead of having it as a medical drama, they should set it in a bathroom, with all the characters gazing into mirrors and whining about their self absorbed problems. At least it would be cheaper to film that way.
—-spoilers follow—-
Instead, and don't read further is you don't want to know, the lesbian relationship between Callie and Erica will be expanded. Also, the medical aspect will be expanded, creating more moral and ethical dilemmas for the characters. That should ensure McDreamy and McWhinger never get it together.
Here's Katherine Heigl outside Hotel Café in Hollywood where she went to watch her husband, Josh Kelly, perform with his band on June 20th. Images thanks to WENN.