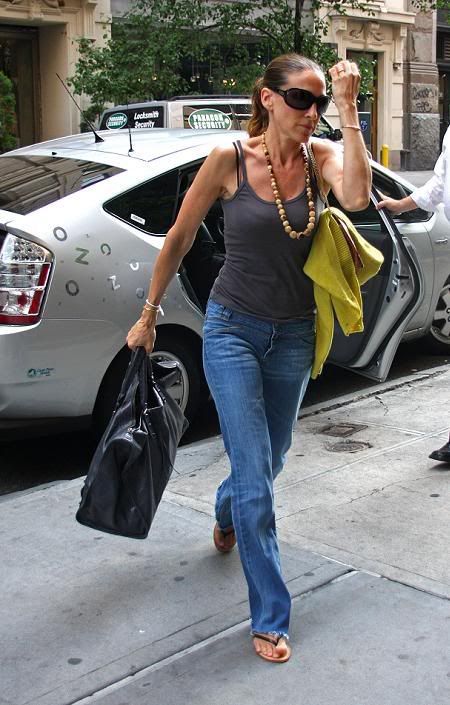 In a superbly lame-ass attempt to make amends, Maxim has declared Sarah Jessica Parker this year's "unexpected crush." Because that totally makes up for calling her the "unsexiest woman alive." That's like if the woman that called me fat today called me up in six months and said, "But you have nice hair." And hung up. Damage totally erased!
Sarah Jessica Parker has been hailed this year's unexpected crush by a men's magazine bidding to make up with the actress after calling her the unsexiest woman alive.

The 43-year-old Sex and the City star was outraged last year when men's publication Maxim bestowed her with the unsexy honor, insisting the insult was "brutal."

And Parker's outspoken opposition to the title seems to have worked.

The actress will receive her award in the August issue of the magazine.
[From NBC affiliate KGET]
I really hope she tells them to suck her mole. And then mails it to them. Seriously, having a list of the least sexy women was so unnecessary and stupid in the first place. And what a crap-ass way to atone for it.
In other SJP news, she's denying that she had a molectomy. Yes I made that up. And I think it works just fine, thank you. Her rep told IMDB that "Nothing has been removed." I assumed that she'd cop to it, but say it was pre-cancerous or something. There are a million ways to make a molectomy look like it was done out of medical necessity.
Note by Celebitchy: Sarah's rep may have denied that she had the mole removed, but US Weekly and the AP quote a source that confirms it.
Here's Sarah Jessica and husband Matthew Broderick shopping for a fridge on July 1st, according to Splash.. Images thanks to Splash.