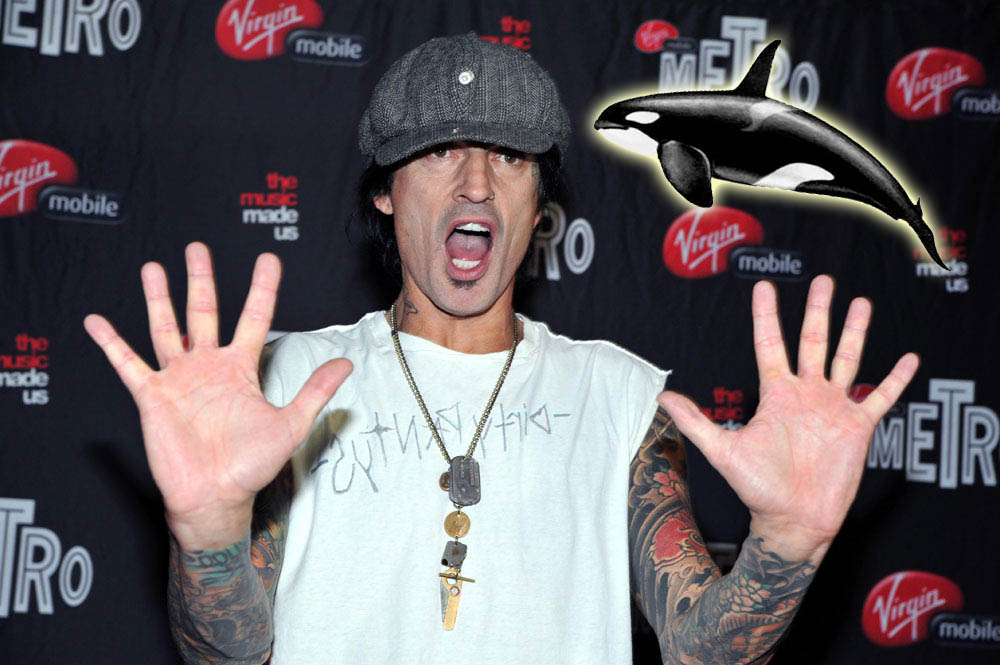 Warning: thinking about this stuff may bother you
Yesterday we heard that Tommy Lee had sent a letter to Sea World accusing them of using cow vaginas filled with hot water to masturbate their captive male killer whales in order to collect their sperm. It was disturbing to say the least, and put some pictures in my head that won't be easily forgotten. Lee was advocating for the release of Tilikum, a killer whale who has killed three people, including a female trainer earlier this year. In his letter, he accused Sea World of lying when they said that no one was in direct contact with the whale, and claimed that Sea World was still collecting sperm from Tilikum through divers using that bizarre method. Lee admitted to getting his information from PETA, and now Sea World has responded that he was wrong and that they do no such thing.
SeaWorld is finally lashing back at Tommy Lee — claiming the rocker's allegation that the park uses cow vaginas to "masturbate" their killer whales for sperm collection is "beyond ludicrous."

A rep for SeaWorld tells us, "If Mr. Lee's information on Tilikum and SeaWorld's artificial insemination program for killer whales comes from PETA we're not surprised that it's wrong. PETA is as careless with facts as they are extreme in their views."

As we first reported, Lee had fired off a letter to SeaWorld demanding they release Tilikum the orca back into the wild. In his letter, Lee also stated that he learned the "sick and twisted" info about the cow vaginas from SeaWorld's own director of safety.

But the SeaWorld rep notes, "The process of collecting semen for [artificial insemination] doesn't differ in any meaningful way from the techniques employed in managing livestock or other species for zoological display."

"Contrary to the charges made by PETA and repeated in Lee's letter, our trainers do not now nor have they ever entered the water with Tilikum for this purpose. The safety of SeaWorld staff and the welfare of our animals are our highest priorities."

The rep adds, "Whatever his views on SeaWorld, Mr. Lee would be wise to spend more time checking his facts.
[From TMZ]
Ironically, the whale's name is pronounced "Til-a-come." Thankfully Tilikum seems to be taking care of business on his own and without a diver's help. I'm so sorry for making you think of this. All joking aside, the fact that the whale has killed three people is enough to prove Lee's point that it should not be in captivity. It's hard to tell what they should do with the creature, though, as it may not be able to fend for itself again in the wild.
Photo credit: WENN.com