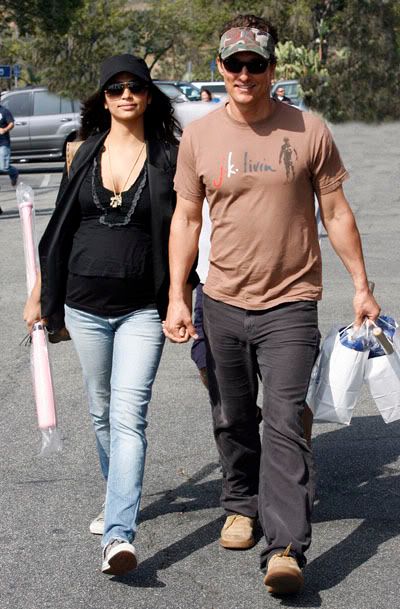 Matthew McConaughey proposed to his girlfriend (and mother of his son) hours after she gave birth, according to the National Enquirer. They say that after he held his son for the first time he wanted to get married. Which makes a lot of sense; I'm sure it's a very emotional experience. The two are keeping the information under wraps for a while.
Hollywood playboy Matthew McConaughey has been tamed at last! And all it took was a tiny 7 pound, 4 ounce baby boy to finally persuade the "Fool's gold" star to say goodbye to his bachelor days. Matthew popped the question to Brazilian stunner Camila Alves, 25, just hours after she gave birth to their son, Levi, on July 7, The Enquirer has learned. And she said yes!

"Camila was absolutely overjoyed – a baby and a marriage proposal on the same day," revealed an insider. "It was magic." The source said once Matthew held little Levi, he knew that marriage was the next step. Matt's privately been diamond shopping, and he wants Camila to design her own engagement ring, the insider added. They aren't announcing their marriage plans yet – and just like they sold the first photos of their baby, it's possible they'll try to cash in on the wedding.

…"The baby made Matthew realize that Camila and Levi are now his No. 1 priority – and nothing else in the world matters." While they haven't set a date, Matthew hopes to be married by Christmas, the insider said. "It will probably be something small and intimate. They want to get married on a beach at sunset."
[From the Enquirer, July 28 2008, print ed.]
A beach at sunset sounds very Matthew McConaughey. Then again, so does the idea of him wearing a coconut bra. But it fits with his whole relaxed surfer dude vibe. I'm kind of surprised he ended up being so traditional, but it is very sweet. Matt and Camila seem very happy together, and like they're going to make great parents. I bet they'll manage to get married in private and tell OK! Magazine about it the next week or something.
Here's Matthew and a friend walking to a movie studio in L.A. on Monday. Header of Matt and Camila in May – Matt committed the cardinal celeb sin of wearing the same shirt twice (gasp!!). Images thanks to WENN.