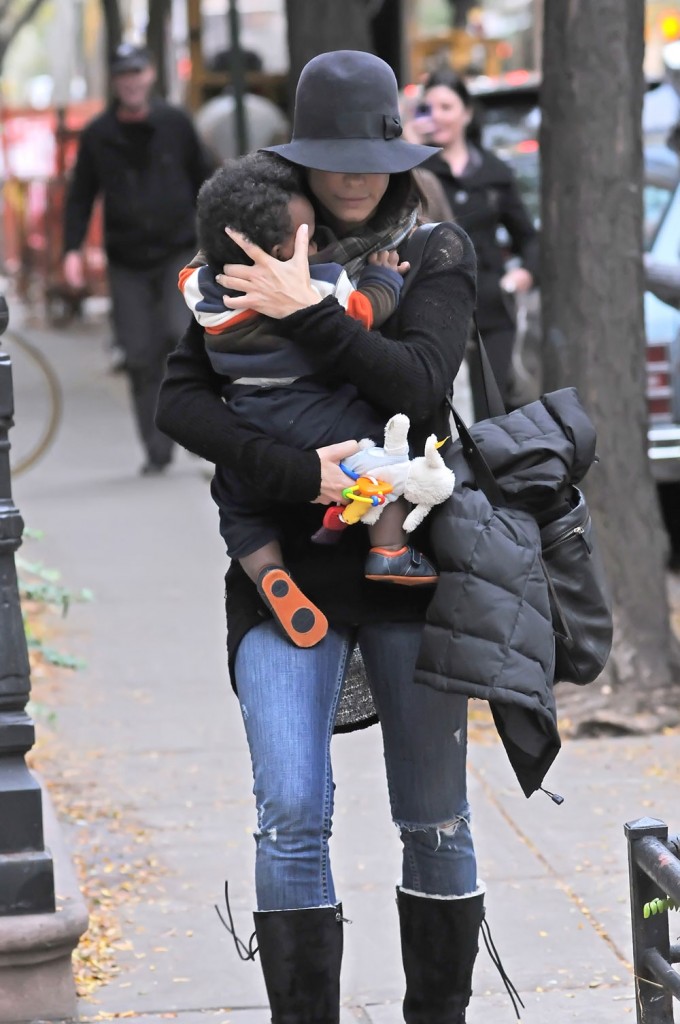 2010 was the year of the scandal, with the Tiger Woods debacle carrying over to ring in the year closely followed by Jesse James' massive betrayal of Sandra Bullock, which broke in mid March. Bullock handled that scandal with more grace and class than anyone could have imagined. She emerged six weeks later with an adopted baby that no one had any clue about, proving that she was able to keep the most important thing in her life an absolute secret at a time when she was all the tabloids were talking about. Sandra and Jesse have since divorced, with Jesse of course moving to Austin with his kids to be closer to her. According to In Touch, Sandra is planning for her former stepchildren to spend Christmas with her and her adopted son Louis, almost one. She's even invited Jesse. In Touch has run exclusive interviews with Jesse's ex Janine Lindemulder, so it's possible this news is coming from her.
Sandra Bullock is planning to spend the Christmas holidays in Austin, Texas with [Jesse James]. And it's all for the benefit of her adopted son, Louis, and Jesse's three children, Chandler, 14, Jesse Jr., 12, and Sunny, 6.

"Sandra is making plans for a Christmas reunion for Louis and her former stepkids, so they can spend time together and bond," a family insider tells In Touch. "And she's agreed to allow Jesse to come, as well…

"Sandra wants to make sure Louis grows up knowing Jesse's children, so she is willing to put the past behind her for the sake of the kids.

"Sandra knows that having Jesse's family in Louis' life is good for him… so she's opening her home and her heart to the children, inviting them to visit at Christmastime."
[From In Touch, print edition, December 20, 2010]
It sounds like Sandra is keeping it friendly and civil for the sake of her young son and the kids she grew to love. I wonder how much of an ass Jesse feels like when he realizes what he threw away.
Sandra Bullock is shown out in NY City with Louis on 11/6/10. Credit: WENN.com. Jesse James is shown outside court in Orange County, CA on 7/13/10. Credit: Fame Pictures