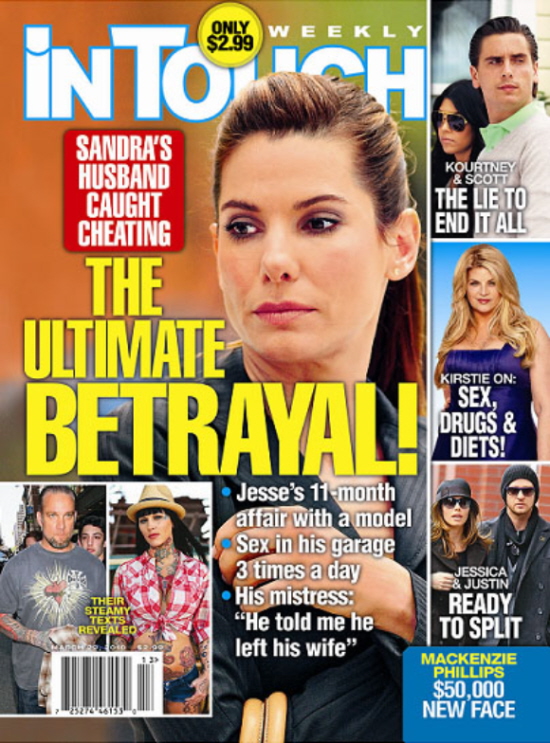 This story just makes me sad. We've had too many cheating scandals recently and I truly believed that Sandra Bullock and Jesse James were immune to this sort of thing. According to the latest issue of In Touch, Bullock's husband, Jesse James, cheated on her for nearly a year with a tattooed "model" he met on Facebook. The way this story is worded, it sounds like the woman is claiming that she's known James for nearly a year and was only sleeping with him for just over a month out of that year. It's possible this is all fabricated by some fame-seeker out for publicity, but the scenario just sounds too typical to dismiss. The woman also has a similar look to his ex wife, pornstar Janine Lindemulder:
When Sandra Bullock thanked her bad-boy husband, Jesse James, as she accepted her best actress Oscar for The Blind Side, she may not have known that while she was away shooting the film, Jesse was carrying on a steamy affair with a tattoo model. While Jesse has had an 11-month affair, including five weeks of sex, with Michelle "Bombshell" McGee, she believed he and Sandra were no longer together. "I would never have hooked up with him if I thought he was a married man," Michelle tells In Touch in an exclusive interview. "He gave me the impression they were separated." For weeks, while Sandra was in Atlanta shooting The Blind Side, Michelle had sex at least once a week with the Monster Garage star. Far from a one-night stand, his relationship with Michelle was intimate and highly charged. Michelle even says she called Jesse, who didn't wear underwear or condoms, by a special pet name, Vanilla Gorilla, because he was so "well-endowed."

While Jesse was in Atlanta with Sandra when she started to film The Blind Side, Michelle sent West Coast Choppers a friend request because she hoped to snag a modeling gig there. She was surprised that it was actually Jesse who wrote back to her and told her to e-mail him at his personal e-mail. From the start, Jesse wanted to meet Michelle, and it was never about business: "He started saying, 'Do you want to hang out?'" So a week after he got in touch, Michelle drove two hours from her San Diego home to West Coast Choppers in LA. "I got there around 9 at night," remembers Michelle, who was starstruck at first. "I was like, 'Holy s**t. It's really Jesse James.'" After taking Michelle on a tour of his garage, Jesse brought her into his office and locked the door. "We ended up on the couch," she says. "He wanted to watch movies, but I asked him, 'What's going on with you and Sandra?'" Jesse was evasive. "He said, 'She doesn't live here. She has a house in Austin. She is filming, and I can't talk about it.'" Assuming he and Sandra were separated, Michelle continued talking to Jesse, she says, and then, "We had intimate relations." Michelle says she and Jesse had sex "two or three times," that night — and began what she believed was a serious relationship, texting each other several times a day, and meeting up for sex at least twice a week for the next five weeks.
[From In Touch, received via e-mail]
I'm interested to see what kind of evidence In Touch has and if they have photos of James and this other woman together and/or text messages or e-mails. Some of that is easily fabricated, but my initial reaction is skepticism, unlike most of these infidelity cases. This is In Touch, not the National Enquirer. I'd like to know if In Touch conducted a polygraph test and/or tried to verify this woman's account with other sources. If this is true, my heart goes out to Sandra. She just won the Oscar with her weeping husband cheering her on from the audience. James had all sorts of gushing praise for Bullock after she took home the statue, and I truly believe that he loves her deeply. In his mind, he may have justified the affair by reasoning that his wife was away anyway and this woman didn't mean anything to him. Maybe they had a fight and he held a grudge, pitifully seeking out another woman to make himself feel like the conquering man he wants to be. It takes a real man to suck it up and deal with problems in the relationship. Is Sandra going to be the next actress to fall prey to the Oscar curse? I hope not, and I'm hoping this isn't true. She deserves better, but again this is all too f'ing typical.