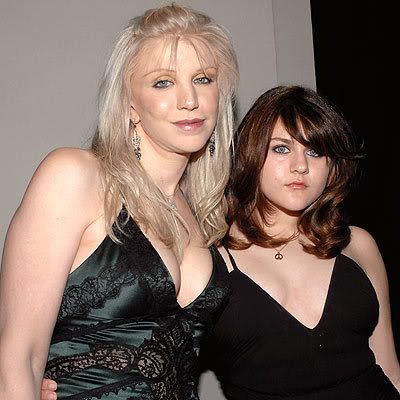 Frances and Courtney Cobain on 8/2/07. Newer photos have her looking a lot more grown up
Frances Cobain, the long suffering daughter of whackjob Courtney Love and the deceased Kurt Cobain, has somehow landed herself a coveted internship at Rolling Stone Magazine. I'm sure it's because she is an outstanding student and an accomplished budding journalist. There was certainly no nepotism involved. Right? Yeah, I didn't buy it, either. The teen may or may not be doing a good job in her position, depending on whom you believe.
Most magazine interns fetch coffee, run errands for editors and do some actual work – but maybe not Frances Bean Cobain. The 15-year-old daughter of Courtney Love and Nirvana rocker Kurt Cobain is the new summer aide at Rolling Stone. Insiders say "she doesn't get coffee for anyone . . . calls in sick all the time and wears funny outfits." A Rolling Stone rep denied the story, telling Page Six, "She's a great girl, and we're thrilled to have her."
Maybe Frances is interning to be the new, female Hunter S. Thompson. That would actually be kind of awesome. The magazine has had a huge void since Hunter died, lacking an authentic voice of countercultural debauchery. Frances definitely has the pedigree of insanity and family history of drug abuse that would put her in the running to step in and fill that void. Maybe she could write a book called "Fear and Loathing in Seattle." That poor girl has probably seen more in her 15 years than most adults I know. As for the funny outfits- have you seen what her mother wears in public?