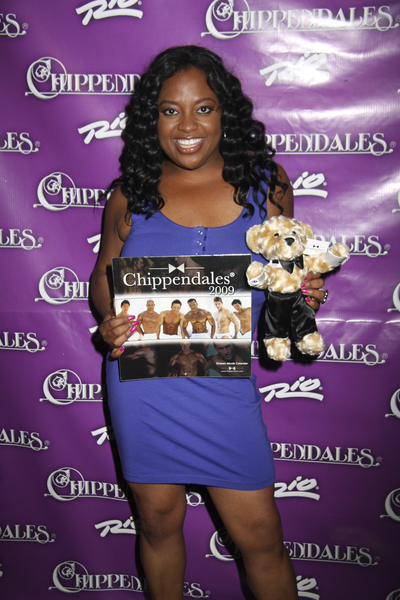 Sherri Shepherd, one of the hosts of The View, has gotten into trouble a few times for the things that have slipped out of her mouth. Like the time she said that "nothing predates Jesus." Which makes you wonder what she thinks is going on in the Old Testament… otherwise known as the first half of the Bible. Jesus on a dinosaur? Who knows. In this month's issue of Precious Times, Shepherd talks about her life when she was a Jehovah's witness (she's since converted to Christianity), and says that she's had more abortions than she'd like to count.
In the new issue of black Christian women's magazine Precious Times, The View's Sherri Shepherd reveals that her life was once so rough she didn't care if she died.

"My sister was heavy into drugs, and we would have to go and get her from crack houses," Shepherd, 41, says.

At the time, the stand-up comic — then a Jehovah's Witness – was "in a very physically abusive relationship," she said. "I was sleeping with a lot of guys and had more abortions than I would like to count."

She said her self-esteem became so low, "I felt if someone killed me, it wouldn't even make a difference."
[From Us Magazine]
That's really heartbreaking to hear, although also inspirational in a way. Coming from a place where you wish you were dead to being a co-host on a national morning show is quite the journey. However Shepherd has said some pretty unenlightened things here and there, and has brought her religion into play more than I personally care for.
Still, Shepherd admitted it is tough talking religion on the popular ABC chat-fest. (She received criticism after she once remarked that ancient Greeks persecuted Christians, even though Christ hadn't been born yet.)

"Oh, sometimes I say, 'Lord, Juanita Bynum or Joyce Meyer would be so good at this table. They could lay hands on Barbara Walters and get her saved,'" she said.

"I ask the Lord, 'Why am I here?'" Shepherd added. "I have to trust God when He says, 'Because I said so.'"
[From Us Magazine]
Juanita Bynum is a Pentecostal televangelist and Joyce Meyer is a Charismatic Christian author and speaker. I guess it's better for her career that Shepherd wants one of them to save Barbara Walters instead of trying to do it herself. Though I'm not sure it's ever a good idea to imply that your boss needs saving.
Here's Sherri Shepherd at the Chippendales Show in Las Vegas on June 23, 2008. Images thanks to PR Photos.