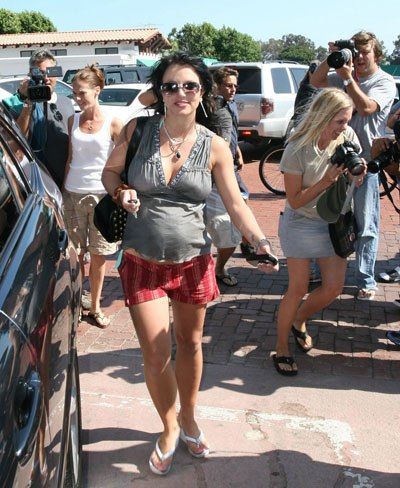 Britney cleaned up and wore flattering clothing when she was in Vegas last week to support K-Fed's supposed music career. This weekend she was spotted out shopping with her family while wearing a long printed dress that was somewhat classy-looking. She even had manny Perry in tow, suggesting he was the influence behind her cleaned-up image yet again.
That seems to have been short-lived, however, as Britney was seen out the next day wearing weird low-riding plaid shorts and a too-tight top that exposed her pregnant belly.
X17Online says that Britney was wearing a bathing suit underneath her top, which explains why her boobs look split down the middle. Regardless she's back to the same 'ol Britney, at least for a day.
I watched a show on the paparrazi on German TV this weekend. It focused on British paparrazi, and the lengths they go to get an exclusive shot. The pictures that really sell are of celebrities looking like shit with pimples, no makeup, and bad hair. They said that Victoria Beckham is never caught out without makeup on. Britney should take a lesson from Posh and try to be consistent with her cleaned-up look. Maybe that's why Britney is photographed so much, though. She does make people feel a lot better about themselves.
The thing is, Britney probably thinks this outfit looks good. I mean look at what she wore for her primetime TV interview.
Here are pictures of Britney out on August 4th and 5th. What a difference a day makes. [via]