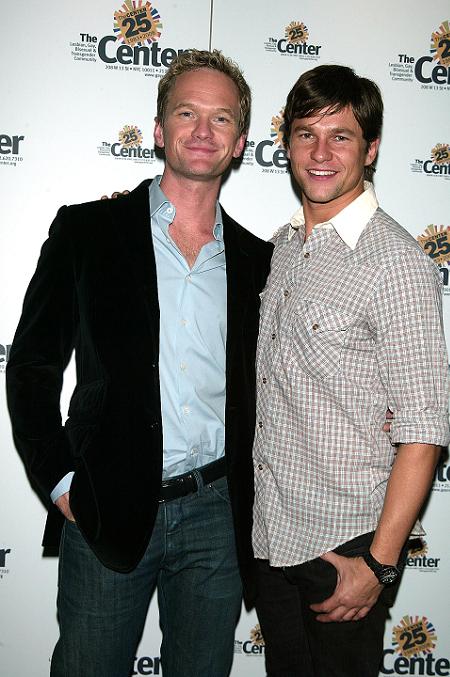 I have to admit, I have a big secret (until now) crush on Neil Patrick Harris. If there were any man I could turn from gay to straight (and then make him fall in love with me, which would be a part of this magic wish) it'd be Neil. Or maybe Anderson Cooper. But probably Neil. But since he doesn't check in with me to verify MY needs, he remains gay. Which I guess I have to live with. But my crush remains.
Neil has said that while he's happy about California's gay marriage law, he's not sure if he'll be taking the plunge anytime soon
While Ellen DeGeneres and her girlfriend Portia De Rossi are making wedding plans, another famous out of the closet star, Neil Patrick Harris, is on the fence about tying the knot himself.

When it comes to gay marriage in California, Neil told OK!, "Oh I'm all for it! Big fan!" But when asked if he saw himself as a married man, he said, "I don't know. If I did, no one would know about it 'til after I got married."

Hmm, is that a hint? Neil, 35, has been in a long term relationship with Broadway actor David Burtka,33. In 2006, the How I Met Your Mother star told fans, "I am quite proud to say that I am a very content gay man living my life to the fullest."

Neil has also told OK! that he'd love to have children one day. "I think I'd make a good dad," he recently said. So, maybe there will be kids in the near future for Neil but as of now there will be no wedding bells… yet!
[From OK! Magazine]
It took all of my restraint not to offer to carry Neil Patrick Harris' child after that last sentence. But I am totally calm now. Jokes aside, Neil and David are super cute together. They've been together since 2004, and according to Wikipedia, Neil "refers to Burtka as 'My better half' and an 'amazing chef.'" Aww. Something tells me they'll end up taking the plunge too… albeit in secret, as mentioned.
Here's Neil Patrick Harris and David Burtka outside MTV TRL Studios in Times Square on April 21st. Header of Neal and David participating in Broadway Backwards 3, a benefit for the Lesbian, Gay, Bisexual & Transgender Community Center in New York on February 4th. Images thanks to WENN.