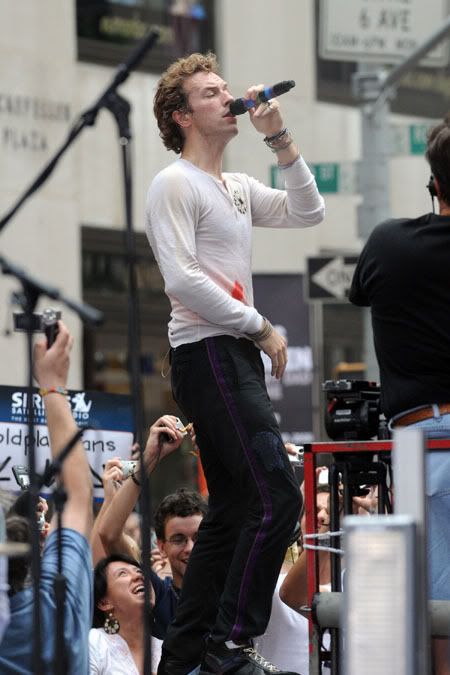 Female First is reporting that Coldplay frontman Chris Martin gave some recent interviews in which he's said that he watches his weight. The 31 year-old singer revealed that he's been more conscious of his weight after Primal Scream bassist Mani warned him not to get fat in advance of the release of his band's latest CD. Martin made the comment hopefully in jest that "I couldn't possibly write a hit record when I've got a beer belly"
The Coldplay frontman revealed the whole band has been forced to swap tasty "baked goods" for salads after they piled on the pounds while working on their new album 'Viva la Vida or Death and All His Friends'.
Chris said: "It happens whenever we have some downtime, usually between albums. We get very hairy and kind of morph into Bill Oddie (British TV presenter) – we have stacked on the weight."

The singer revealed he decided to do something about his weight after receiving weight loss advice from an unusual source – Primal Scream bassist Mani.

Chris added to Britain's Daily Mirror newspaper: "Mani was eating a sandwich and I asked him what was in it. He told me it was salad and that I should eat the same. Mani warned us that nobody wants a fat pop star."

He told Britain's The Sun newspaper: "I feel like you've got to write as many songs as you can between the ages of 28 and 33 because those are your last few years before you get a belly.

"I couldn't possibly write a hit record when I've got a beer belly, so we're just going to try to write as many songs as possible before that D-Day, or B-Day it should be – for Belly Day."

Chris has now banned calorific club sandwiches from their catering menu while they are on tour promoting their new album.
A source said: "They love club sandwiches and know they would be tempted to eat quite a few if they were available."
[From Female First via Gossip Rocks]
He's making a joke about not being able to put out good music if he gains a few pounds. That statement can be construed as insulting to about half the population in some parts of the world though. Martin's statements remind me of Madonna saying "I would never get fat" as she works out obsessively to shave every possible millimeter of flesh from her tiny frame. It's not the worse thing in the world, and your career won't suffer due to weight gain in most cases.
Unfortunately these musicians and actors are probably right that gaining 15 pounds would have a negative impact on their earning potential. As a man Martin has less to worry about, but female singers have their weight scrutinized constantly, and actresses have to stay thin or they'll often be passed up for parts. At the very least they'll get plastered all over the tabloids in the "worst bikini bodies" issues. I would like to see more average-sized actors, actresses and musicians, and I hope that Hollywood eventually loosens their unrealistic standards of body perfection. In the mean time you have skinny musicians like Martin saying they wouldn't be successful if they gained weight. He's probably joking but it does have a ring of truth to it.
Chris Martin is shown performing on the Today Show on 6/27/08. Credit: Anthony Dixon / WENN.