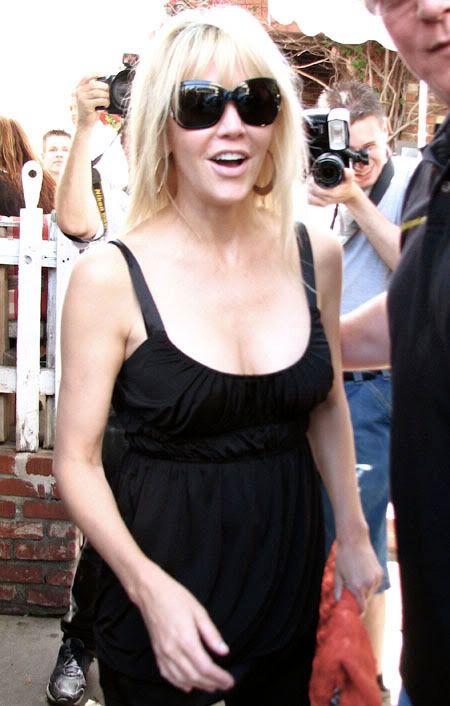 Actress Heather Locklear has emerged from her stint in an Arizona rehab facility, where she was allegedly be treated for anxiety and depression. Locklear began a quiet downward spiral earlier this year after her psychiatrist called 911 in March to report his fear that Heather was suicidal. Initially, Locklear's rep denied the incident, calling it a misunderstanding. But in June, she quietly checked herself in for treatment. Four weeks later, she's out, and according to friends is feeling like her old self again.
After successfully completing four weeks of treatment for anxiety and depression, Heather Locklear is back home.

"Heather's feeling really great," says a close friend. "And she looks beautiful, just radiant."

While the actress's recovery is "a work in progress," Locklear seems rejuvenated by her month away, says the friend. "She told a really funny story and she laughed from her core," says the pal, who has seen Locklear since she returned home last weekend. "That's when I knew she was going to be fine. I think that's the best part of all – it's so nice to hear her laugh."

During her time at the Arizona facility, Locklear, 46, remained under doctors' care while getting therapeutic spa treatments, riding horses and spending quality time alone. Her spirits were lifted by two visits from boyfriend Jack Wagner.

Since she checked herself in on June 19, Locklear has enjoyed the support of her ex, Bon Jovi rocker Richie Sambora. Their daughter Ava, 10, spent the last few weeks with Sambora but is now with her mom. Locklear is most excited, says the source, to be "back home with Ava."
According to reports, Heather was being treated for depression shortly after her breakup with Richie Sambora. Sometimes depression medication has some scary side effects, one of them being suicidal thoughts. It sounds like Heather needed some more intense therapy to help her. But do spa treatments and horseback riding really work?
Best wishes to Heather on her continued recovered- and most of all, best wishes to her daughter. Between the nasty divorce, her father dating her mom's former friend and then getting busted for DUI, and now her mom dealing with depression, this kid has had a rough time recently. Maybe she should be the one getting the spa treatments and pony rides.
Heather Locklear is shown out at The Ivy on 5/14/08. Credit: WENN