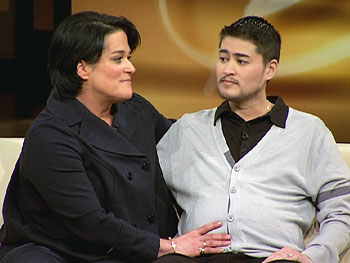 The photo discussed here is on People.com
35 year-old transgender man Thomas Beatie drew applause and jeers for his decision to bear a child for his wife after she underwent a hysterectomy and was unable to have children. Beatie is legally a man after having his breasts removed, taking testosterone and changing his name but has retained his womb and was physically able to have a child. Beatie and his wife Nancy have been married five years and live in Bend, Oregon. They were running a print shop together but had to close their business after all the publicity from his pregnancy. The two chose to go public as they didn't want to have to hide Thomas' pregnancy. They explained on Oprah that "love makes a family."
Beattie has revealed three week old baby Susan Juliette, who was healthy, weighed in at 9 pounds and was born naturally. People has an exclusive photo which we can't publish here but you can see on their website and in the video below. Beattie's 46 year-old wife Nancy is breastfeeding the baby after taking hormones and using a breast pump to induce lactation.
On June 29 at 8:55 p.m., Beatie, 34, a former female beauty pageant contestant, made cultural history as perhaps the first legally transgender male to give birth, bringing into the world a 9 lbs., 5 oz. baby girl named Susan Juliette.

"She's so precious, I just can't stop staring at her," Thomas tells PEOPLE in his first interview since he and wife Nancy returned with their bundle from Bend, Oregon's St. Charles Medical Center. "Just holding her is the best feeling in the world."

Susan – named after Thomas's mother and conceived through artificial insemination with donor sperm – arrived after 40 hours of labor, with Nancy at Thomas's side acting as his coach.

"When Susan finally came out, it was like in slow motion," says Thomas. "I was full of wonder." Echoes Nancy: "There were tears of joy."

Both father and daughter came through the birth in perfect health. "I weigh two pounds less than I did before I got pregnant," adds Thomas. "And I don't have a single stretch mark!"

At home, the couple is adjusting to their new nightly schedule: Nancy breastfeeding (by induced lactation, a process using hormones and physical stimulation with a breast pump) and Thomas keeping company while watching TV.

Crows Thomas, "Susan is a miracle! And we're finally the family we've been dreaming of."
[From People]
Pronouns and personal feelings aside, this is a little baby and a new life in the world. It must have taken so much determination for Thomas and Nancy to have a baby after the resistance they had from doctors and from naysayers. Nancy went through all that trouble to breastfeed and you can tell that these two will be devoted and caring parents. If only every baby came into this world so wanted and loved.
Here are the People photos on Good Morning America: