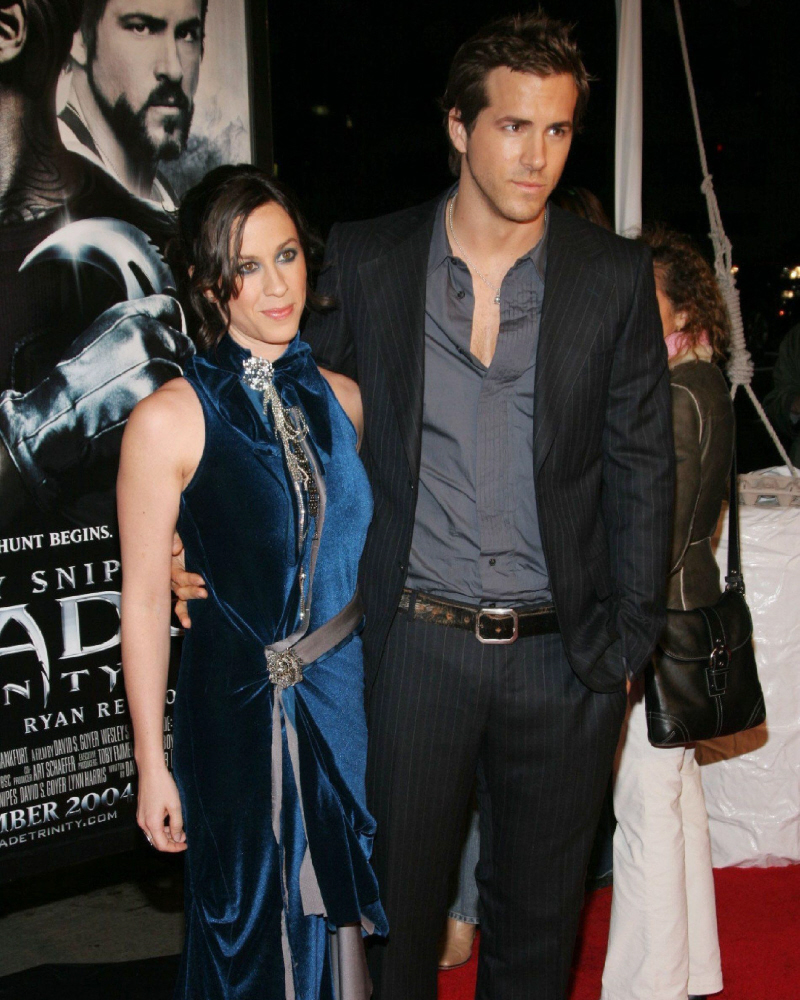 In the wake of Scarlett Johansson and Ryan Reynolds "duh" split, there are mixed signals about who did what to which stripper, and when the whole thing went down, and who is hurt and who isn't. According to many sources, ScarJo was the one who really wanted out. Even People Mag is going with that version, reporting: "According to a source, Johansson initiated the split. The actress has started apartment-hunting in New York City and is currently in Jamaica with some girlfriends, the source adds." Wow, way to make it sound like "How ScarJo Got Her Groove Back". Now Us Weekly has an interesting side note about the split – Ryan has been "reaching out to an ex" since the split. Alanis?
Splitting spouses Ryan Reynolds and Scarlett Johansson won't be spending the holidays with one another — but that doesn't mean they'll be alone. The new Us Weekly, out today, reports how Reynolds, 34, and Johansson, 26, are dealing with the "civil" end of their two-year marriage (UsMagazine.com broke the news on Tuesday).

"Ryan has been reaching out to an ex the past few months," a Reynolds pal tells Us.
Yet it's purely platonic, the insider insists: "He is seeking comfort, but not in a romantic or sexual way."

Suddenly single Johansson, meanwhile, has "confided in friends."

As reported on Tuesday, it was the sexy Iron Man 2 actress who initiated the split. "She's been unhappy for a while," the source says, noting that the busy actors were force to spend too much time apart.

In a joint statement released Tuesday, the duo confirmed their plans to divorce, and said, "We entered our relationship with love and it's with love and kindness we leave it."

For much more on the split — including Johansson's screaming match on the phone days before the announcement, their personality clashes and their last-ditch effort to stay together — pick up the new Us Weekly, on stands today.
[From Us Weekly]
Do you think it's Alanis? She's pregnant and, like, engaged to that dude, Soul Eye or whatever…? Why would she mess around with GerbilFace Reynolds?
Oh, but here's another rumor going around… Ryan and Blake Lively! Ryan and Blake worked together over the summer on Green Lantern (Blake was "the girl" in it). There were a couple of rumors that I remember from a few months ago, but those were just murmurs, not even validated by major tabloid reporting, and Penn Badley was in New Orleans with Blake for part of the time, and ScarJo was with Ryan for part of the time. Now E! News's Ted Casablanca is trying to clear Blake's name:
Was it a sexy-overload when Blake Lively got involved?…That's not the case this time.

Sure, there's plenty of denial from both camps on what exactly went wrong—saying the relaysh is ending amicably, with "love and kindness," blah blah blah—and we don't exactly buy it. But don't get all gossip girlie yet. Trust, we heard rumblings that everything wasn't exactly up to wedding vow snuff with Ry and his oft-canoodling Green Lantern costar. Blake's a flirt—can you blame her? It's Ryan Reynolds—but her Vice lies in a different department. If that helps you rest easy at night.

Don't expect this to be the last of the Blyan (hey, it beats Rake) rumors though. The press tour for the lame superhero flick is set to kick off post-New Year's, and we're sure the rumor mill will go crazy with B and R spending so much time together.

And, classy as he is, Ry is sure to stay mum on the split, which, of course, will only fuel the tabloid fire.

Blake must be thrilled. Now she gets to play the tabloid tango with two of the hottest Ryan's in the biz. Ryan Reynolds vs. Ryan Gosling, anyone?
[From E! News]
Interesting… and now that Blake has scored Ryan Gosling, she's all "GerbilFace what?" Because, let's face it, The Gosdong is probably much better for her career, honestly. Preferable to being seen as "The tits that broke up ScarJo and Ryan!" But I fear Ted is right… we'll be hearing more about Blake and Reynolds. They'll have a movie to promote, and Blake will probably see if she can get some added publicity for leaving one Ryan for another.
Header courtesy of WENN.