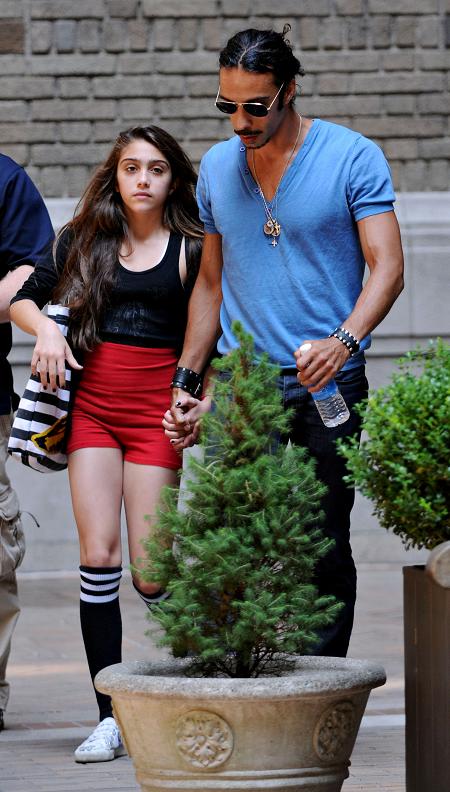 Carlos Leon, father of Madonna's oldest child Lourdes, says that his daughter has been reading in the tabloids about her mom's marital problems with stepdad Guy Ritchie and the "affair of the heart" with NY Yankee Alex Rodriguez. The 11-year-old has been "traumatized" by the reports and Carlos has been spending a lot of time with her to see her though the ordeal.
Madonna's daughter, Lourdes, has been left traumatized by the lurid tabloid claims about the pop star's marriage to Guy Ritchie, according to the 11-year-old's father Carlos Leon.

Recent reports have suggested Madonna is splitting from director Ritchie and having an affair with baseball star Alex Rodriguez.

The Material Girl has been in the headlines every day, and it's having an adverse affect on Lourdes.

New York-based fitness trainer Leon has been spending extra time with his daughter, as Madonna prepares for her forthcoming world tour, and he is showering her with affection to compensate for her distress.

Leon tells People magazine, "She's aware of it, and that's difficult. I just give her more love. Her mother is there for her, Guy is there for her."

And he insists there is no truth to the reports Madonna and Ritchie are splitting: "People have marital problems all the time."
Whether the rumors are true or not- and I believe they are- this situation has to be tough on all the children, especially Lourdes. Especially when even her own uncle, Christopher, is jumping in on the Madonna-bashing bandwagon. It's easy to hate on Madonna- but her kids don't deserve to be sucked into the media whirlwind. As the oldest, she is probably more aware of what's going on than her younger brothers, and she does seem very mature for her age. If mom and stepdad are having troubles, it's certainly not going to be lost on her. It's nice that she has a close relationship with her father so she gets the support she needs.
Picture Note by JayBird: Here's Lourdes with her dad Carlos Leon in New York City on July 8th. Images thanks to Fame.