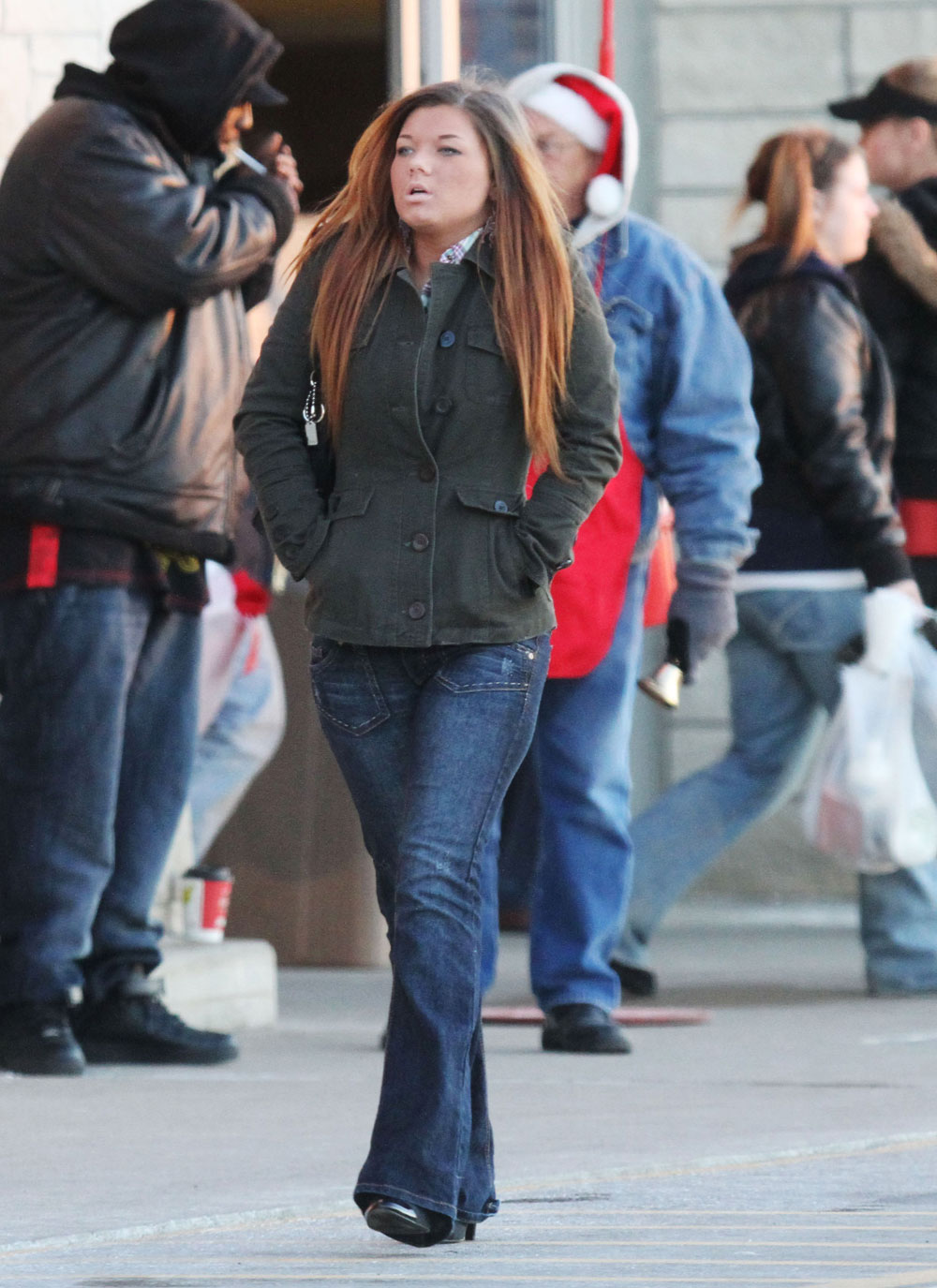 Teen Mom star Amber Portwood has had a large tattoo inked on her stomach of her daughter Leah, two, in what sources tells Radar Online is "a way to show her commitment to Leah." (You can see the tattoo here, on Radar) Amber recently earned back custody of Leah, after the girl was temporarily placed with her father. Amber is under investigation for felony domestic abuse of Leah's father, Gary Shirley. Part of the reason why Amber was awarded custody again was the fact that she moved into a new apartment and actually got a bed for the little girl. There were rumors in this week's tabloids that Amber was pregnant again by an unknown father, with In Touch running it as a cover story, but she's denied that's the case and those stories may have been leaked by Amber in an attempt to earn headlines. You would think that if Amber wanted to show "her commitment" to her daughter she'd clean up her act, stop attacking her ex and try to interact with the little girl more. Instead she's getting a giant ugly tattoo of Leah's face. I'm sure Leah would appreciate it more if her mom actually sat down and read a book to her or played a game. Here's Radar's report:
Controversial Teen Mom star Amber Portwood never wants to lose her daughter, so she recently took a dramatic step to prove it: she got a full-torso tattoo portrait of two-year-old Leah.

As RadarOnline.com discovered, Portwood is proudly showing off a colorful tattoo on the left side of her stomach featuring Leah's face surrounded by roses.

The ink appears to be unfinished, as there are still parts left uncolored with just the outlining.

According to a source close to the Indiana native: "she got the tattoo as a way to show her commitment to Leah" — and so far it's her first and only tattoo.

The 20-year-old mother has come under immense scrutiny since she was charged with felony domestic violence for assaulting her baby's father, Gary Shirley, during an episode of the hit MTV show.

The Department of Child Protective Services was forced to get involved, placing the baby with Shirley for a short period before giving her back to Portwood after she purchased a new bed for her daughter and cleaned up her home.

As RadarOnline.com previously reported, Portwood hit Shirley again – this time away from prying cameras – after an argument ensued involving his new girlfriend, Ashley.

Portwood has also stepped back into the dating pool since her split with Shirley, spending the majority of her time with Clinton Yunker, who has two children of his own and a lengthy criminal record.
[From Radar]
That is one huge ass tattoo. Leah is a gorgeous little girl and in no way does that amateur portrait surrounded by giant purple roses do her any justice. Still, I'm enjoying the thought that Amber will be stuck with that bad ink for the rest of her life. If only it would dawn on her that she needs to change her ways and spend time with her daughter to be a good mom.
Radar is also reporting that Amber's ex Gary spent about $20,000 on completely frivolous items for himself, including $6k on a trip to Vegas, $5k on furniture, and $4k on a new Dodge Charger although, like Amber, he has a suspended license. Amber must be the source for that story. It's believable, and you just wonder if Gary is getting the money from MTV.
Photos are from 12/9/10 and 12/10/10. Credit: Fame Pictures