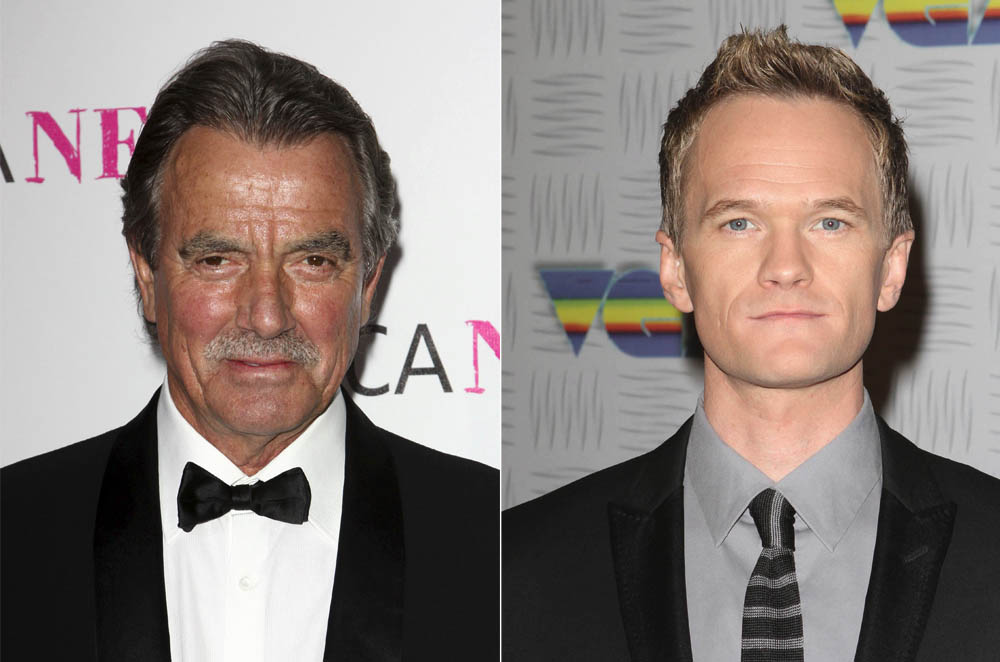 Neil Patrick Harris has apologized for calling The Young and the Restless actor Eric Braeden a "d-bag" on Twitter. Harris tweeted on Friday that Braeden had canceled a cameo on Harris' sitcom How I Met Your Mother, writing "Eric Braeden is a D-Bag. the actor, (Robin's dad) agreed to a cameo, then last night bailed, saying the part wasn't 'substantial' enough." In response Braeden, 69, explained that he'd just had hip surgery and was too tired to show up to do just two lines on HIMYM. As a soap actor, Braeden has to memorize up to 50 pages a day of lines.
"I really don't know who that fellow is. He's a guy who stars in that series," Braeden told EW, laughing. "It's very unfortunate. First of all, I came back from hip surgery. I was off for three weeks. I've doubled my work, 30 to 50 pages a day for me, alone. Everyone knows that I'm exhausted. I was not about to appear on a show for two lines, because that's what it amounted to."

On his Twitter feed, Harris said, "Eric Braeden is a D-Bag. The actor, (Robin's dad) agreed to a cameo, then last night bailed, saying the part wasn't 'substantial' enough." The reason for his so-called bailing? Braeden said he only learned about the size of his part the day before the taping, which he considered unreasonable. (He believes he should have been given the scripts weeks in advance).

Braeden originally agreed to take the gig because he enjoyed his first appearance on the CBS comedy in November 2008. "I truly enjoyed working there last time," Braeden said. "The cast and crew and producers couldn't have been nicer."

As for Harris, "His choice of words bothered me," Braeden added. "It seems to me like a young whippersnapper, having seen himself on a few covers, who's received a few awards, is now suddenly suffering from the first signs of hubris. I've been in the business for 50 years. I've seen people come and go and I'm still here."

Braeden ultimately laughed off the whole situation. "If he is a worthy adversary, he'd better not cross my path. I will let bygones be bygones."

It looks like Harris feels the same way. Three hours after his initial Twitter post, he added this comment: "Now I feel bad for the D-bag comment. Don't know the guy personally. I'm just fiercely protective of our show." Harris also said via Twitter that the role was re-cast with Ray Wise, "a fantastic actor who makes any part 'substantial'. Super excited to welcome him to the family."
[From Entertainment Weekly via People]
I was going to say that Braeden didn't have to put Harris down, but his comments were pretty mild and on the mark. He called Harris a "young whippersnapper" suffering from "the first signs of hubris," and went on to suggest that he's seen it all before, as if it was nothing new and didn't phase him. Braeden comes off as the more mature party here, but Harris wrote that he felt bad and it sounds like he does. We all say things we regret. I once talked smack about someone I worked with (not at Celebitchy) on Twitter, deleted it a couple hours later and still got called out for it when it showed up in a search a few weeks later. You have to be careful not to hastily use Twitter and social media!
This highlights just how tirelessly soap opera actors have to work day in and day out, with very little recognition. More than 20 pages of lines sounds insane for one person for just one day, but it's typical from what I've heard. When James Franco worked on General Hospital he said he had the equivalent an entire film script to memorize in just one day. (He had seven episodes filmed that day, but it still goes to show how much work soap actors do.) There were TelePrompters on set, but according to Franco "the regulars didn't use it."
Last year, I read an excellent article in The Daily Beast by a former soap opera journalist who explained just how difficult and unrewarding it can be to act on soap operas. Braeden has worked on The Young and The Restless for 30 years, and probably sees two lines as about two minutes of work.