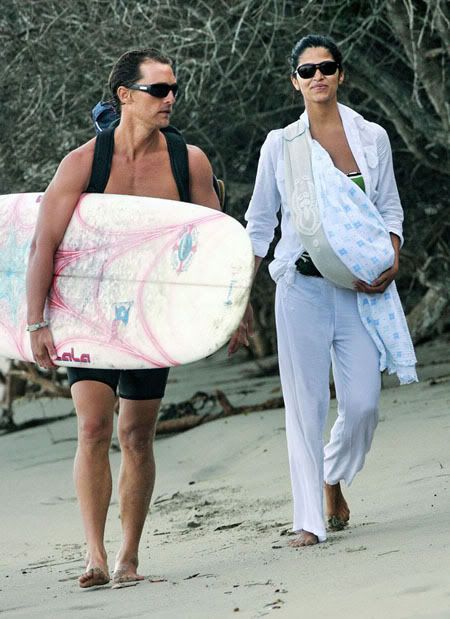 Fatherhood certainly hasn't made Matthew McConaughey any less bohemian-surfer-dude-cool, if his recent interview with OK! Weekly is any indication.
Matthew and Camila are building a new home; Levi is staying in their room now
Matthew and girlfriend Camila Alves welcomed son Levi on July 7. OK! visited them at their home in Malibu on July 17. Baby gifts, including a baby-sized wet suit, were scattered around the living room. The couple are building a new home a few doors down, which is a step up from Matthew's preferred shelter of an RV. He is even involved in the construction.
MATTHEW: It's very customized. We're involved in every step. It will be ready new year-ish.
CAMILA: This is our dream house.
[From OK!, print edition, August 4, 2008]
They currently don't have a nursery. Levi has a "little set up" in the bedroom with them, and they have a changing station.
True to form, Matthew was still wearing the ID bracelet from Santa Monica-UCLA Medical Center, even 10 days after the birth.
It's not a sentimental thing. My mom's maiden name is on there: Kay McCabe. That's how we were registered in the hospital. So it says Boy Kay McCabe. I noticed for the first time yesterday that I was still wearing it, but I've been a little busy.
Although the couple didn't officially know the sex of the baby from their doctor, Matthew says he knew when Camila first told him she was pregnant that it would be a boy.
I had tears of joy and was not shocked or surprised, just overwhelmed. My first words were, "It's a boy," and without thinking, she said, "I know."
Then when he first saw the baby:
I said, "Come here, little man." I saw the pecker and screamed that we'd been right all along about him being a boy.
Levi was planned
Matthew doesn't seem like a big planner, but Levi was not an accident. They had talked about it many times, and Matthew says he has dreamed of becoming a dad since he was 10. He whistled the theme song that Christian Bale whistles in "Empire of the Sun" to Levi in the womb. I haven't seen that film, but Levi may be lucky not to be named Empire. Or Mr. Zog.
The birth itself was quite a long ordeal. They were in the hospital for 59 and 1/2 hours before Levi arrived, and Camila was in labor for 14 hours. Matthew's description of the labor is strangely poetic but a little sexual, and we covered it when advance details of the interview came out.
It sounds like Matthew is going to apply his nude-bongo-playing mentality to parenting, and Camila doesn't mind.
MATTHEW: I'll still hopefully take solo surf trips. She'll take solo trips. Each one of us, myself, herself, and eventually Levi, it is very important that you have your own place. You have to play your solo.
CAMILA: Even in the house, I have my space and he has his space….
MATTHEW: This kid has a lot to learn from us. I want him to come out being a little wiser, a little cooler and a little happier than we are.
Matthew suggests they're not getting married anytime soon
OK: Is marriage on the table?
MATTHEW: We're happy just how we are.
Matthew either gave some or all of the OK! money to his charity, it's unclear
With all the stars getting paid for their baby pictures, it's nice to see Matthew going the charity route, at least in part. Matthew reportedly got $3 million for the pictures, but OK! says they made a donation to Matthew's foundation. There was a sidebar in the article that described Matthew's nonprofit organization and at the bottom it said "OK! made a donation to the j.k. livin foundation on behalf of Matthew, Camila and Levi." It's hard to tell whether that means that the full $3 million went to his charity or if an additional donation was made.
This interview was with both Matthew and Camila, although Matthew is obviously much more quotable. Camila seems pretty straight-forward and mostly makes one-sentence clarifications after Matthew raps about tribal jamming during labor. He sounds like he was amazed and involved at the whole process, and will be a very cool (if somewhat permissive) father. Levi will probably be surfing before he can walk.
Matthew, Camila and a bundled-up Levi are shown on the beach in Malibu on Saturday. Camila looks amazing for just having had a baby. Credit: Fame