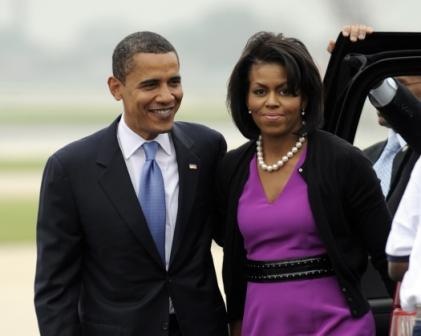 Michelle Obama gave a cute interview with People magazine as part of their recent cover story on her husband, democratic presidential candidate Barack Obama. Michelle talked about raising their two young daughters Malia, 10, and Sasha, 7, keeping balance in her life, and how she still gets star struck.
When you think about the future for your children, what do you worry about?
Michelle: There are the small worries, micro-worries, about whether we're doing all we can to let them be fully themselves, trying to make sure they have the space to be who they are and that they feel loved and supported. Then, there's the macro worry about, 'Okay, if we do our jobs and they turn out well as individuals, what kind of world are they going to be in?'

Do you ever have a "pinch me" feeling about all of this?
Michelle: Oh, yeah. I mean, we're still Michelle and Barack, so meeting Bill Cosby, it's like (gasp!), 'We LOVE you, Bill Cosby! What do you mean you're honored to meet me? You've got to be nuts. You're Bill Cosby! C'mon, now.'

Another friend of yours told me about you and Barack slipping away for date nights on the campaign trail.
Michelle: We were in this stadium and the staffers were like, 'You guys are going to have a date night.' They had set up a little room in the stadium with tablecloths and candles, and people came in and served, but we had, like, 10 minutes to eat. That was just squeezing it in, but it was fun, it was cute. You don't try to have a romantic [time] at the stadium. Our romantic [time] is almost every Saturday night or Friday night, if he's home. We spend the day with the girls doing girls' stuff and that's a family. Then we have date night, and the girls like it. As parents, you realize they do notice this stuff and it matters. You're worried about taking time away from the kids to be with each other when, in their minds, that's a good thing. It's like, 'Yeah, Mommy and Daddy, go! Go have dinner; it's so cute!' and that makes me feel like, 'Okay, I don't feel as bad that, after spending a day together, then we went and had a nice dinner while you had hamburgers with Grandma.'
[From People]
Michelle also says she isn't involved in policy because she can't give it her all. She definitely strikes me as a type-a personality; and says she feels the need to give 120%. Obama knows she's smart and capable enough that if she could only give 70% of herself to it she'd still do a pretty good job in terms of performance, but it wouldn't feel good to do it because it wouldn't be her absolute best.
Considering the massive amount of upheaval that must be going on in their daughter's lives, it sounds like the Obamas have done a really good job of keeping things as normal as possible. And they seem to have a really down-to-earth and responsible parenting style. They don't give the girls birthday presents because they get so many presents from other people – and essentially the party is their parents' present. The girls also get a $1 a week allowance for their chores. Something tells me that may go up a little bit with inflation – and there are probably more chores in the White House.
Here's Halle Berry wearing her "Barack The Vote" t-shirt in Century City yesterday. Images thanks to Fame.