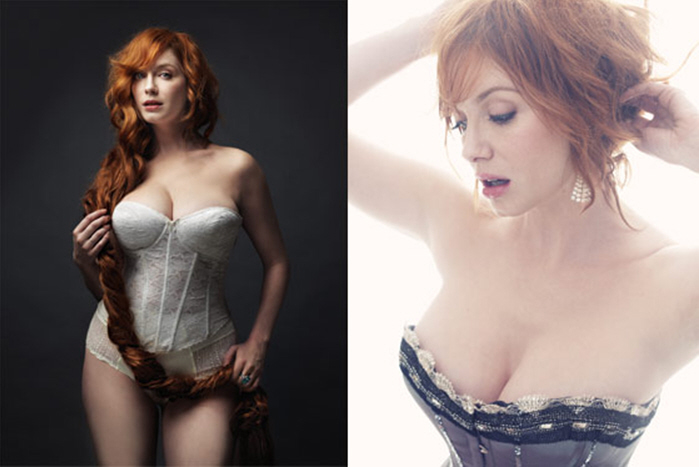 For as long as I can remember, various producers have been trying to get a full-length film of Wonder Woman off the ground. Various celebrity women would love to get their hands on it – Kate Beckinsale, Beyonce, etc. Megan Fox was thought to be a major contender, but then she bitched and moaned and talked herself out of the potential gig, declaring that Wonder Woman is a "lame superhero". Anyway, the newest casting rumor is pretty spectacular… Christina Hendricks. Wonder Woman as a busty redhead? Sign me up.
Christina Hendricks says she would "love" to play Wonder Woman in an upcoming film adaptation.

The "Mad Men" actress told TV host Rachel Ray that nothing is official yet, but she did hear that she was being talked about for the role.

"I heard that rumor too — I don't know where it got started but I love it!" she said.

"I've been wanting to wear that outfit my whole life! I'd love to (do it). That would be such fun! Let's put it out there!"

Hendricks, 35, recently signed on to star alongside Sarah Jessica Parker and Pierce Brosnan in the romantic comedy "I Don't Know How She Does It."

The red-head is best known for her role as Joan Holloway on AMC's "Mad Men."
[From Third Age]
I kind of love this idea. Would men? Some men really adore Christina Hendricks, some don't see the appeal. But I think women would be all over this. Christina is sassy and campy and funny and she would fill up Wonder Woman's bustier to the point of exhaustion. It could be really interesting!