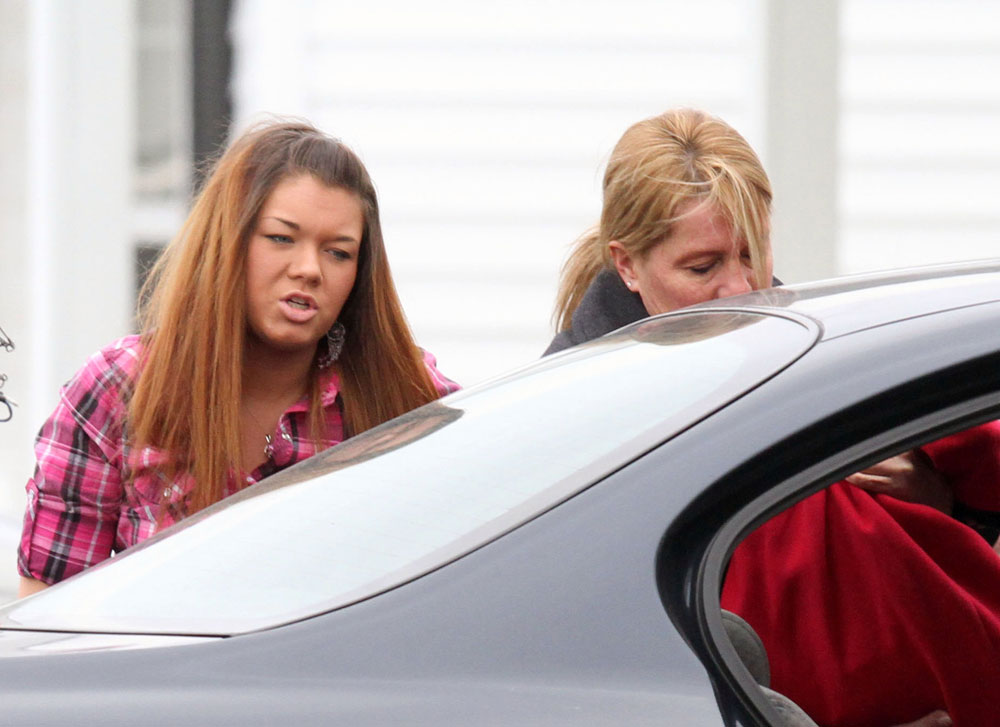 Back when Life & Style reported that the Teen Mom castmembers earned $60,000 a season, I wondered how MTV could show these kids barely scraping by, bouncing checks and relying on social services like free daycare to make ends meet. It turns out that they make much more than $60,000. Rageaholic star Amber Portword was ordered by a judge in her domestic violence case to state her salary, and it's a whopping $140,000 for each six month contract, not the $60,000 we've heard. That doesn't sound extravagant by reality show standards, but it is far in excess of what we've heard. MTV has so far refused to comment on the salaries of the Teen Mom stars and I guess we know why – the numbers in no way reflect the "reality" that they present on the show.
A reporter for The Herald Bulletin was inside the jail as Portwood exited. The reality star seemed surprised by the number of reporters outside, and instructed her mother, Tonya Portwood, and her grandmother to keep their chins up. She also told them not to block their faces from the cameras.

Earlier in the day, Portwood appeared before Madison County magistrate Steven Clase via a video feed from the jail for her initial hearing.

During the hearing, Portwood told Clase her occupation was a "television personality" and he asked her to reveal her annual income.

Her attorney, Kathleen Sweeney, responded, "I object."

"You what?" Clase asked Sweeney.

Sweeney questioned the relevance of the question and Clase promptly overruled the objection, forcing Portwood to reveal that she makes $140,000 for a six-month contract with MTV.

If she works the entire year, Portwood said, the 20-year-old makes $280,000 annually.
[From The Herald Bulletin via Hollywood Life]
This explains the various new cars and spending sprees that Amber and Gary have been going on recently. In Touch reports this week that Gary has been going out to local strip clubs and regularly drops $200 a night on drinks alone. He recently purchased a new Dodge Charger, and dropped $6k on a trip to Vegas. Amber bought herself a new Dodge Magnum, along with reportedly paying for her boyfriend Clint's rent and taking him on shopping sprees.
Meanwhile Gary has asked that Amber's no contact order with him be lifted, but it's not like he's clamoring to see the mother of his child. E! Online reports that it's probably more about ensuring he gets face time on MTV – and more cash to pay for his toys.
Amber has been reunited with her daughter, Leah, who was brought to her home by Child Protective Services on Tuesday after she was released from jail. Leah stayed overnight with Amber and was picked up by CPS and escorted to Gary's house the next day. If Amber is convicted of any of the felonies she's accused of, she could lose custody of Leah.
TMZ reports that a hearing has been scheduled for January 19 to determine Leah's placement. They also have an audio recording of Gary Shirley telling a girlfriend named Ashley that Amber attacked him recently, and that Ashley should always say "no comment" to the media. It's clear that either Shirley or his buddy made the recording and released it to TMZ. These idiotic kids are making a lot of money by fighting on camera and ignoring their toddler. At least Leah has two grandmothers that live nearby and can care for her.
Photos are from 12/11/10. Credit: Fame Pictures