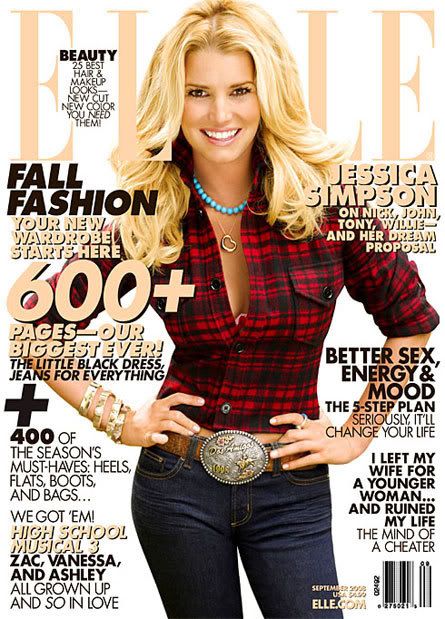 Jessica Simpson is making the rounds doing as much publicity as she can for her upcoming country album Do You Know, which comes out September 9th. She's on the cover of the upcoming issue of Elle magazine, and has an interview as well. Jessica prattles on about loves past and present, then gets to talking about her CD. She says that all the songs are based on something that's happened to her (she doesn't claim writing credit). One of the songs is about abuse, and when the reporter asks her if that song also happened, she clams up a bit but says yes.
"There's nothing on my album that you're gonna hear that I don't relate to or that I haven't experienced. Because the only way I know how to sing is from life experience."

For instance, one of her new tracks, "Remember That," contains the lyrics, "It doesn't matter how he hurts you / With his hands or with his words / You don't deserve it / It ain't worth it / Take your heart and run."

She's reluctant, however, to divulge details about what led to recording such a song.

"I don't want to talk about it," says Jessica. "But I have definitely experienced abuse in a way that I would tell people to take their heart and run."
[From E! News]
Well it's not exactly the Dixie Chicks "Earl Had to Die," in terms of the lyrics, and Jessica's confirmation is rather vague, but it does make you wonder. By most accounts ex-husband Nick Lachey was Simpson's first boyfriend, however on an episode of The Newlyweds she talked about someone she called her "first boyfriend" who cheated on her with Leann Rimes. The man in question ended up being Days of Our Lives actor Jensen Ackles. Most of her relationships have been pretty public, but there's a chance she's talking about someone else that she dated quietly for a short period of time.
Here's Jessica going into Bergdorf Goodman on 5th Avenue in New York City on Friday. Images thanks to Fame.