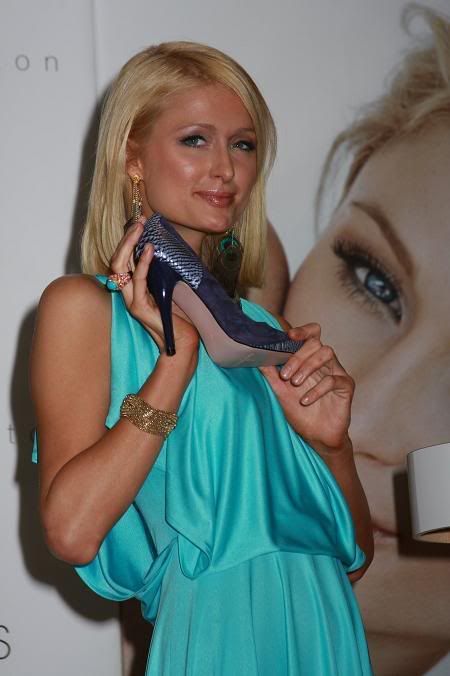 What woman in her right mind would want to buy shoes designed by Paris Hilton? Unless she was designing some specialty line made for women with very large feet (Paris wears a size 11), or drag queens, I can't imagine who would possibly be interested. The shoes are actually not ugly, though they don't strike me as anything special either. And I'm guessing Paris didn't have a thing to do with them, other than slapping her name on the box.
Paris Hilton debuted her new fall shoe collection at the Las Vegas Macy's Fashion Show on Tuesday.

Paris, dressed in a soft, baby-blue gown, showed off her trendy new shoes at the event.

The new collection features a wide range of footwear, everything from platform stilettos, pumps and knee-high boots to flats, t-straps, and ankle boots.

Paris was inspired by the high-fashion runways in New York, London, Paris and Milan. The shoes mix "all things girly with a whole lotta rock-n-roll," according to Thevegaseye.com.

The first 300 people that purchased Hilton shoes between July 19 and July 29 at the fashion show were given the opportunity to meet the star and receive a signed photo when she appeared in person on Tuesday.

Paris Hilton Footwear Collection shoes are sold at Macy's, Kitson, Bakers and online at Zappos.com and Endless.com. Suggested retail prices range from $59 to $195.
[From All Headline News]
Paris has often lamented her size 11s – which are relatively large considering her height is generally reported to be around 5'7 to 5'7 ½. She's noted that many of her favorite designers don't carry shoes in her size and have to custom make them for her. I doubt they'd do that for the average buyer, so everything considered she's pretty lucky.
Here's Paris at the launch of The Paris Hilton Footwear Collection At Macy's Las Vegas on Tuesday. Photographer: Chris Connor; Images thanks to WENN.