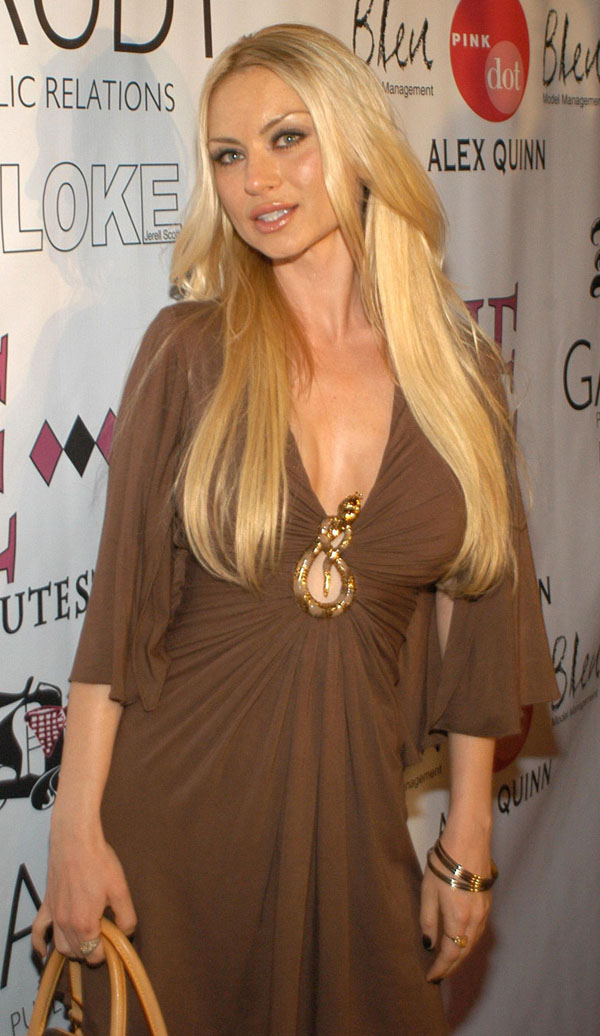 The Daily Mail has published excerpts from a tell all memoir by former Playmate Izabella St James, who lived at the Playboy mansion starting in 2002, at the same time that the original Girls Next Door were there. I read the highlights at the Huffington Post, and was struck by how similar St. James' account of her life at the mansion was to an earlier tell all I'd read, with Playmate Jill Ann Spaulding. I thought the Daily Mail was rehashing that story in light of Hefner's engagement, but they're not. Those details were given by two separate Playmates, and are backed up by some of the details in Kendra Wilkinson's memoir about how Hef had regularly scheduled sex parties in which women would hop on and off him (without a condom) while porn played in the background.
St. James' story is consistent with other accounts, although see may focus more on how restrictive, stifling and dirty it was at the mansion while she was there. Here are the highlights from the Huffington Post, and compare them to this account from a former Playmate. The details of Hef's Wednesday and Friday sex sessions are very similar. James' memoir Bunny Tales came out in 2006, so you may have heard some of this before.
On the mess the dogs made in the house:
"They weren't house-trained and would just do their business on the bedroom carpet. Late at night, or in the early hours of the morning – if any of us visited Hef's bedroom – we'd almost always end up standing in dog mess. Everything in the Mansion felt old and stale, and Archie the house dog would regularly relieve himself on the hallway curtains, adding a powerful whiff of urine to the general scent of decay."

On how bad the decor and accommodations were
"Each ­bedroom had mismatched, random pieces of furniture. It was as if someone had gone to a charity shop and bought the basics for each room. Although we all did our best to decorate our rooms and make them homely, the mattresses on our beds were ­disgusting — old, worn and stained. The sheets were past their best, too.

"Eventually I persuaded Hef to pay for a new mattress and bed linen — but I had to turn in every single receipt before I was reimbursed.

"Hef also eventually permitted us to have the rooms painted and recarpeted. But for some reason he insisted on creamy, white-coloured carpets. He liked the girlfriends' rooms to look very girly, all white carpet and pink walls. It looked great at first, but with two dogs (most of the girlfriends had pets that lived in their rooms — I had two pugs), butlers delivering food, dirty shoes and occasional spillages, the carpet was grey and stained in a matter of months."

On the Playmates' weekly allowance
"Every Friday morning we had to go to Hef's room, wait while he picked up all the dog poo off the carpet – and then ask for our allowance: a thousand dollars counted out in crisp hundred-dollar bills from a safe in one of his bookcases. We all hated this process. Hef would always use the occasion to bring up anything he wasn't happy about in the relationship. Most of the complaints were about the lack of harmony among the girlfriends – or your lack of sexual participation in the 'parties' he held in his bedroom."

"If we'd been out of town for any reason and missed one of the official "going out" nights [When Hefner liked to parade his girls at nightclubs] he wouldn't want to give us the allowance. He used it as a weapon."

Freedom of a kind came on Wednesdays and Fridays, the official nights out, which were the prelude to the twice-weekly sex parties in Hefner's bedroom.

On her curfew
"Strictest of all was the curfew. Everyone had to be on the Mansion grounds by 9pm every night — unless we were out with Hef at a club or a function. People honestly did not believe us when we told them we had a curfew at the wild and crazy Playboy Mansion."

On sex with Hef
"I wanted to see if this experienced King of Sexdom knew anything the rest of us did not. But he just lay there like a dead fish. We often wondered why he did it at all. He must know deep down that it is just a show. But he is trying to live out this fantasy he has been selling to people since 1954."
[From The Daily Mail via The Huffington Post]
So for $52,000 cash a year, presumably tax free, free rent, free chef-prepared food and free plastic surgery on their birthdays, these live-in Playmates had to be home at 9pm every night, go out with Hefner twice a week and have unprotected sex with him twice a week. Their living conditions weren't the cleanest because they had little dogs that they didn't clean up after. They dealt with older furniture and the residue from countless tramps accumulated over decades. I remember watching "Girls Next Door" and thinking that the mansion looked small, cramped and old so this isn't surprising.
Is Hef giving up his lifestyle with a house full of kept completely inappropriately younger women (the twins were just 19 when they took up with him last year) now that he's engaged to a woman 60 years his junior? I doubt it.
People has a photo of Hef's fiance Crystal Harris' ring and it's not huge or anything. He probably saved the money over a few weeks from paring down the women he paid to stay in his house.