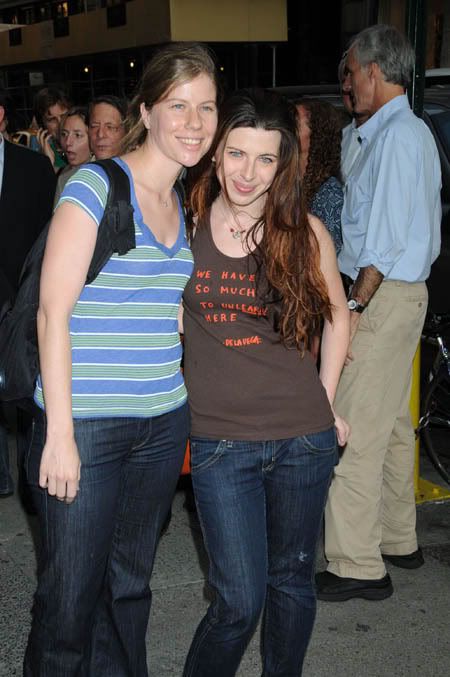 25 year-old Heather Matarazzo, who played Dawn Weiner in the quirky 1995 film Welcome to the Dollhouse has been in a same sex relationship for about a year and is often seen posing on the red carpet with her girlfriend, Carolyn Murphy. Now that same sex marriage is legal in California, the couple has decided to tie the knot. Heather is the one who proposed first, but then Carolyn proposed right back, according to Matarazzo's publicist:
Matarazzo's publicist, Lisa Jammal, tells E! News exclusively the 25-year-old actress "is engaged to Carolyn Murphy. They've been together for over a year." And because the couple does not have a specific "male or female role," they both proposed!

"It was really cute. First Heather proposed to Carolyn, then Carolyn proposed to her," says Jammal.

She goes on to say the two are very supportive of each other and are totally in love—"it was love at first sight."
[From E! Online]
Matarazzo was in The Princess Diaries 2 in 2004, Hostel II in 2007, and was featured in four episodes of "The L Word" in 2007. She also stars in the lesbian-themed TV series "Exes and Ohs," which airs on the Logo network and on the Showcase channel in Canada.
(There's a model named Carolyn Murphy, but it's not the same person as Heather's girlfriend and I had a little trouble finding out more information about her due this other woman with the same name.)
Congratulations to Matarazzo and Murphy. They join a lot of other happy couples in California, including George Takei and his longterm partner, and Ellen and Portia, who are now said to be planning a relatively low-key wedding for just family.
Heather Matarazzo and Carolyn Murphy are shown at the The Trevor Project's New York Gala on 6/30/08 and at a screening of The Wackness on 6/25/08. Credit: WENN