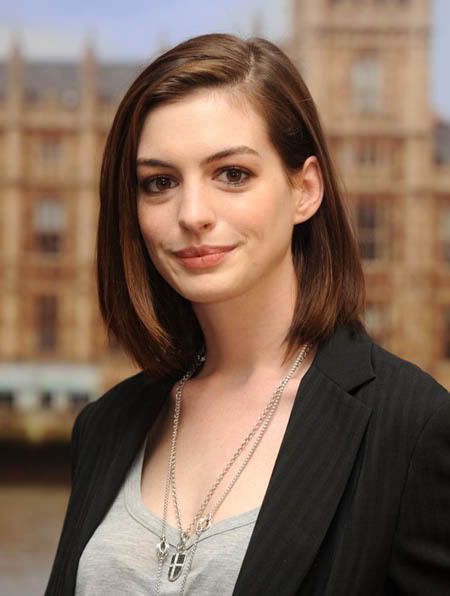 There are said to be nude photos of Anne Hathaway among the effects seized by the FBI in their raid of her boyfriend's hidden storage space. Hathaway's boyfriend of four years, Raffaello Follieri, was arrested late last month on federal charges of money laundering and fraud after an elaborate scheme in which he bilked investors out of millions. He claimed to be the CFO of the Vatican and told investors he could get Catholic land in the US at bargain basement prices. Follieri hired church officials to accompany him to meetings and bribed Vatican employees to help him pull off the scheme. Hathaway broke it off with Follieri after his arrest and he is said to be desperate to try and get back in touch with her.
Hathaway's effects, including her personal diaries, were among the items confiscated by the FBI in their search for evidence in the case against Follieri. Now it seems that nude photos of the actress taken by her ex were also found. Her brother was seen trying to retrieve items from the storage which the FBI had raided the day before, and it's possible he was looking specifically for those pictures.
The Enquirer has learned exclusively that her ex-lover Raffaello Follieri took naked photos of the actress. Follieri was arrested June 24 and charged with 11 counts of fraud and money laundering…

In additional to the naked photos he took of Anne, 25, he also prized a sizzling photo of her in black fishnet stockings, a garter belt and bustier that totally exposed her top. Follieri, 30, supposedly paid a very famous photographer to take that steamy shot.

The Enquirer learned that just recently, Anne's brother Michael tried to gain access to a hidden storage room in the Bronx where Follieri had storied some of his and Anne's belongings after he moved out of his apartment.

"Michael went to the storage facility, but was told he was a day late. The day before (July 15), FBI agents had removed numerous documents, photos and what were believed to be Anne's diaries from the storage room….

Michael was told that he could not get into the room or take anything out."
[From The National Enquirer, print edition, August 11, 2008]
Follieri is now in NY's Metropolitan Correctional Center and the Enquirer notes that he has been unable to raise bail, which has been set at $21 million. He is an obvious flight risk considering the depths of his lies and his ties to Italy.
Hathaway appeared topless in Brokeback Mountain, so it's not like her image will be ruined if these are average nude photos and they get out. Maybe the FBI will keep them safe though and she doesn't have much to worry about.
Anne Hathaway is shown promoting Get Smart with the cast in London on 7/10/08. Credit: WENN