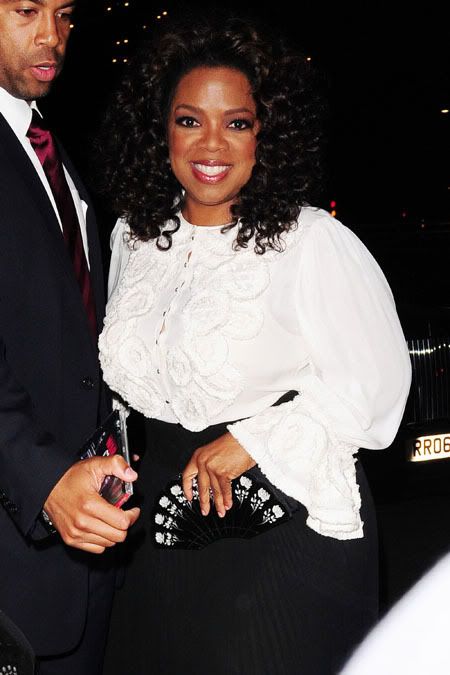 Oprah Winfrey may be one of the world's richest women, but that doesn't mean she is immune from the same problems as many other people. The dilemma of caring for her ailing 73-year-old mom is causing the talk show diva a lot of stress. According to the National Enquirer, Oprah's mom is as feisty and independent as her daughter, and refuses to move in with her or go to an assisted living facility.
"Oprah is facing the same dilemma as many other Americans- her mother Vernita Lee can no longer live independently and her doctors say it's time for assisted living," a long time family friend told The Enquirer. "Oprah is devastated. She is devoted to her mother, but Vernita Lee won't accept the idea."

Vernita now lives in a Milwaukee condominium that Oprah bought for her. While she's fiercely independent, her health is failing, according to the source.

"She's a severe diabetic, her eyesight is failing and she barely gets around with a cane. She's also becoming increasingly forgetful," said the family friend.

Vernita's condo building has a doorman and 24-hour security, but she's refusing to get live-in help or even a companion, said the source.

"Obviously, it's not a money problem – and Oprah would love to have her mother live with her full time in Chicago. But Vernita insists on living on her own, and Oprah is starting to freak out," said the friend.

Oprah came up with what she thought was the ideal solution – moving Vernita into a facility that's only two blocks away from her current home. Called St. John's on the Lake, residents can live in their own apartments and receive assisted care for their personal needs, daily activities and monitoring of medications.

But when Oprah brought up the idea, "Vernita burst into tears," said the source.

Adding to Oprah's worries, she recently called her mom's home and got no answer.

When she confronted her mom, Vernita was typically dismissive," said the source. "She told Oprah, 'Oh honey, I was probably sleeping. Or when my knees are hurting, I just let the phone ring. You don't need to worry about me. Let me worry about me!'"
[From the National Enquirer print version, Aug. 11, 2008]
This is a tough situation for anyone, and it goes to prove that none of us can fix everything with money. I remember when my grandfather was diagnosed with Alzheimer's, it was a very difficult decision to put him into a nursing home that specialized in Alzheimer's patients. But after the second time he managed to "escape" from my grandparents' home, get the keys to my grandmother's car, drive himself to the middle of nowhere and get completely lost, we all knew it was time. It must be agonizing for Oprah to be constantly worrying about her mom- did she take her medication? Has she fallen down without anyone knowing? Is she eating ok? I know I would be a total mess. Hopefully Oprah and the rest of the family can help her mom understand that assisted living isn't the same as a "nursing home" and she'll still be free to come and go as she pleases.
Oprah is shown in London on 6/25/08. Credit: WENN