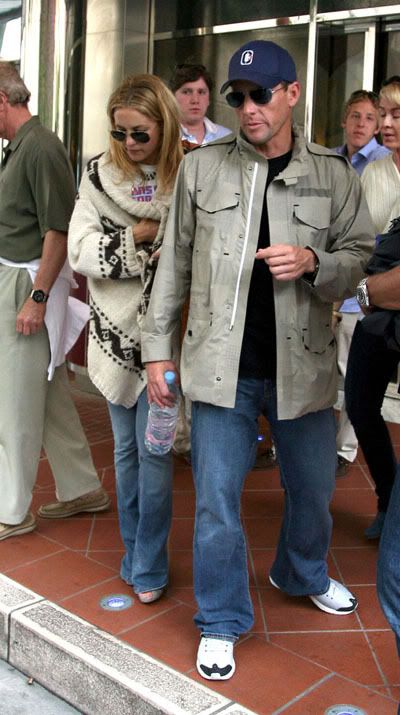 Kate Hudson and Lance Armstrong in Cannes on May 25, 2008
After word came out on Wednesday that Kate Hudson and Lance Armstrong had broken up, everyone's been speculating about who ended it and exactly what went down. According to Bill Zwecker of the Chicago Sun-Times, Armstrong ended the affair because Hudson was "too needy," "desperate," and "smothering him."
Not only did this column break the news last week about Lance Armstrong splitting with Kate Hudson, I've now learned why serial dater Armstrong has moved on.

Seems the Tour de France champ and cancer survival poster boy was feeling a bit "smothered" by the actress. According to an Armstrong associate at his Livestrong charity foundation, the sports hero felt Hudson was "just too needy," and was coming on "too strong, too fast … sensing Kate was way too desperate, a woman who clearly can't be on her own without a man in her life at all times."

He may have a point. Hudson always seems to escalate her relationships quickly — even turning things into familylike outings with her son Ryder ever-present, as he has been with Armstrong and with Hudson's last flame, Owen Wilson.

One thing Armstrong reportedly liked about ex-girlfriend Sheryl Crow — and one reason that relationship lasted as long as it did — was that "Sheryl's one very independent woman. … Lance liked that," said the source.
[From the Chicago Sun-Times]
Kate does seem to get into relationships very quickly. And bringing Ryder along on dates can't be good for him in the long run. I've always heard it's best not to introduce a child to a significant other until it's clear it's a significant and serious relationship. Mostly because it can be really hard on a kid to have important adults coming in and out of their lives like that. Especially if they get close or attached to the person – it can be really upsetting to then never see them again.
Kate seems to think Ryder has a resilience that he may not actually have. She definitely has a good relationship with Ryder's dad, ex-husband Chris Robinson. That obviously provides a lot of stability for him. But she might want to consider re-evaluating her dating choices for a bit.