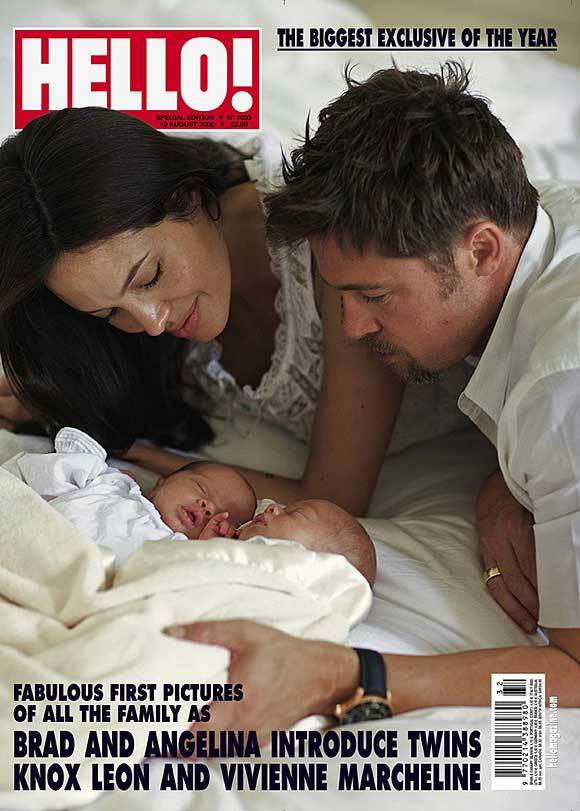 Update 2: It's not a big conspiracy and just looks like some mismanagement on People's part. The story is now up on People's homepage nearly a half an hour after their announced release time, after it was posted then removed. The babies are so little and fragile-looking, although you can see one of them smile sleepily as Brad and Angelina look on adoringly. An inset photo features little two year old Shiloh holding one of them.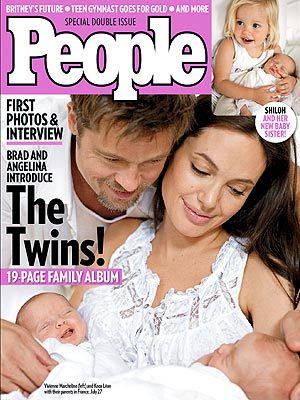 Update: Apparently People.com posted the cover of the magazine in their "News" section briefly, but never added the story to the front page. Within five minutes, it was removed. Thanks to Lena for the link to ONTD's mirror of the cover and article. Angelina calls their house "chaos," and Brad says it's a "a cuckoo's nest," but it also sounds like they're having a lot fun. Angelina talks about how her two older daughters help out and calls them "little mommies." And apparently there are just 19 pages of photos, not 30 as previously reported:
They are just 3 weeks old, but twins Knox Léon and Vivienne Marcheline are about to take the world by storm.

In an exclusive interview and photos, Brad Pitt and Angelina Jolie offer PEOPLE an intimate look at their growing family.

"It is chaos, but we are managing it and having a wonderful time," Jolie tells PEOPLE of daily life at the Château Miraval in Provence, France, where the couple's four older children – Maddox, 6, Pax, 4, Zahara, 3, and Shiloh, 2 – have been enjoying a summer of outdoor play (hide-and-seek is a favorite) on the château's sprawling grounds.

Adds Pitt: "[It's] still a cuckoo's nest."

Fortunately, they already have some household helpers. "[Shiloh] and Z pick out [the twins'] clothes and help change and hold them," says Jolie. "It's sweet – they are little mommies."

For the complete story, including 19 pages of intimate family photos and the full interview with Brad and Angelina, pick up this week's issue of PEOPLE, on newsstands Monday
[From People.com and removed, via ONTD]
---
The first photos of three week old fraternal boy and girl twins Knox Léon and Vivienne Marcheline Jolie-Pitt were supposed to premiere on People.com tonight at 7pm EDT. The magazine's website has had red banner at the top of their homepage since Friday announcing the much-anticipated debut of the twins. At about 7:05 they removed the banner, though, with no explanation of when we could expect to see the first photo online.
They have a reported 30 freaking page spread coming out in People tomorrow that cost the magazine $14 million, which was split with UK publication Hello. It's possible someone at People made the stupid executive decision at the last minute not to put the photos online or to wait until tomorrow. They won't lose much in advance publicity considering how well the issue will sell. It still seems like a very short-sighted decision that may cost them repeat traffic to their website. I know it's going to disappoint a lot of their Internet readers. We'll have to see how they handle this tomorrow, and I'll ask JayBird to see if anything goes up tonight before she goes to bed. I'm in Europe where it's past 1:00 am now and this ten minute delay with no apology on their site has pissed me off royally.