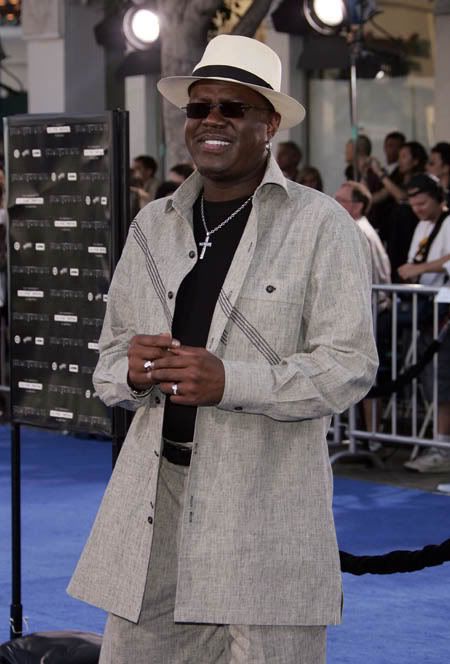 Reports that Bernie Mac has died are not true, but he has had a medical crisis. The 50 year-old Ocean's 11 star is in hospital with pneumonia.
Comedian Bernie Mac was in "very, very critical" condition late Saturday at a Chicago hospital, according to a Chicago Sun-Times source who knows the comedian's family.

The revelation came after Mac's publicist told Chicago media Saturday that she had received multiple calls from news outlets regarding "absolutely untrue" rumors of the star's demise.

"It is a very horrible rumor," publicist Danica Smith said. "It is absolutely untrue. Nothing has changed from yesterday."

The 50-year-old south suburban resident's hospitalization was reported Friday. His publicist said then that the "King of Comedy" was admitted for pneumonia but was responding well to treatment, and should be released soon.
Bernie Mac also suffers from sarcoidosis, an auto-immune disorder that inflames your organs, causing failure, and is particularly prone to attack the lungs. Bernie has been in remission since 2005 and is not suffering from this now, according to his publicist. He is expected to make a full recovery from this bout with pneumonia, and his rep asks that we respect his privacy at this time.
Bernie was recently at a democratic fundraiser, where he gave a controversial introduction to Barack Obama.
"I'm proud of him because politics is dirty, especially with Republicans," he said. "People like rumors. They are going to say things like, you know, 'You was in the club with Lil' Kim and you and Kanye West got in a fist fight.' "

The comic also offered himself as a running mate, but then added that the campaign might not want him because "I cuss," which he did.

"Being a president is tough 'cause you're not just running the country. You got to run your family too," Mac said. "Having a black first lady is different. You're still going to have to do the dishes and the laundry and all that … 'You got to pick up the kids. You didn't pick up the kids?' "

At one point a heckler protested and asked Mac to step down after an irreverent riff with crude jokes. When Obama came on, he thanked several people, including "my great friend, one of the kings of comedy, Bernie Mac."
Despite thanking him for his introduction, Obama's spokesperson told media later that "Obama told Mac that he does not condone the statements and believes what was said was inappropriate". Seems like Obama is trying to separate himself from the celebrities he has been associated with, following his camp shooting down Scarlett Johansson's suggestion they were email friends, and McCain's ad campaign comparing him to Paris Hilton and Britney Spears.
Bernie Mac is shown at the Transformers premiere on 6/37/07. Credit: Juan Rico/Fame pictures