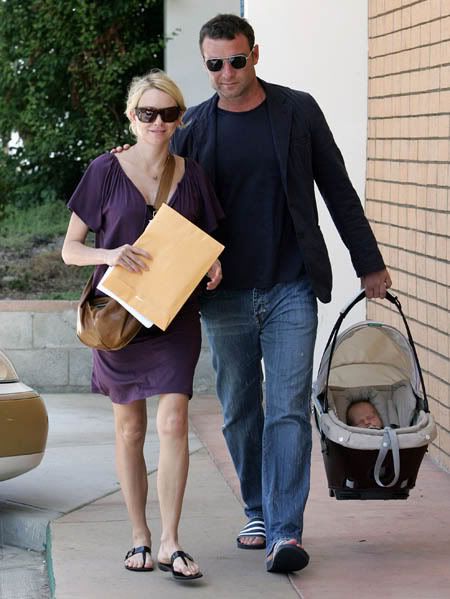 Naomi Watts, Liev Schreiber, and a then 2 week-old Alexander Pete out on 8/10/07. Naomi let the paparazzi get the first photos of Alexander after he was born. Credit: Fame Pictures. Their friends Sacha Baron Cohen and Isla Fischer also took this same tactic with their newborn.
The gossip world was waiting for the unveiling of the Jolie-Pitt twins this Sunday, which got me thinking about what a paparazzi picture of a celebrity baby might be worth. Turns out, about $5 million. No wonder that paparazzo risked jail to get the first picture of Halle Berry's daughter.
A PAPARAZZO competing for the first shot of Nicole Kidman and Keith Urban's baby says the image would be worth up to $5 million.

"A picture like that would be worth four or five million around the world, if you got a nice picture of the baby's face," said photographer Peter Carrette, one of the many clamouring to get shots of Kidman when she returns to Sydney with Sunday Rose this weekend.

Kidman is due home to reshoot scenes for Baz Luhrmann's Australia. Because she is expected to be bringing Sunday Rose to Australia for the first time, teams of photographers have been camped out at Sydney's private jet base for at least three days.

"I don't think she wants us to get a picture," Carrette said. "If they had any sense they'd have a picture taken of her and Keith with the baby … release it and give all the proceeds to the [Sydney] Children's Hospital at Randwick."
Carette adds that Nicole could try Cate Blanchett's strategy.
"Cate did the smart thing – I mean Cate produced her baby [newborn Ignatius] at Parliament House two days after it was born in front of all the international media, for nothing," he said. "Nobody has doorstepped Cate since – why would you?"
I had thought that Nicole Kidman might have released a baby picture for free, as she did of her wedding photos, but not yet! Maybe she's waiting for the baby to get a little cuter – am I alone in thinking that newborn babies aren't very pretty? I got into a lot of trouble with family members when I told them that 'she's small and red and ugly' when my last daughter was born.
I know a lot of people have an opinion about pimping out your babies, but I think I'd rather see the money go into the child's trust fund or to charity than to the paparazzi. Nicole is obviously going to some effort to keep her baby under wraps, so the pap that secures this deal is likely to be invading her privacy.
As Carette says, releasing your baby pictures stopped Cate Blanchett from getting door stopped, Unfortunately I don't think this tactic will work for the Brangelina Camp, but it might just work for Nicole Kidman.
The article also says that Australian magazine New Idea paid $AUD 750,000 for the pictures of Viv and Knox Jolie-Pitt, so this probably means that while Hello and People have paid the majority of the $15 mil for the baby pictures, smaller magazines have also paid money for the pictures too, adding up the final total.
Another photo of a two week-old Alexander Pete Schreiber on 8/10/07. Credit: Fame.