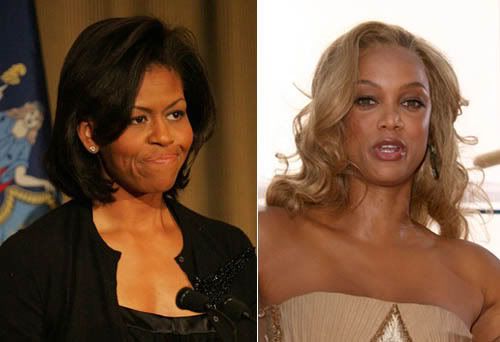 Michelle Obama is the 44 year-old wife of the presumptive Democratic nominee for President. She has degrees from Princeton and Harvard Law School and is a working mom who has raised two daughters. She grew up on the South side of Chicago, where her mom was a secretary and her dad worked for the water company. She's worked as an associate dean at the University of Chicago and as VP for community affairs for The University of Chicago Hospitals. Michelle says that her children are a priority and that she's trying to raise them with as much normalcy as possible given her family's schedule as Barack runs for president. She's been married to Barack Obama, her first husband, for 16 years.
Tyra Banks is a 34 year-old model, talk show host and reality show producer who grew up in LA, has never been married, has no children, and focused on her modeling career instead of going to college. Banks enjoys talking about herself all the time, humiliating guests on her talk show under false pretenses, and staging publicity stunts disguised as female empowerment rituals. She once pretended to be a homeless person for a day and then claimed to understand what it was like for people in that situation.
Michelle Obama dresses well, favoring preppy clothing, and is fit and attractive. She's received a lot of attention for her smart appearance and straightforward manner, and while some have criticized her for her matter of fact demeanor she's gracious and well spoken.
Someone at Harpers Bazaar thought it was a good idea to dress Tyra Banks as Michelle Obama and feature her on the cover of the magazine, maybe in a misguided attempt to show how influential Michelle's style and persona are. If I were Michelle Obama, I would find this almost as insulting as that stupid New Yorker cover depicting her and her husband in Muslim garb.
TYRA Banks – the mastermind of gimmicks – is at it again. Banks – who once had her breasts examined on TV to show everybody they were "real" – is now dressing up as Michelle Obama for the September cover of Harper's Bazaar. "It's a full makeover," said one spy. "You know how Tyra likes to do that stuff. And she'll get a lot of press off it." A rep for Banks didn't return calls.
[From The NY Post]
I hope this isn't true or they realize it's a dumb idea to feature Tyra as Michelle on the cover. Why don't they just call up Michelle Obama and get her to pose for photos and grant an interview? You would think she would sell more covers than Tyra pulling another stupid stunt in which she tries to assume depth by changing her appearance. I wasn't sure how I felt about Michelle at first, but after I saw her onThe View and read a few interviews I like her and think she'll make a great first lady. She doesn't seem to deserve most of the ire that's lobbed at her while Tyra could be brought down quite a few pegs instead of being groomed to imitate a woman with more grace and integrity than she could ever hope to have. Maybe that's the point of the whole cover though, and we'll have to see if Tyra is covertly mocked.
Michelle Obama is shown giving the keynote address at the 'Gay and Lesbian Leadership Council Gala' in NY on 6/26/08. Credit: Anthony Dixon / WENN. Tyra Banks is shown at the Daytime Emmy Awards on 6/20/08. Credit: Juan Rico/Fame Pictures