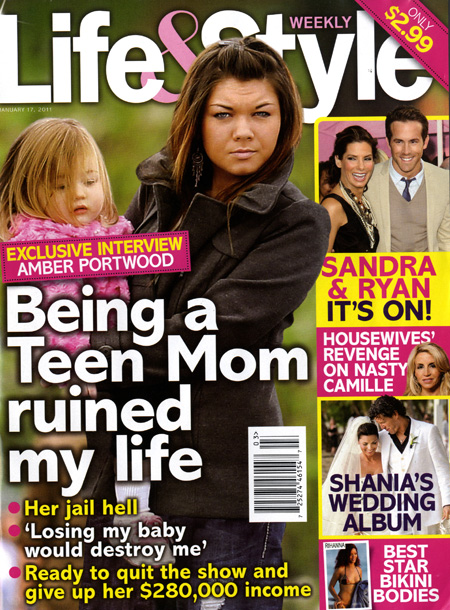 Amber Portwood of Teen Mom earned the cover of Life & Style this week. Inside, Amber blames MTV for the fact that she was charged with two counts of felony domestic violence and spent a night in jail. She said "I wouldn't have been in jail because nobody would have known about it." It's all MTV's fault for airing the footage instead of Amber's fault for beating on Gary multiple times while the cameras were rolling. Amber makes $280,000 a year from MTV but says the show ruined her life and she's considering quitting. Don't let the door hit your ass, Amber.
On Dec. 28th, Amber Portwood emerged from the Madison County jail in Anderson, Ind. visibly shaken and certain she never wants to go back behind bars. "I just can't even imagine not seeing my little baby if I go back to jail," the Teen Mom star and mother to 2-year old Leah told Life & Style in her first post-jail interview right outside the brick walls. "It scares me so bad."

But it's a very real possibility for Amber. She's been charged with two counts of domestic battery, one count of neglect of a dependent and one misdemeanor charge of domestic battery for beating her ex and Leah's father, Gary Shirley, during an episode of MTV's hit reality show. If convicted, she could be ordered to serve three years in prison and pay a $10,000 fine—which has her second-guessing her decision to sign on to the show in the first place.

In fact, she admits that having her dirty laundry air on TV has for all intents and purposes ruined her life. "I wouldn't have been in jail because nobody would have known about it," she told Life & Style. And her family seems to agree. "Before that scene of her hitting Gary aired, she didn't have problems," her brother Shawn Portwood tells Life & Style. "I can't say completely that it's the show's fault because obviously my sister did it. But Amber and Gary asked them not to air the fight because they knew this legal stuff would happen. Now my sister gets death threats, and my niece's life is in turmoil."

For more on Teen Mom, pick up the new issue of Life & Style, on newsstands now.
[From Life & Style]
That's funny that Amber's afraid of losing Leah, because she never seemed particularly interested in her daughter in the footage that aired on MTV. Maybe MTV cut out all the scenes where she read to her, brought her to the park, or bothered to speak with her other than to tell her to stop doing something or to complain about Gary.
OK! also features Amber this week, also about how she was changed in jail. They have some details about her sentence:
"Amber was led in handcuffs to a cell containing four female inmates," said the insider. "She told the guard she thought she'd at least have her own cell…

"She complained she was cold. Then, when it came time for lights out, the girls each had a very thin, old mattress to sleep on. The girls had to sleep on the floor. When she asked for a pillow, she was told this wasn't a Holiday Inn. She didn't sleep at all, just cried off and on till dawn. She had no idea jail would be like this, and she vowed not to return."
[From OK! Magazine, print edition, January 17, 2010]
That's priceless "this ain't a Holiday Inn." I wonder how many times the guards use that one, probably every single time someone asks for something. Is Amber even going to be asked back on MTV? I think she's afraid she won't be, and is about to be replaced by the new crop of Teen Moms from 16 and Pregnant. As a result, she's staging pregnancy scares and capitalizing on her incarceration. Being a Teen Mom ruined her life to point that it gave her a ton of cash to waste, a bunch of fame, and held her responsible for her actions. If it's too much for her to handle there are tens of thousands of teen moms who would love to take her place.
Photos are from 12/10 and 12/11. Credit: Fame Pictures