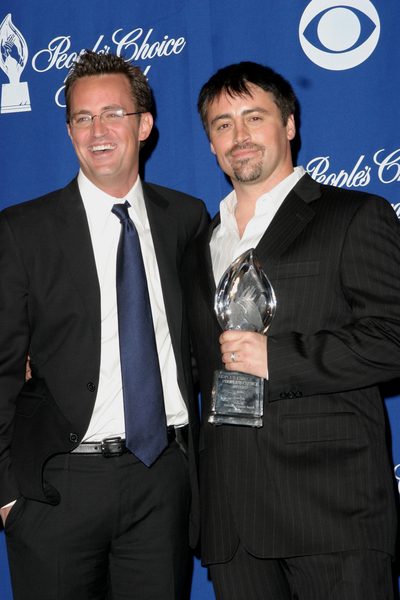 Is there a Friends curse? There seemed to be a Seinfeld curse until Julia Louis-Dreyfus found success with The New Adventures of Old Christine, before it was unceremoniously cancelled. Courteney Cox has a successful sitcom with Cougar Town but her private life is a mess. Jennifer Aniston can't buy a hit movie or a boyfriend, as much as she tries. David Schwimmer is having a baby with his new half-his-age wife, but Lisa Kudrow seems totally off the radar.
At least Matthew Perry and Matt LeBlanc are trying to get back into the TV game. Both have new shows coming out this winter. Matthew Perry's show is a comedy called Mr. Sunshine.
Don't be fooled by the title. Matthew Perry is more sardonic than cheerful in this new comedy about the self-involved manager of a San Diego arena who begins to reevaluate his life when he hits the big 4-0. The Friends alum can relate: His return to the small screen was prompted by his own stark realization.

"My phone wasn't ringing off the hook with movie offers," he admits.

Still, Sunshine is much more than a paycheck for Perry. Besides starring, he cocreated it and also serves as a writer and exec producer. "It's important to try to do something you haven't done before, especially if you're scared of doing it," he says of spreading his creative wings. "Luckily, I was smart enough to know you should surround yourself with funny, talented people."

Rounding out the crack ensemble: Allison Janney as Perry's pill-popping boss and Andrea Anders (Joey) as Perry's former — and future? — romantic interest.

While the arena setting provides opportunity for a variety of hot guest stars — including Nick Jonas — don't expect Perry's former Friends to drop by, at least for now. "I wanted to convey the message that this is a new thing," he says. "But if the show goes on for a while, I would love that."
[TV Guide, print edition, January 3, 2010]
Mr. Sunshine sort of sounds like Chandler with a different job and new friends, but since Chandler was pretty funny, this may work. Mr. Sunshine premieres Wednesday, February 9 at 9:30PM on ABC.
Matt LeBlanc is on a cable comedy called Episodes.
Matt LeBlanc spent 12 years in Joey Tribbiani's shoes — first on the classic comedy Friends, then on its not-so-classic spin-off, Joey. But on January 9, the three-time Emmy nominee returns to TV in Showtime's Episodes as someone he's even more familiar with…Matt LeBlanc. Or at least a spoiled, morally bankrupt (and, ahem, very well-endowed) version of the actor, dreamed up for the biting Hollywood satire by cocreator (and former Friends producer) David Crane and his partner Jeffrey Klarik. LeBlanc [is] now 43 and father to 6-year-old Marina.

How did Episodes happen?
After Friends, David and I kept in touch, and about two years ago, he and Jeffrey called me up and said, "What are you doing?" I said, "Just being a dad — and spending some of that Friends money." They were like, "We have an idea. Let's get together for lunch." I said, "Great." But I really wasn't looking to do anything.

Why not?
When Joey ended [in 2006], it was a weird time in my life. I'd gotten divorced, and my daughter had been diagnosed with this weird brain thing [a disorder that caused seizures]. Now she's out of the woods with all that stuff. But it was a really stressful time.

Now your hair is a distinguished gray.
I started going gray very young, and I started dyeing my hair during Friends. But after taking five years off, I was like, "What's the point?"

Unlike the Matt in the show, you don't…what?
Leave my phone on in a meeting. The only time I'd [do that] is if there was something important pending with a family member. I don't have my own jet. I would love to, but I don't. And I'll set the record straight: I have a perfectly human-proportioned penis. [The character] is less who I am and more the public's perception of celebrity. That's the guy we tried to write.

There continue to be rumors of a Friends reunion. Do you want it to happen?
No. I'd rather have a party and have everybody [from the cast] there. Friends was this magical, cool thing, like lightning in a bottle, and I feel superfortunate to have been a part of it. But I can't see [a reunion] not feeling gratuitous. What would the story be? We all get together and what? Have coffee? It would be almost sad. It's better to just imagine what those characters are doing now, because then it can be whatever you want it to be.
[TV Guide, print edition, January 3, 2010]
Matt has let himself go grey for this role, and it will be interesting to see him as someone other than Joey. The show is getting pretty decent reviews. Entertainment Weekly called LeBlanc "superb."
I wish they would have asked LeBlanc if any of the Friends actors will be appearing on Episodes, like they did with Matt Perry. Episodes sounds like a good fit for Schwimmer or Kudrow to make a guest spot, playing themselves.
Episodes premieres Sunday, January 9 at 9:30PM on Showtime.
Header image is from January, 2004. Credit: PRPhotos. Images below of Matt LeBlanc from 11/23/10 and of Perry from 8/1/10. Credit: WENN.com