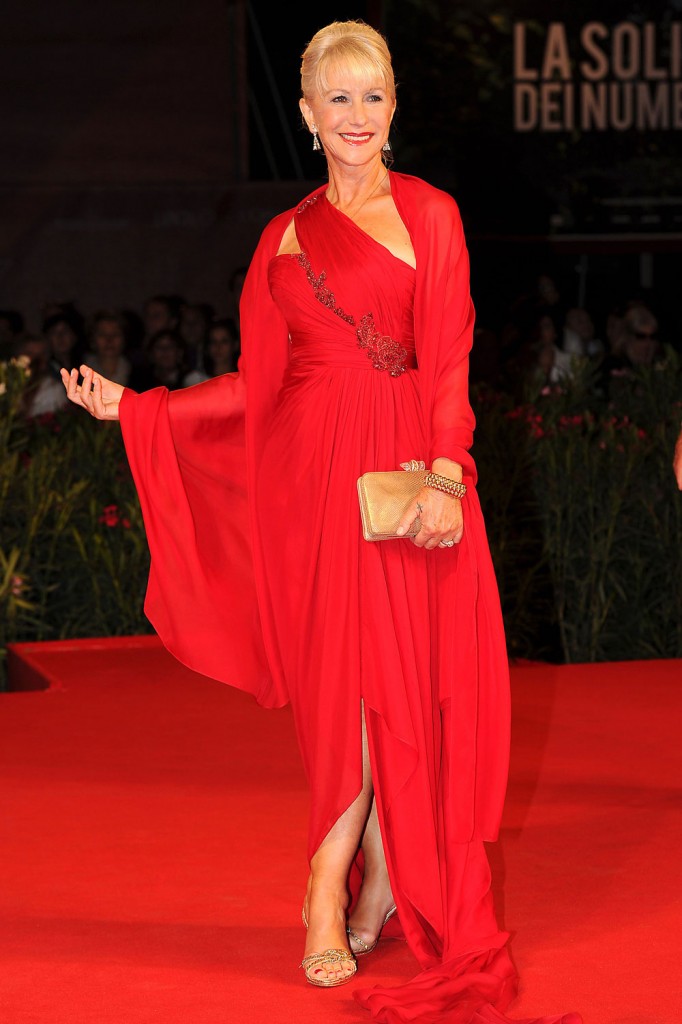 It's pretty much common knowledge that Helen Mirren is the coolest Dame around (sorry, Judy Dench). She always looks great, she has Russell Brand worshiping at her feet, and occasionally she says some dingbat stuff that makes you wonder if she's sniffing glue.
But how can you stay mad at a 65-year-old woman who says her secret to red-carpet success is stripper heels?
My red-carpet secret is…The stripper shoes I buy on Hollywood Boulevard: 10-inch heels with 5-inch platforms. They make your legs look wonderful.

If I weren't acting…I'd be a hairdresser. I have a bit of a Delilah complex. I love to cut people's hair! Unfortunately my husband won't let me cut his.

I would love to work with…Quentin Tarantino. He is a superb filmmaker, visceral and fantastic. The two Kill Bill films were brilliant.

I am most afraid of…Plastic bottles. Their proliferation is terrifying. They won't go away, and people are not getting the message. We're destroying the bloody planet!

My style icon is…Helena Bonham Carter. She's unique, bohemian, and inventive. I also love Lady Gaga's radical use of fashion.

My biggest splurge is…an old farmhouse in southern Italy that my husband and I are renovating. That's one reason why I buy drugstore makeup — I spend $5 on mascara and $5 million on a ruin!

Crowning glory…When I was first nominated for an Oscar, I made the mistake of treating it like a British wedding and thought a hat appropriate. Still, I think it's sad that Americans don't wear hats!
[InStyle, print edition, January 2011]
How cool would it be to see Helen Mirren as Lady Gaga in "The Lady Gaga Story," directed by Quentin Tarantino and co-starring Helena Bonham Carter as Katy Perry? Russell Brand could play himself. Until then, I guess we'll have to settle for Helen and Russell in the Arthur remake, which I also think is brilliant casting.
Note by CB: We couldn't actually find any photos of Helen wearing said stripper heels. She's talked about this before, and Kaiser and I think that she just means regular high heels. She's a strange one.