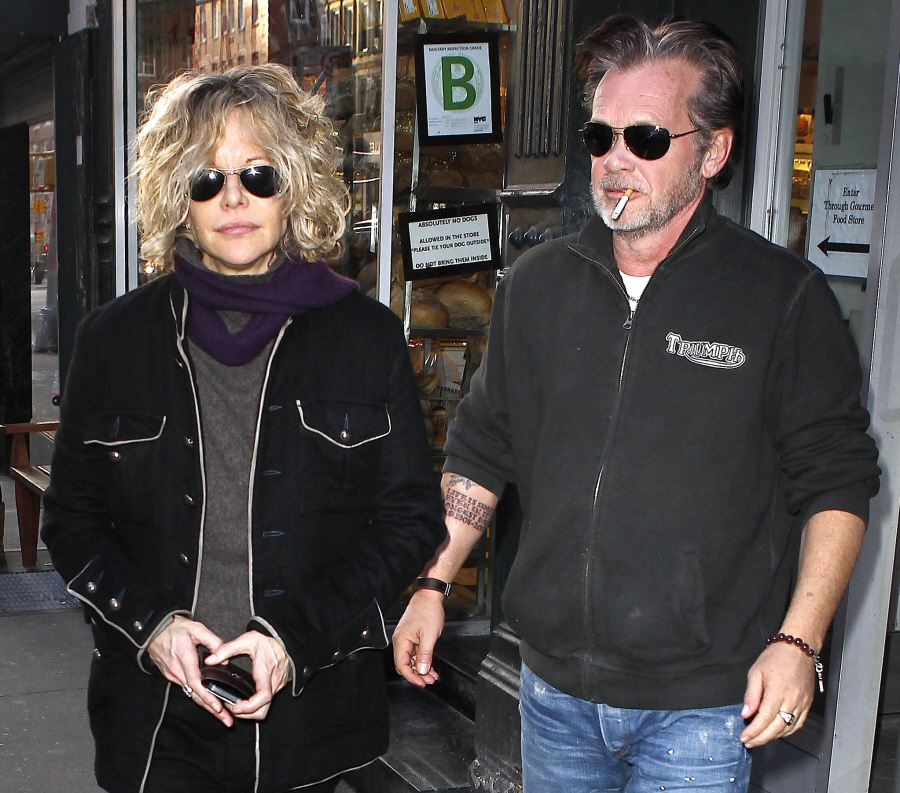 As we've already seen this week, Meg Ryan and John Mellencamp did the official rollout of their new (-ish) relationship. First was a People Magazine story with quotes from a "source" close to Meg Ryan which verified various gossip about Meg basically being John's jumpoff. According to Meg the source, however, the relationship started after John and his wife Elaine were already separated. After the People Magazine piece, John and Meg stepped out for one of the unsexiest photo ops ever – John was unshaven, smoking a cig, and Meg looked like a sixty-year-old, Joker-faced Annie Hall. Anyway, the Enquirer has the story I was waiting for – a piece sympathetic towards John's estranged wife Elaine. According to the Enquirer's sources, John has been screwing around on Elaine for a while, and Elaine just took it. But John openly flaunting his relationship with Meg was a ho too far, apparently. Oh, but the best part is where the Enquirer contacts John for a comment, and then they print his comment complete with "bleeps".
John Mellencamp's 18-year-marriage blew up over his relationship with Meg Ryan – but those close to the superstar rocker say his wife has been upset for year over his wandering eye.

Sources close to his family tell The Enquirer that John's wife Elaine, 41, moved out of their Indiana home after John and Meg were photographed walking arm-in-arm in New York.

"Elaine has gone through hell," said a close source. "I'm sure John has had intimate relationships with other women, but I think Elaine turned a blind eye until it was publicly revealed that he'd become close to Meg."

John also has a nasty temper, according to the source. "John has had screaming matches with Elaine and their staff for years. He's been known to hurl plates of food at the TV if he didn't like what was being said," the close source divulged.

When the Enquirer contacted Mellencamp to ask for his side of the story regarding the split, he raged: "What the —- is this! What are doing calling my cell phone, man? You want me to whip your ass? I'll come down there and whip your —— ass. Call my —— publicist."

When we contacted Elaine, she said, "I can't imagine discussing personal matters like these with a complete stranger."

Despite their formal statements of amicability, an insider reveals: "Elaine has simply had enough. When it looked as if John started flaunting his relationship with Meg, she walked out. It's going to be a massively expensive divorce. Elaine is going to take him to the cleaners, but in my opinion, he deserves it."
[From The National Enquirer, print edition]
Ugh, John is not coming across well. And what the hell is going on with Meg? Was she always this strange, or has the Botox just leeched into her brain? I mean… most people still can't forgive her for dumping Dennis Quaid and hooking up with Russell Crowe, but at least you could understand that – that was back when Russell was fine as hell, and every woman wanted a piece of that. But John? Who understands that attraction? Who looks at John and says "Compulsive womanizing douche who verbally abuses everyone? Damn, let me break up THAT marriage!"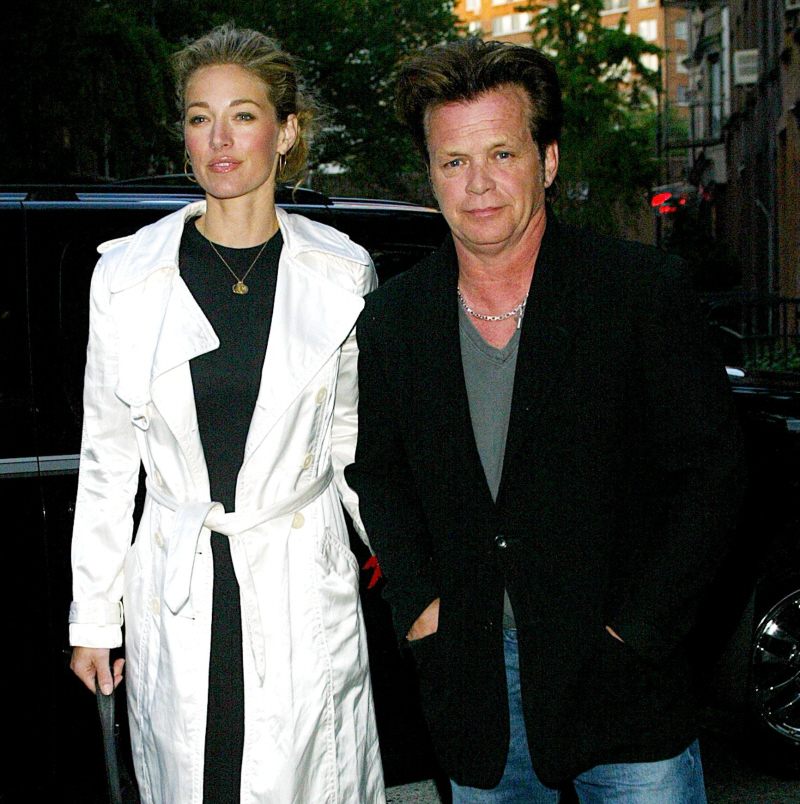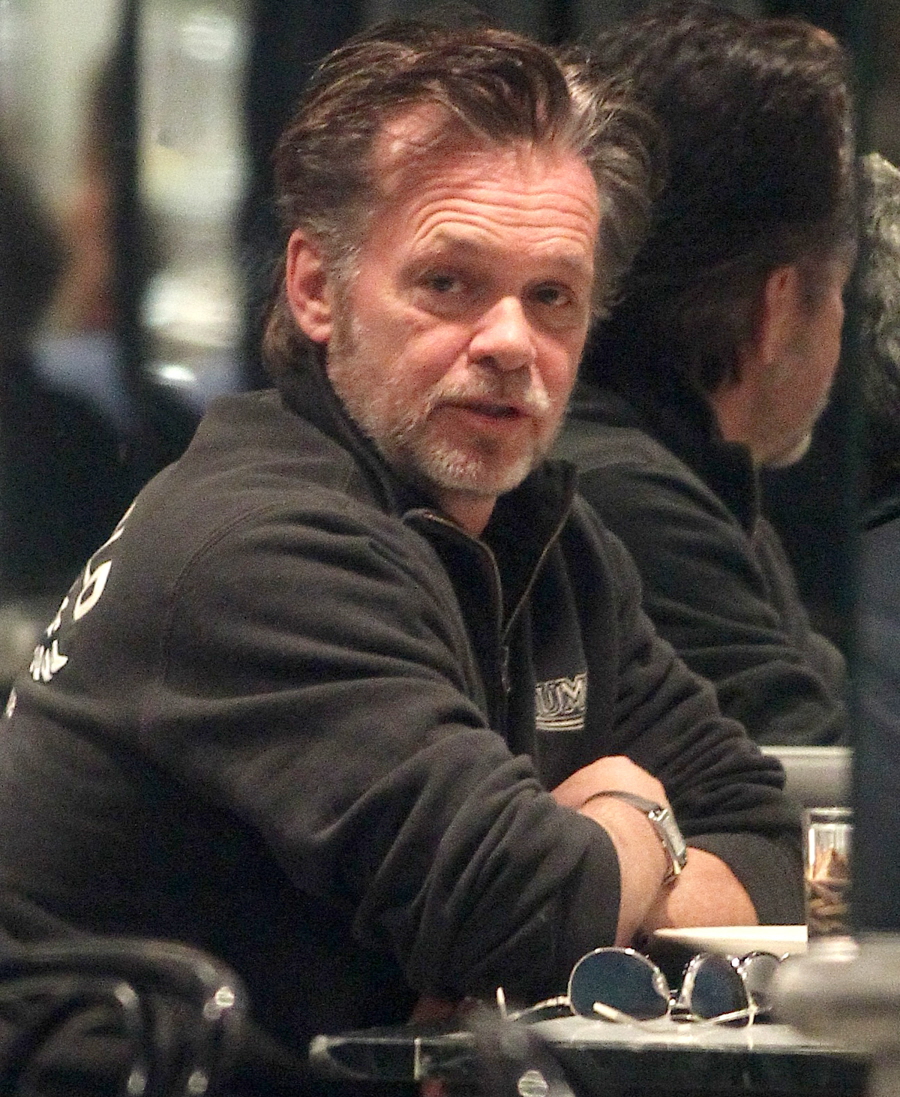 Photos courtesy of Fame and WENN.